:Dark Delights: Coldkill – Distance By Design

Dark Delights by Ladyaslan Presents:
Industrial band Coldkill
Coldkill – Distance By Design
Release Date: May 29, 2017
Label: COP International
Websites: Facebook │Bandcamp
Coldkill is an industrial band with a melodic melancholia consisting of band members Rexx Arkana (vocals) and Eric Eldredge (programming). Officially founded in 2015, Coldkill was effectively born in the '80s, during an era of electronic music innovation much mimicked but rarely replicated by contemporary culture. It was a time of cold wars and colder waves of synthesized harmonics making their way into homes, whilst a wild and wide-eyed youth soaked up influences that would define a unique generation. Rexx Arkana and Eric Eldredge grew up here, amidst the melancholy tones of DMode and the militaristic chants of F242 and NE; two suburban teens, wrapped in all the angst of a world awry, drawn to the distant sounds of Europe's new wave.
Arkana took up the fight early, gigging at local clubs before taking to the college radio airwaves of Syracuse University's WERW in 1987. This initial step behind the curtain led to a 10+ year professional career in college radio and club DJ promotions. Here he scored numerous number one records on College Music Journal's RPM Electronic Music Charts and worked with nearly every label of note in the goth/industrial/electronic scene including Wax Trax!, Nettwerk, Nothing, Interscope, and a large line up of audio indies long since dead and gone.
Over a nearly thirty year career in the scene, Arkana has headlined Wave Gotik Treffen's Agra Halle as a DJ; hosted an alternative arts cable television program ("Back Alley"); served as Managing Editor of the full color glossy international music magazine Interface; hosted the first ever industrial discussion panel at CMJ's Music Marathon, featuring Wolfgang Flür and Genesis P-Orridge; and interviewed with Anderson Cooper on ABC News as an expert on goth culture in the wake of the shootings at Columbine.
In 2003, Arkana stepped from the backstage to the front stage with the inception of his Bruderschaft collaborative project, which to date has united artists from such groups as VNV Nation, Covenant, Apoptygma Berzerk, Haujobb, Icon of Coil, Aesthetic Perfection, Assemblage 23, Beborn Beton, Imperative Reaction, and more. In 2006, he teamed with fellow NYC DJ Dräcos von Strecker to form the harsh EBM outfit FGFC820, which has gone on to headline festivals from Moscow to Mexico City.
Throughout, Arkana's love for simple '80s melodies and the forlorn melancholy of youthful angst never once subsided. It was during recording sessions for the short-lived (and memorably scantily-clad) Armor project that Arkana and Eldredge—who initially met a decade before at NYC's famous nightclub, The Bank—bonded over anachronistic sound palettes and the music of their youth. So began the infancy of Coldkill.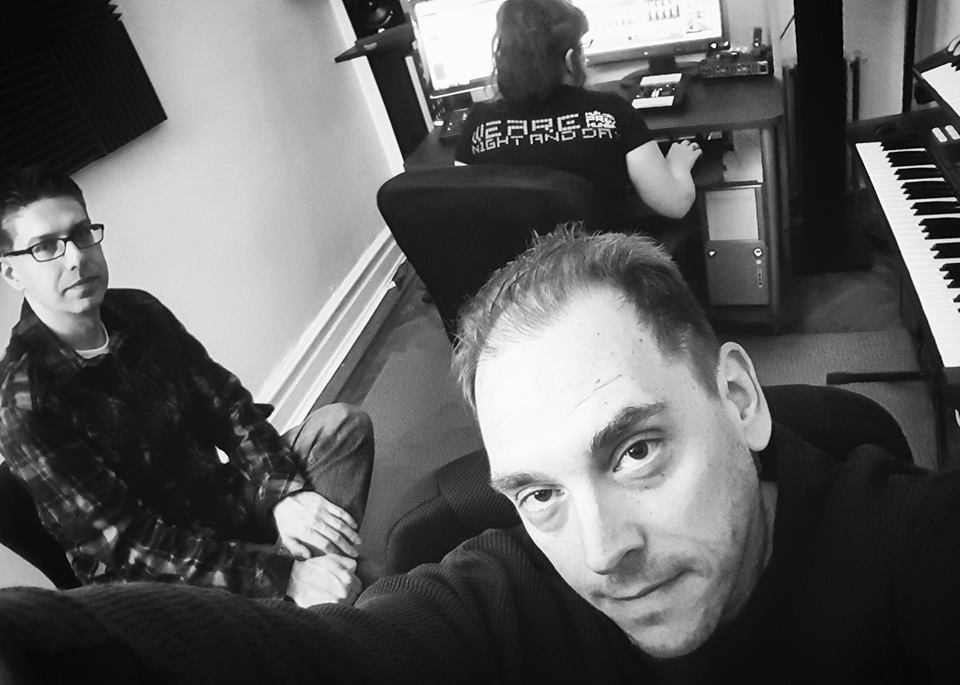 Eldredge is no stranger to the electronic scene. His primary Interface project blends different elements of various such styles into its own brand of melodic future pop with a decidedly emotional edge. Eldredge originally founded the band in 1993 and has released a prolific amount of material in his own right since: debut album The Artemis Complex (1999), Angels in Disguise (2002), Beyond Humanity (2006), Destination Focus (2008), Visions Of Modern Life (2009), and The Perfect World (2013). Interface's sound has ranged from aggressive industrial ("Frantic," "Metalstorm") to dance floor anthems ("Age of Computers, "Wasted Time") to soft ballads rich in texture and ambience ("The Softest Blade" and "Labyrinth").
Together, Arkana and Eldredge provide Coldkill with an aura of melodic melancholia reminiscent of the music that shaped their formative years. Unlike many of their myriad minimal or synthwave contemporaries, Coldkill has imposed strict self-restraints on their audio arsenal, limiting themselves to the sole employment of sounds that existed during the epoch they seek to emulate. If the native instrument wasn't available then, it's outside the scope of the project. The result is a very minimal approach—bereft of modern-day multi-tracking or slick production tricks—that evokes in many listeners a sense of nostalgia unique unto itself.
So here we are now, with Dark Delights by Ladyaslan, having a sit down with the new album and unlike other music reviews I like to give background information on the band being reviewed and then give an overall feel or vibe of the music, then…THEN I actually listen to all the songs and tell you what I felt or saw. In music I sometimes see colours or numbers and even movies, yes Ladyaslan is really weird, but lots of fun and you get an honest opinion of what I just heard.
This Coldkill album is hard driving while the music is straightforward. I find solace that people are still making music that is amazing and dance worthy and the kind of music you can play loud at home or in the car and most definitely in the club! Coldkill have not outgrown their influences, if anything they renewed the genre. They have maintained the lust and loss and darkness of this thing called industrial music and EDM. Their eighties, synthpop, and Western European influences are so prominent in their homage to their peers and fans, which alone is why you should buy this album. Distance by Design contains some of the most excellent haunting and grinding vibes with impressive vocals. This album will definitely enchant you and you will keep it on repeat! It will take you on a journey within your mind and down the rabbit hole—only question is, do you have the balls to go with them? I did…and I don't regret a fucking thing!! [Evil grin]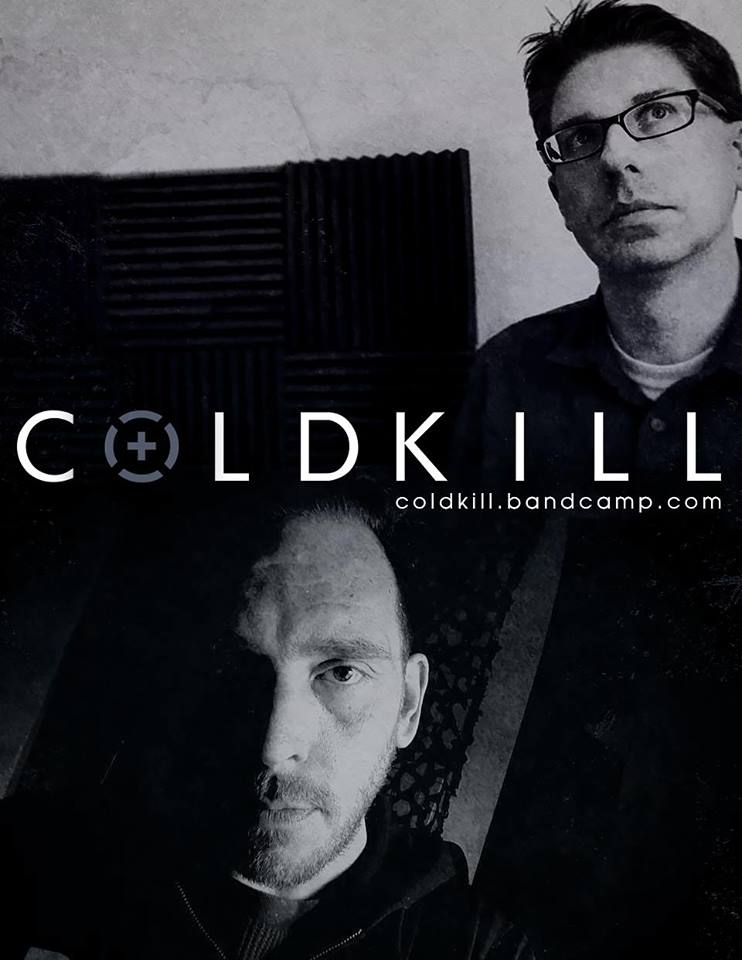 Now this is where I tell you what each song did to me or made me feel:
"All Is Not Fine": This is an eerie intro, like a dollhouse that is coming to life and is ready to haunt.
"In Here": OH MY!!! Drum machine and synth BLISS!!! Take me dancing and drown me in the scent of clove.
"Angel Unaware": I would LOVE, LOVE to hear a mash up with Pet Shop Boys "It's a Sin" with this song; it would be EPIC!
"I'm Yours": I think I smell clove and see the colour rustic brown.
"Black Or White": I can see Depeche Mode circa early '80s peeking in around the corner tapping their foot in approval…reminds me of an abstract art piece.
"Distance By Design": KEEP DANCING and wear some burgundy.
"Memories": Hands down my favourite—this one I'd submit for traditional radio rotation and for satellite radio listeners.
"Systematic": This would make for a great song in a sci-fi movie for the villain walking in on the hero or vice versa, take your pick [giggles].
"Leave It All Behind": This could be the B-side to "Memories." I love the darkness and goth-esque vibe—I'm putting on my black lipstick as I type [evil grin].
"Fables": Another song for a horror movie—preferably a James Wan horror film.
"In Here (Assemblage 23 Remix)": I can feel the future-pop vibe with some EDM
"I'm Yours (Covenant Remix)": Right off the bat, I feel the colour green and the electro body beats that have that eighties European underground culture celebration (like the party in Zion in Matrix Reloaded).
"Torture": I think Marilyn Manson would fall asleep to this song. This would be on his nighttime play mix.
**About Ladyaslan: She is a published Gothic poet and horror erotica novelist. Ladyaslan's second book is available on Amazon.com, Barnes and Noble, and other established book retailers internationally. Check out Lipstick & Absinthe and her other books at the link below:
Official Website: http://www.lipstickandabsinthe.com/
Tags Anitra DeLorenzoColdkillCOP InternationalDark DelightsEric EldredgeLadyaslanRexx Arkana
You may also like...