:Dark Delights: Keith Schoen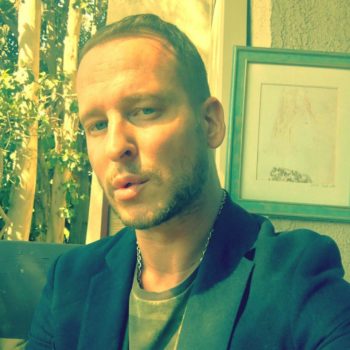 Dark Delights with Ladyaslan Presents:
Keith Schoen – Artist
Ladyaslan: Welcome, Mr. Schoen, Thanks for joining me here on Dark Delights. What should my readers, aka #Babybats, know about you and your type of art?
Keith Schoen: Well, I am a passionate, driven artist/film producer. My art is grand and big; I like to think that I have a big personality and a massive amount of creative energy. I put all of my heart and soul into my work as an artist. My art tends to lean towards abstract expressionism.
Ladyaslan: Summarize your different art pieces/collections in one to five sentences as if you were speaking to someone unfamiliar with your work and its topic.
Keith Schoen: Grand pieces that come from deep inside my soul. I like to call my new collection the Golden Era. I use high gloss acrylics and large canvas or wood. I have recently started to paint on glass and I am experimenting with light.
Ladyaslan: What is the overall theme (central topic, subject, or concept) of your art and paintings/collections?
Keith Schoen: I created pieces in 2017 to mirror the struggle and the glitz and glamour of the entertainment business which I have been in for 15 plus years. My paintings are a reflection of my experiences, good and bad. I like to think that there is light and darkness in this beautiful world and I like to dabble with the idea that we all inherently have a light and a dark side; we must keep the light shining bright.
Ladyaslan: What is the significance to the piece Gold March?
Keith Schoen: Gold March was my first six-foot grand piece in March 2017. I was kind of in an awakening period. It was the hardest painting to complete, I went back to it several times. It's my favorite; I like to think I put myself and my personality on it. It is symbolism for conquering your fears and marching towards the Gold March, a subconscious victory and a trophy piece.
Ladyaslan: Tell us about the band Sparklehorse. What was your connection or inspiration with the band?
Keith Schoen: My brother has been playing in bands for many years and toured the globe. Mark Linkous, who is Sparklehorse, played on some of my brother's records. Mark was a tortured soul heroin addict who was unbelievably brilliant, who ended up losing his life and battle in 2010. I love painting to the album It's A Wonderful Life. It's dark and beautiful, yet oddly loving and inspiring.
Ladyaslan: Is there any subject currently trending in the news that relates to your different artistic style?
Keith Schoen: Yes, I like to think all the hate and conflict on both sides politically has ignited a spark in me to do bigger, better, more meaningful things. I want to leave tangible objects behind that mirror my view of the world and hopefully inspire young people to create their legacy.
Ladyaslan: How did you get involved with being a talent agent/manager turned producer and now fine artist; how did that happen?
Keith Schoen: Loong story…. I started working in casting and production for a theater company in NY when I was very young, I was in acting school. The plays that I produced were with a wonderful mentor, Mary Mitchell, who was partners with Sam Sheppard in the '70s. I was blessed to have a budget for these plays and also blessed to read script with such legends as Joanne Woodward, Rip Torn, to name a few. I started pseudo managing my brother's bands, I was the guy that could get the record execs on the phone and coming to the shows.
I eventually started a great relationship with Gene, the head of the men's division of DNA Model Management. He was a true professional and patient mentor. I value my association with him and also enjoyed scouting models. I flew out to Los Angeles to take meetings to sell my feature film. I was staying on a high school buddy's couch at the time. He had an interview with The Creative Artists Agency, aka CAA, and I tagged and they offered me a job.
Ladyaslan: Is there ANYONE [wink-wink] you are going to be or currently working with…maybe just a name of someone, for us to be on the look-out for [more evil winks and giggles]?
Keith Schoen: Stan Lee
Ladyaslan: What was the crossover or transition like going from working with Creative Artists Agency then starting your own agency, Schoen Entertainment? What is your role at Schoen Entertainment?
Keith Schoen: I should point out that I spent a short time at CAA. They are extremely large and successful, but the opportunity did match up very well with my short term ambition and objectives. It has been a roller coaster ride that is clearly not for the faint hearted. I left CAA to partner at an agency with a former William Morris Agent and a former Abrams Artists Agent. That lasted a few years when I decided to branch off and create my own talent management agency, Schoen Entertainment in 2009. In addition to managing established talent, I found a niche working with more seasoned talent that needed help reinvigorating their careers. I also invested a lot of time in the development of new, aspiring actors. I still work closely with a few select clients that are extremely talented and who are close personal friends.
Ladyaslan: Tell us about your one of kind piece you just finished called Miami Vice [semi-evil winks].
Keith Schoen: [Laughs] Well…this piece was almost finished; it is a fairly large piece on wood. It needed a little pop and my friend Anitra (Ladyaslan) told me to add sea foam green and the amazing thing is, I never showed her the piece and it was the final touch that made it pop.
Ladyaslan: THANK YOU for entertaining my clairvoyant side…we are upon a full moon. Thank you for letting me name the piece…it really felt like neon/pastel green was needed and the eighties were swimming around in my mind! I am the quintessential eighties girl and Miami Vice was one of my favourite telly shows next to Dynasty!!!
You have seemed to mix dark Gothic art in with surrealism and psychology; how you combined the three and made it work. Those are three different mediums that don't always mesh well together, and your piece Gold March just speaks volumes on ability and vision. How did your marry the three?
Keith Schoen: Hmm. Well, I like to think being an agent, and especially a talent manager, is similar to being therapist/psychiatrist. You have to deal with many beautiful personalities and I am a bit of a chameleon. I like to use the term pareidolia which DaVinci coined. Pareidolia (/pærᵻˈdoʊliə/ parr-i-doh-lee-ə) is a psychological phenomenon in which the mind responds to a stimulus (an image or a sound) by perceiving a familiar pattern where none exists. Common examples are perceived images of animals, faces, or objects in cloud formations, the man in the moon, the moon rabbit, hidden messages within recorded music played in reverse or at higher- or lower-than-normal speeds, and hearing indistinct voices in random noise such as that produced by air conditioners or fans. The surrealism is my life, I like to think that I live in a heightened reality, I have a lot of energy and a vivid imagination that I just have to put on the canvas. The Gothic part is fairly a mystery to me although Gold March and a few other pieces seem to have a gothic or a Gotham feel. Gotham coincidently is NY, my heart, and Gotham Group is a company that I recently partnered with on a film project.
Ladyaslan: What inspired your collection?
Keith Schoen: I wanted to create something meaningful and tangible. The entertainment business tends to be very superficial and all about ego. I wanted to be me and humble.
Ladyaslan: What was it like to speak with Bond expert Barbara Broccoli? Was it business or pleasure?
Keith Schoen: Oh wow. It was business, she is so classy and amazing. I had a concept for an unscripted show to have stuntman to compete and recreate Bond high-stakes action scenes to become the real James Bond. They loved it, but they also own the majority of the Bond name and franchise and they are very protective over it, which they should be. So we couldn't come to an agreement.
Ladyaslan: Tell us about your inspiration in painting and your trainer New York artist Francine Tint? How did you two meet and come to learn off her and eventually become friends?
Keith Schoen: Rather than inspired I felt driven to paint. My professional life is very structured and sometimes a bit superficial. Again, as in earlier years I found I was drawn to painting as an outlet for creativity. I paint for me and when someone else appreciates it I am honored. My roommate in NYC, Matt Brown, was and is a great artist and I used to watch him paint over his shoulder; he would also draw me from time to time without me knowing. He landed a job working for Francine Tint. Francine, Matt, and I are and were very close. She would take us to the Limelight for the Studio 54 parties, because she was all about that scene, she hung with Warhol. I would go to her amazing penthouse overlooking Washington Square Park in Manhattan. Matt and I would house sit for her often. She showed me her interesting process and a small room off of the main grand room which was her studio and it was caked in layers of paint. I remember thinking I want to live like this and then I was thrown into the business side of entertainment. I learned a lot from both Francine and Matt.
Ladyaslan: Now for the fun out-of-the-box questions. Have you ever had any paranormal experiences? If so, what were they? Inquiring minds want to know.
Keith Schoen: I moved into an upstairs apartment in a beautiful, old Brownstone in Brooklyn. I had just met my new landlord and after only one night in my new home I looked up and saw an image of…I saw an image at the end of my bed, it was hauntingly beautiful. She was a pretty light-skinned, older, black woman with two gray braids. She looked as if she was giving me the ok to stay. I ran downstairs and said, "Ken! I just saw a ghost." He said, "Really, what'd it look like?" I said it was a light-skinned, pretty, black woman with two gray braids. He brings me down to the basement and showed me his grandmothers weave and a picture of her. She died two months before I moved in at the age of 99. It was her!! Amazing!!
Ladyaslan: EEEEEEEEEEK!!!!! Whoooa!!!! That's creepy cool!!! What are three words that best describe you?
Keith Schoen: Funny, romantic, and passionate!
Ladyaslan: Are you a publicity-lover or publicity shy?
Keith Schoen: A little of both, I have been behind the camera for so many years, I am getting used to being in front again.
Ladyaslan: I love music and I'm always interested in the musical tastes of my friends. Tell me your five favorite songs.
Keith Schoen: Wow. Great question and a hard one…I come from a musical family. My father loves Frank Sinatra and I have fond memories hearing him throughout my childhood.
1. Frank Sinatra – Luck Be A Lady
2. Sparklehorse – Piano Fire
3. Led Zeppelin – Going To California
4. My good friends Nada Surf – Always Love
5. The Game – Hate It or Love It
Ladyaslan: AWESOME picks and you are good friends with Nada Surf? That is awesome! "Deeper Well"—that song was like taking the red pill and seeing for the first time…. Ahh the '90s weren't all that bad coming from the eighties girl ['80s grin]. Also right now I have a love affair with the song "Square Hammer" by Ghost and my theme song has been "Lola Montez" by Volbeat [evil wink].
**Upon completion of this interview we lost electronic music pioneer Robert Miles. Robert Miles, the trance producer behind the 1996 hit "Children," has died of an unspecified illness in Ibiza at the age of 47. When I was scouted by Elite in the nineties and I had my first legit modeling shoot on Park Avenue, in the Winter Park area, that is the song the photographer had on repeat and I really felt like I was in a trance and the song helped me feel comfortable in front of the camera instead of behind it. "Children" had this atmospheric, ethereal, earthy melody that really captured that moment in history for me and new career I was trying out. [Sad face]
Ladyaslan: The Zombie apocalypse has started. Who is the ONE person you bring with you and what is your weapon of choice?
Keith Schoen: [Laughs] My brother, he is a weapon #badass
Ladyaslan: Last but NOT least, where can my readers/#Babybats get more information on you? Links, social network sites, etc.
Keith Schoen: I am very new to social media. I actually wasn't taking clients on, so I wasn't easy to find.
Facebook Keith Schoen: https://www.facebook.com/profile.php?id=100000986663701
Instagram: @schoenkeith
Linkedin: Keith Schoen
**About Ladyaslan: She is a published Gothic poet and horror erotica novelist. Ladyaslan's second book was released on Amazon.com, Barnes and Noble, and other established book retailers internationally. Check out Lipstick & Absinthe and her other books at the link below:
Official Website: http://www.lipstickandabsinthe.com/
Tags Anitra DeLorenzoKeith SchoenLadyaslanSchoen Entertainment
You may also like...