:Movie Review: Ghost in the Shell (2017)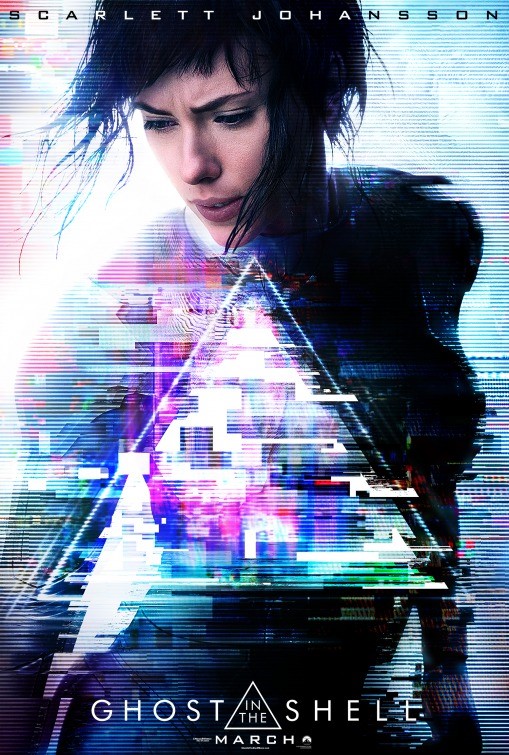 Ghost in the Shell
Release Date: March 31, 2017 (USA)
Studio: Paramount Pictures
Starring: Scarlett Johansson, Takeshi Kitano, Michael Pitt, Pilou Asbæk, Chin Han, and Juliette Binoche
Based on manga written by: Masamune Shirow
Screenplay: Jamie Moss, William Wheeler, and Ehren Kruger
Director: Rupert Sanders
Review by Jay Andrews Tracy
Ghost in the Shell is one of the most amazing movies I have ever seen, and that is saying a lot because I am very picky when it comes to movies. What is Ghost in the Shell? If I told you what it was in its wholeness it would take forever. So here is the short version: it was originally a seinen manga series known in Japan as Mobile Armored Riot Police, but subtitled as The Ghost in the Shell.
After the manga, created by Masamune Shirow, they released an anime movie titled Ghost in the Shell in 1995. Since the movie was highly popular, a series called Ghost in the Shell: Stand Alone Complex was released in 2002, followed by a sequel in 2004 named Ghost in the Shell 2: Innocence. In 2008 they made another anime, Ghost in the Shell 2.0 (3D CGI version of the 1995 film), followed by a series called Ghost in the Shell: Arise running from 2013 to 2014, and finally a reboot was born called Ghost in the Shell: The New Movie in 2015. The live action movie released March 31, 2017 was simply titled Ghost in the Shell.
The live action movie is mainly based on the 1995 version of the anime (with a combination of elements from the others). The plot is about Major Motoko Kusanagi who is the commander of Public Security Section 9, a counter-cyberterrorism police force that is part human and part cyborg. The Puppet Master is a hacker who has been trying to hack people's minds. Major's mission is to stop the Puppet Master and his evil doings.
The movie is action-packed from beginning to end. They took a lot from the anime versions of the movies and the show and incorporated it into the live film. The scenes are jaw dropping; this is the first animation to live action movie that I have seen that they did not screw anything up, other than the main character lead, which is a big controversy because they used Scarlett Johansson instead of an English-speaking Japanese female for the lead role. I do not want to give away anything about the plot, but the story is exceptional.
I recommend this movie to anyone who likes science fiction action movies, or is a fan of the animation or manga. The characters are the same as the animation and I cannot wait to see what they are going to do with the sequel. I hope it does well in the box office, which I foresee happening (or at least well enough to make their money back).
Tags Ghost in the ShellJay Andrews TracyMasamune ShirowParamount PicturesRupert SandersScarlett Johansson
You may also like...