:The Oontzcast: Episode 267 – "Resolution Revolution"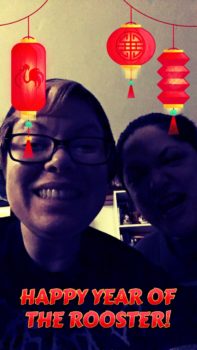 Jaymie and I (Yvette) are back for another year of music and mayhem. This episode Professor Jaymie does most of the talking on topics such as the intricacies of learning Asian languages, '90s music that we forgot about and the fans we love to hate, Mexico adventures with Kanga and Matthew Setzer, plus your regular run-of-the-mill randomness.
We played a variety of 2016 releases that we deemed worthy enough for our irregularly scheduled program, as well as a couple more Kanga songs that we deprived you of last month. Sorry about that, holiday crap and illness…excuses, excuses. Really, though, we're just busy as hell. We promise that it's all for your entertainment!
Track Listing:
01. Kanga – Animal
02. Surgyn – Green Heart (Assemblage 23 Remix)
03. Decoded Feedback – Dark Passenger
04. Strvngers – Girls Just Wanna Have Fun (Cyndi Lauper Cover)
05. Aesthetic Perfection – LAX (Mr.Kitty Remix)
06. My Life With The Thrill Kill Kult – Dream Baby
07. Tonebox – Celestial Breakdown
08. Dead Astronauts – Witch Hunt
09. SID64 – Sailwave (feat. Who Ha)
10. Alter Der Ruine – There Is No Water
11. Am Tierpark – Rough Seas
12. Gild The Mourn – Greed (Strvngers Remix)
13. Waveshaper – The Engineer Part II
14. Scandroid – Shout
15. Kanga – Saviour
16. Fractured Transmission – Enslaved By A Thought Of Regret
Tags Aesthetic PerfectionAlter Der RuineAm TierparkDead AstronautsDecoded FeedbackFractured TransmissionGild The MournJaymie BurzetteKangaMatthew SetzerMr. KittyMy Life with the Thrill Kill KultScandroidSID64STRVNGERSSurgynThe OontzcastToneboxWaveshaperYvette Arambula
You may also like...