:Interview: Everlasting Blaze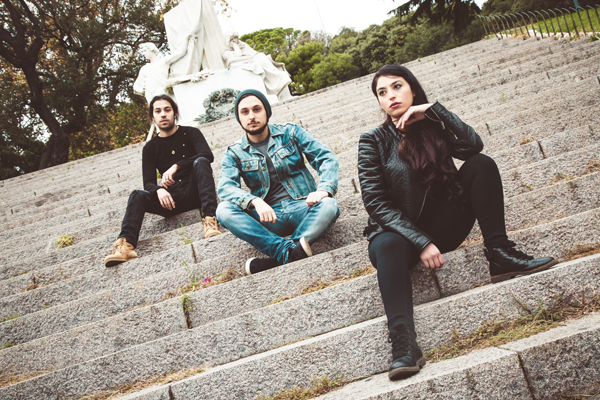 Hailing from Genoa, Italy, Everlasting Blaze have only been around a little more than a year and they have already caught the world's attention with their debut album. With an exceptional sound, intelligent lyrics and unrelenting positive drive, expect to be hearing a lot more from this talented group.
Congratulations on your debut album Everlasting Blaze. How does it feel to have a tangible product out in the world?
Thank you! It feels great to have our album done and we're very excited to share it with the whole world. We worked so hard on it – on the writing process and also in the production. We produced it ourselves so it took some extra time trying different combinations to get the sound we liked and wanted to have on the album. It was a great experience and we're proud to have our songs recorded. We're ready now for everyone to learn more about Everlasting Blaze.
As a female-fronted metal band, do you feel like you've experienced sexism or special privilege within the music business or metal community?
Fortunately we haven't experienced these things and we don't expect to face this attitude in our life or career. Music is music, whether it's made by a woman or a man. It's all about the spirit, the passion, and what we feel either when we make music or when we listen to it. It's strange that some people actually think more about who's making the music instead of just feeling it and enjoying it. We have to be open minded about new sounds and new aspects in the music scene.
Do you have any special moments with fans that helped you to realize that this is really happening?
It really happens almost everyday since we started everything. We believe that's the best thing about music: when you make that connection between you and your fans regardless of whether it's in a live situation or not. When people we have never met from countries we have never been to tell us about how important our music is for them, it really warms our hearts and always makes us want to do more and do it better and get bigger everyday.
You guys have only been around for about a year but you have a huge following on social media. How did you accomplish this? Do you have any tips or tricks for other bands?
Yes, it's been almost a year now and our fanbase is growing everyday. We're trying to reach as many people as we can and soon we'll surely reach many more fans when we're touring around the world. We believe that the key to everything is to be as honest as we can, to have a real and direct connection between us as artists to our fans, to be one family, to be their voices and to make people feel closer to us everyday.
What is the most important thing you want your fans to know about Everlasting Blaze and it's members?
Music is the home where we and our fans belong. In each song we try to make the purest and greatest music we can so that it not only relates to us and what we live and feel, but also connects us with people. We want to be the change that people want to see; we want to be the truth that everyone keeps searching for and give them answers that people may not find, even deep inside themselves. We are three people who are giving our lives and souls to music. We have many goals and we're here to make them happen.
How did you learn your instruments? Are you self-taught or do you have formal musical training?
Sadem and I have been playing guitar since we were young. We have always preferred learning music by ourselves. We had so much passion that we spent hours everyday playing and learning new things; it was like traveling to another universe when we had guitars in our hands and were writing new music.Then we also started to play bass and keyboards. However Fabio started learning drums at school at a young age, then he continued learning on his own until we met.
How did you get into producing music? Is it your passion or more of your hobby on the side of the band?
Music production is a passion that Sadem and I have shared since we were kids. We were amazed by what was really happening behind every record and how our favorite songs and albums were made, so we started to learn by ourselves and built our own little studio a couple of years ago. That's where we play, record, and mix our music. We'd like to work with great producers too for our future material. We're planning as well to build our own professional studio in the future and we can't wait for that.
What band do you want to tour with the most?
We have a lot of bands in mind that we'd love to tour with, but there are some bands that stand out among others: Linkin Park, Avenged Sevenfold, Korn, Metallica, and Deftones.
Do you typically write your lyrics in English or Italian? Do you find it harder to write in one more than the other?
Well I have been listening only to music in English since I was a child, so I've been used to writing lyrics in English since a young age. I love that, so now writing lyrics comes very naturally.
Other than your band mates, who is the person you turn to the most?
We had some difficulties getting where we are now in our lives, starting from nothing at a young age in a foreign country. But it made us live our passion more strongly and reinforced our will to get where we always wanted to be in life. Therefore we are always very thankful to everyone who has believed in us: our families and friends which we are close to.
Any tour plans that we should be aware of in the near future?
We're planning and preparing for a lot of things at the moment. We're planning tours in the USA, which is something we've been looking forward to for a long time.
Tags Avenged SevenfoldDeftonesEverlasting BlazeKornLinkin ParkMetallica
You may also like...