:Dark Delights: Donna Hamblin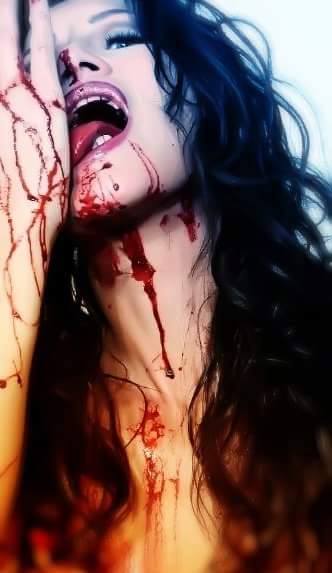 Dark Delights with Ladyaslan Presents:
Donna Hamblin – Actress/Author
Ladyalan: Welcome, Donna. Thanks for joining me here on Dark Delights. What should my readers, aka "#Babybats," know about you?
Donna Hamblin: The pleasure is mine, thank you for having me. First off, let me say to the readers here, I am a nice person no matter how much blood you see me covered in nor how many people I bloody up in the movies I am cast in. (I'm not evil…I'm just cast that way.) "Where there is an audience…we deliver…."
Ladyaslan: What inspired you to become an actress and stay in Las Vegas rather than move to Los Angeles?
Donna Hamblin: I have always loved the entertainment industry. Growing up we did not have reality T.V., etc…. I grew up watching Carol Burnett, Sony and Cher, Quincy, etc. Even as a small child, I was enthralled by watching these particular shows. I wanted so badly to jump into the television and be part of their show. It was when I moved to Las Vegas as a teenager, I was discovered by a photographer and meddled in modeling for a while before moving on to acting where I fell in love with the industry and said, "This is where I want to be, this is what I want to do." I have many times thought about moving to Los Angeles. I love it there; I go as often as possible, I just don't want to live there.
Living in Vegas (as we locals call it), it is much easier to pursue my acting career. Every one of the big budget films and television shows I have ever worked on and auditioned for here locally, the production came straight out of Hollywood anyhow, I can get to L.A. very easily if need be. I didn't want to move there and work three jobs to pay my rent. With that being said, where do you find time to audition and actually work in film? I stay here in Vegas where it is 1/3 the cost of living and get the same benefit that works for me. I do have a lot of friends there in L.A. that are doing remarkably well in the industry, though.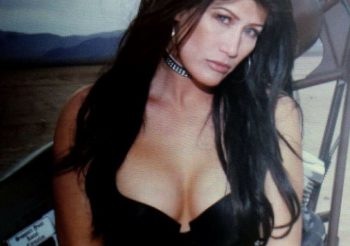 Ladyaslan: Summarize your different acting techniques in one to three sentences as if you were speaking to someone unfamiliar with your movies.
Donna Hamblin: I do a quick read-through, on the second read-through I study the script carefully, I memorize my lines, and very importantly, my partner's lines. I will read a script several times, looking at all the characters and their involvement.
I try to convey the script into emotion and reality according to the character I am playing along with the other actor's characters, delivery, trying to pull the same out of whoever my partner in the scene is; it's called chemistry. Listening, reacting, this is what I use. Plus much more that I won't bore you with….
Ladyaslan: What is the overall theme (central topic, subject, or concept) of the movie Sinister (2011) that you starred in with Luc Bernier and how did you prepare for that film as the character Emily?
Donna Hamblin: Steve Sessions' Sinister is basically what the title says, "It's not the house that's haunted…it's you"! Sinister is about an everyday working woman who has encountered a curse via Voodoo doll inflicted on her by an evil person she "bumped" into one afternoon. She and her brother go through all the chapters to find this out and try to stop it. Luc Bernier played the paranormal investigator who brings this all into play while investigating her house.
By reading Sinister, it was so well written I immediately fell into the character's shoes. So I know what it is that I personally wanted to do with the script and was hoping I was on the same page as the writer/director. I was also hoping my co-star Donny Versiga was on that same page as well…. [Laughs] These are things you take into consideration while preparing, being able to adjust on a whim if need be. I was in a pretty bad car accident just a few months before that. The only thing I was worried about in preparation was the physicality of the part due to still being in physical therapy and having minor surgery on my shoulder a week before flying out there and filming, thus explaining the big bruise on my arm in the movie. This movie is huge in India!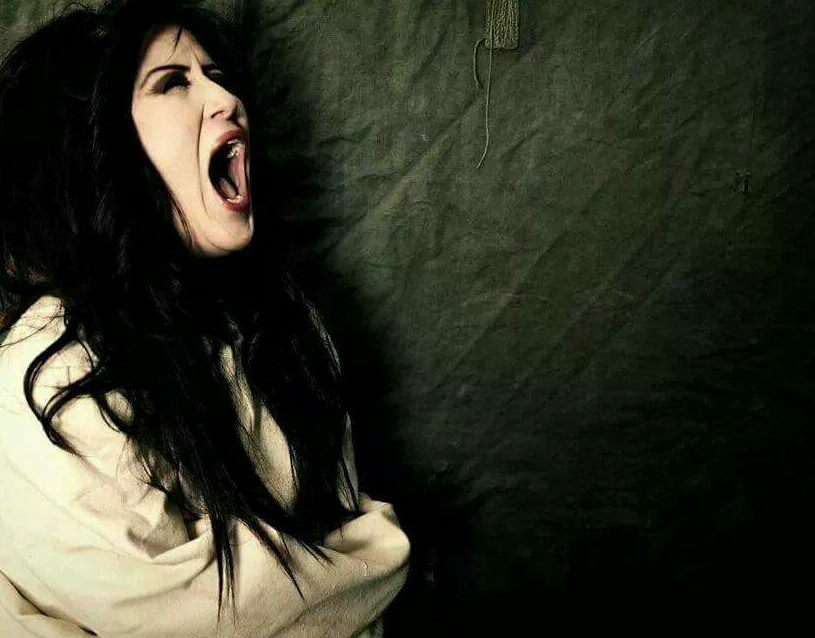 Ladyaslan: What is the story with Ted V. Mickels' Paranormal Extremes: Text Messages From The Dead (2015)? How did you become involved in that shoot?
Donna Hamblin: Paranormal Extremes: Text Messages From The Dead is kind of a love story, if you will, between a girl and her boyfriend. He passes, she begins to witness a lot of paranormal activity due to his death, her father thinks she is crazy, etc…. I have just a few lines in this movie. Ted called me and asked me to play Harata, the woman in black. I was a "friendly" entity, if you would call it that, someone from the other side who guides the lead, Addison, into helping her understand why she is witnessing this. I was given the original script written by Cory Udler and it had been revised by Ted himself. In the meantime, when I showed up to film, my lines did not match the original screenplay…. Talk about doing things on a whim, as I previously mentioned!
Ladyaslan: What was it like to work with writer/director Ted V. Mickels in Ten Violent Women: Part Two? What can viewers expect from this movie and your character? How many movies have you done with Mr. Mikels?
Donna Hamblin: Working with Ted on any set is always an adventure; he knows what he wants and is an extreme professional. I will say, I will go to his set expecting one thing, and it will usually be completely the opposite when I get there [laughs]. He can be unpredictable, but in a good way. He has his vision and uses that regardless of what is in the script. To this day, I will have my lines memorized and it's usually completely off-site of what I expect when arriving on set. (Another thing you learn in the acting world, always be prepared for the unexpected!) I do have to say, I have been so fortunate to work with him amongt such a professional and legendary cast of people, such as Tura Satana, Liz Renay, Beverly Washburn, Francine York, etc….
Originally, Francine York (a legend in her own) was due to be the star of the movie, I was to play a reporter. She was unable to do it, so Ted asked me to be her understudy in case and BOOM! I ended up starring in it which is such a privilege and responsibility trying to fill shoes such as hers (something I will never do, but working on it) HA!
My character, Gloria Jeffries, is a lounge singer; her husband, a detective. In a nutshell, he is killed and she is maimed from this incident. She seeks vengeance on the drug syndicate responsible for this, and through the girls that work out in her privately owned gym, is able to do so. It has a great cast. There were professional actors like Dawna Heising, Liane Langford, and Jeffrey Kobes out of California, and Nils Heftling, a known actor/producer from Germany, in this. It's been a lot of fun creating and developing this character for this movie. This is the sixth movie I have filmed with Ted V. Mikels and the second one I have had the privilege to star in.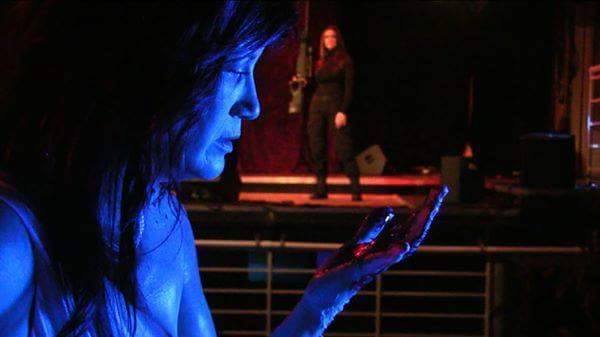 Ladyaslan: How did you come to work with Deborah Dutch, Luc Bernier, and Len Kabasinski in Angel of Reckoning?
Donna Hamblin: Len Kabasinski (KillerWolf Films) was introduced to me through my closest and dear friend, Luc Bernier (a well-known actor in this industry). Luc, Deborah Dutch, and I worked together on Blood Mercury; we did the opening scene filmed in a dark, crazy looking warehouse in Buffalo, NY. This would be my first time working with Deborah and Len and his talented crew of Ruth Sprague, Chris Young, and Mark Kosobucki. It was a lot of fun. Luc played a scientist/doctor, Deborah a nurse, and I was the deranged patient. Len then did Angel of Reckoning and cast the three of us in that movie, which I jumped on immediately! I play Beverly, the Kingpin of the movie…fun, fun, fun….
I feel grateful and privileged to work with Len K. and his pack anytime I can. I consider all of them my friends and family. Amazing people. Angel of Reckoning is goint to knock people off their butt! The filming went so smooth and it felt good! I have never experienced a feeling on the set as I have on this one. Stepping foot on scene did not even feel like filming, it felt like reality. Every single actor was so finely tuned into their character, it was unreal AND surreal. I am looking forward to working with Len at the end of July on Hellcat's Revenge, which Deborah and Luc are in as well….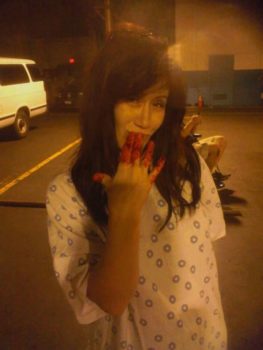 Ladyaslan: How did you learn about acting (i.e. personal experience, education, etc.) and what was it like to play the iconic role of Annie Wilkes—Kathy Bates' part in the play Misery?
Donna Hamblin: I learned about acting through an advertisement. I thought, "Let me give this a try, since I have been wanting to do this." HA! Slap of reality right to the face. I auditioned, didn't get the part, but from there found an acting coach and went forward. I have had many coaches, television and film, even trained with Second City out of Chicago. It was one of my coaches (who also owned a local theater) that was putting on the play Misery. I didn't want to audition for it (I did not have enough confidence at the time). He called me and yelled over the phone, "I want you to audition for Misery!" I think the famous Joe Bernard was at the audition. I was really nervous, however, I did audition and got the part right there on the spot. It was a lot of work, fun, and creativity.
Playing Annie Wilkes (the main character) was fun and nerve wracking at the same time. I did not want to copy Kathy Bates, I wanted to make it my own yet on the same level as she did. I played around with the character and with the help of my director, it worked! The playwright is different from the movie of course; she is much more sadistic in my opinion. When I walked onstage and looked at my costar, I could hear the audience take a deep breath and say, "Oh no," she's pissed…that's a great feeling! We played all through October. Ted Mikels himself came and saw the play as well; all he could say afterwards is, "Donna, that's a lot of lines to memorize." Believe it or not, I never missed one word! Thank God!
Ladyaslan: What can you tell us about the new movie The Corpse Grinders?
Donna Hamblin: The Corpse Grinders was originally done by Ted V. Mikels in 1971, I believe. Then The Corpse Grinders 2 and 3 in 2000 and 2012. The new Corpse Grinders remake (now in production) is being done by award winning producer/director Timo Rose and Nils Heftling out of Germany. Timo is a well-known producer in Germany, and beyond for that matter. He has one hell of a resume and is known for horror movies though he has done so much more, such as a television series, Nature, I believe, and scored music for many movies and top box office as well. Nils Heftling (also the producer) is a known actor out of Germany who was also here doing a part in Ten Violent Women: Part Two with Ted. I encourage people to look at their IMDB page and learn of their talents.
Ted and I will be appearing in a cameo in this film shooting next week and are looking forward to it. I have wanted to work with Timo for some time now, and here is my chance! I do not have nor know the script, but have somewhat of an idea of it. It definitely has an amazing cast and will be a top, bone-chilling, horror, slasher movie, giving the audience just what they are expecting. I feel very fortunate to be part of this film and it's an amazing, talented cast from all over!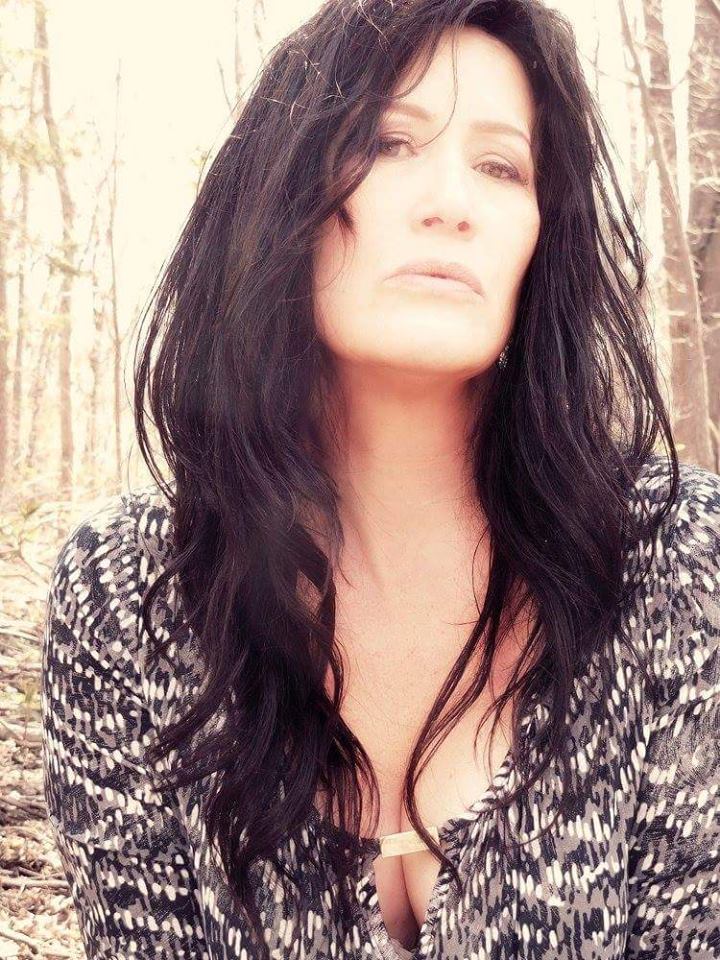 Ladyaslan: Tell us about yet another artistic side of yourself—your interviews in the book Queens of Scream (available on Amazon).
Donna Hamblin: I have always been involved or wanted to learn new forms of art. I was heavily involved in fencing and a member of Salle De Nord through my one and only fencing master Mel North (one of the top fencing masters known to this day). Very fortunate. I chose to go with more the artistic side of it rather than the competitive side AND…with my wit I was able to disengage my master's foil and throw it behind him with my own foil. Yes, Mel….I said it! Credit due to me…. [Laughs]
Mel and his lovely wife Gloria (a renowned ballet dancer/teacher) produced and choreographed a swashbuckling musical that involved sword play and dance moves. I was happily involved in it; it was about 15 minutes of swordplay, stunts, dancing, and acrobatics…I was fencing up to two men at a time double-handed (sabre in each hand). It took a few months of strict rehearsal due to the dangers of technique we were using during rehearsal and shows. You could see sparks flying off these huge show sabers that we would break on an average of two to three a week! It is by far one of the most fun, exhilarating stage shows I have done to this day. I am hoping to get back into fencing in the near future. Also, my Master, Mel North, is an amazing author, who has written many stories and published the book Jodi and is currently working on period piece play rights to a couple movies, including Jodi (a medieval movie). So, any of you producers out there who may be interested, here is your opportunity. Hit me up…. Let's make this happen.
On the other hand I have always wanted to learn new and artistic things. Years back, with the help of my friends who owned a circus, they had me lined up to learn flame throwing from their main man. I was right in the middle of filming and doing a play and wasn't able to at the time, and with his hectic schedule of being on and off the road with the circus, I was unable to do so. Something I have regretted to this day….
Queens of Scream, done by Owen Keenen, was a book that I felt so fortunate to be in. It was the second interview I had done at the time and was being published into a book! I was on cloud nine. Being mentioned as a special guest interview in the book really gave me a high. It is the first of two publications I have had the fortune to be in. You can buy it on amazon.com. I did that interview while relaxing at a friend's house in L.A. I was a little nervous but once I started answering the questions, it all came very natural to me. I was supposed to do a book signing in Hollywood for it, but was unable to due to a tight filming schedule, and of course, my automobile accident (which was not my fault by the way)….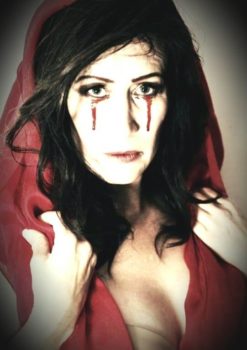 Ladyaslan: What are the three words that best describe you?
Donna Hamblin: Compassionate, adventurous, very private.
Ladyaslan: Are you a publicity-lover, or publicity shy?
Donna Hamblin: I don't mind publicity. It's a chance to get out there, promote your work along with all the people involved in it, and a great opportunity to do so.
Ladyaslan: I love music and I'm always interested in the musical tastes of my friends. Tell me your five favorite songs.
Donna Hamblin: I cannot! I have at least twenty to thirty favorite songs. I can't just choose five! I tried, didn't work, sorry…. I do have to say, I am a total '70s junkie as far as music goes. I listen to Casey Kasem every Sunday… [laughs]. I have such a huge variety of music downloaded—anything from Chet Atkins to Jimi Hendrix and everything in between. I am really digging the new Joe Bonamassa though…here is an example of what I have on my download:
Led Zeppelin, Paul McCartney, Lenny Kravitz, Santana, The Eagles, Journey, Jefferson Starship, Enigma, Guess Who, Joe Satriani, etc….list goes on…. Hope that's good enough for you!
Ladyaslan: When your grandmother worked with John Wayne in his films, did you ever get to meet him? If so, what do you recall?
Donna Hamblin: I did not, my father did. My father was 11 or 12 at the time and it was right after, or maybe during, the depression. He would walk to the set on his lunchtime and my grandmother would give him her lunch so he would not go without for that morning/afternoon. A couple of those times he sat and ate with John Wayne; he told us some stories. One that stuck out the most in my mind was John Wayne urging him how important it was to stay in school and get an education. I do remember camping in the mountains as a child and seeing all these teepees set up for one of his many films being done in the area. That happened on several occasions.
Ladyaslan: You are offered, free for one year, the use of either a customized, fully-staffed jet (say a Bombardier Learjet 40XR), or a fully-staffed luxury yacht (perhaps a 150-foot vessel built by Palmer Johnson). Which do you choose AND where are we going?
Donna Hamblin: I have to choose? Why not both? It would really be convenient to fly somewhere and then have my yacht waiting at port to take me to my desired destination…. Always wanting more eh…? I have had both in my lifetime, just not on the same caliber…. All in all, I would probably pick the yacht. I grew up flying (my family had a little Cessna), so kinda been there, done that. My houseboat never made it to the water. So, I really need to do that I think…. Here is a little contradicting trivia for you…I love to fly and I love being on the water in the ocean, yet, I am afraid of heights and deep water…funny huh? As long as I am in a vessel of some sort, I'm OK, but you will never find me jumping out of a plane nor diving in the deep ocean…YIKES!
Ladyaslan: I love to shop! And guess what? An eccentric billionaire has offered us his charge card for a day of shopping, with one caveat…we can only go to one store. Where are we going?
Donna Hamblin: Well…that's easy…that fabulous store called HIS BANK! Simple: empty out the card there, go buy the jet and the yacht (told you why not both)…fly and yacht out to a nice Caribbean island where we can hide the rest of the dough. Pretty smart thinking I must say. I would make use of a lot of the money building apartments and helping the homeless. That's just how I am…. Then on to the department store and find my favorite designer…Chloe….um, wait…we wouldn't be expected to sleep with him for this would we, because, I'm not going to! I do have integrity and morals you know…. I got it, we will hire a very classy, beautiful call girl for him…there you go…I'm always prepared….
Ladyaslan: Have you ever had any paranormal experiences? If so, what were they?
Donna Hamblin: I don't think that I have…not sure…other than deceased loved ones visiting my dreams….
Ladyaslan: Last but NOT least, where can my readers/#Babybats get more information on you?
Donna Hamblin: You can find me and get updated information on my website www.donnahamblin.weebly.com or you can always find me on Facebook.
Thanks to every one of you out there reading this and thank you for having me Ladyaslan! Every one of you ROCK MY WORLD!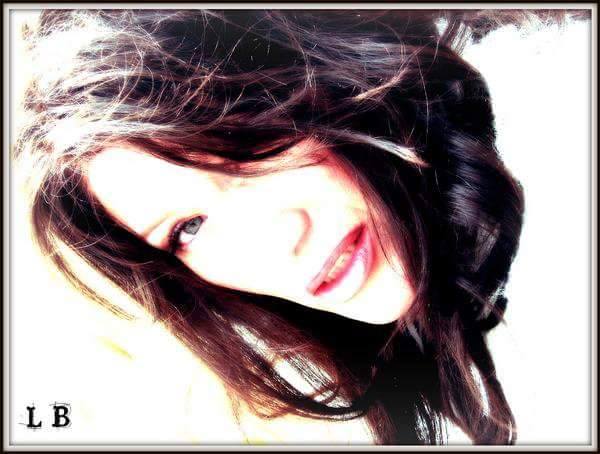 **About Ladyaslan: She is a published Gothic poet and horror erotica novelist. Ladyaslan's second book was just released on Amazon.com, Barnes & Noble, and other established book retailers internationally. Check out Lipstick & Absinthe and her other books at the link below and on Facebook.
Official Website: http://www.lipstickandabsinthe.com/
Tags Anitra DeLorenzoDark DelightsDonna HamblinLadyaslanLuc BernierNils HeftlingTed V. MickelsTimo Rose
You may also like...