:Interview: Adoration Destroyed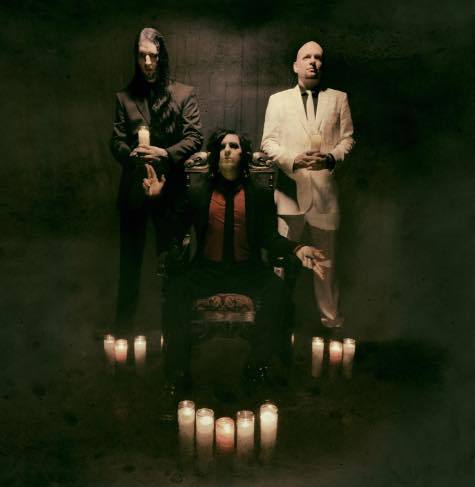 :Interview: Adoration Destroyed
Conducted by Danesha Artis via email Winter 2016/17
I got the opportunity to do an interview with Erik Gustafson and Jon Gilyeat of Adoration Destroyed. I'm very glad I got the chance to do it, but am saddened that this was Jon's last interview.
After reviewing the interview and hearing all the interactions Jon had with mutual friends, I wish I got to know him better before this. However, I can say this with absolute certainty: Jon was well loved and respected by the people who cared for him. It is clear that his presence will be missed and his memory will live on with family, friends, and acquaintances alike.
Danesha: First of all, congrats on the tour. How was it for you guys overall? Was there anything you learned from your tour mates, both current and in the past?
Jon: It was fun and exhausting at the same time. Met a lot of great people, and had an overall awesome time. Erik and Alvin were both rock solid on the road, and I think we largely managed to avoid getting shitty with each other as the "tireds" set in. Steve, Donna, Mike, and Rick from Ego Likeness could not have been a better group of cats to hit the road with.
Erik: Agreed! It was an absolute blessing to have our first North American tour outing with the seasoned, talented, and ever-attractive and charming couple Steven and Donna! (I promise they didn't pay me to say this!) [Laughs]
But yeah, lots of learning to be had in learning how to tour properly; from places to stay, times to drive and not to drive, routing, efficiency, you name it. It was an expensive outing but totally
invaluable and non-quantifiable in the ways of that…these days there is NO BETTER way to promote, than to be in people's towns, in their scenes. The internet (I'm looking at you FB) is so fragmented, controlled, and flooded, that it's hard to use it as a tool to promote these days.
Danesha: Also, congrats on signing with Cleopatra. How do you think the label will push you guys forward in the do-it-yourself age of music?
Erik: Thank you! It was a pretty cool thing, especially since Jon and I listened to many a Cleopatra band back in the day, so having this new project that is certainly inspired by some of that, is a cool return to form, an appropriate home.
We got to meet with Ken Tighe (Cleo Record exec) on our tour stop in L.A. He came out to Complex for our show (in which Matthew from Skinny Puppy/Kanga and Kanga herself also came out! We had so much fun!) and was very positive, and also invited us to visit the record label offices. It was really a great experience. They seem supportive. It's, however, not the '80s anymore, and…you guessed it…there's still a LOT we have to do for ourselves. But the label does help with much of the business/worldwide distribution end, and we are so thankful to be on
a known imprint.
Jon: Absolutely. There's already been some discussion from Cleo on some additional work they're going to want from us moving forward, which really can only help.
Danesha: I've been enjoying your album a lot. What made you want to cover "Coma White" since it feels like a go-to in our scene (e.g. Apop—I know there are others but my mind is fried)?
Jon: That was really my pick. It's been a song that struck a chord with me the first time I heard it, and it's had staying power over the years. There was a song by 4 Non Blondes ("Drifting") that came out during the same musical era, that also ranks very highly in songs that (pardon the
cliché) hit a note with me, that contain similar thematic elements—a pill to make you numb, drop another pill just to calm me—and this was my attempt to try to channel the ache of those two distinct voices into one track, with the lyric change of the final chorus refrain. Speaking to "Coma White" specifically, there's a feeling of isolation, being abandoned, a disconnectedness…it's something I identify with, so the song just speaks to me, that I can feel viscerally in a way that a lot of music doesn't in the same way.
Erik: We're so glad you dig it, Danesha! It has a lot of heart, we feel, yet still carrying the dark electronic torch while also trying new things.
The "Coma White" cover resonated with many on the tour. I think that meant a lot to Jon. We had recently been working toward getting Jon's vocals on more songs. I think it was a cool dynamic for the bass player/backing vocalist to then be able to take the lead vocals for a song
while I switched over to synths/backing vocals. Keeps the show interesting and dynamic.
Danesha: I usually ask this of my music friends, so you'd be no different in this case. What would your absolute dream tour be?
Jon: One with an engaged crowd, digging our music. Where I can look out into a sea of faces and see them screaming our songs back to us.
Erik: I wholeheartedly echo Jon's answer. I will however say I'm a huge Birthday Massacre fan, so touring with them would be so cool! I think we'd also do well with bands like Aesthetic Perfection, Assemblage 23, William Control, The Black Queen, Prayers, Kanga, and other electronic crossover bands, as well as even much bigger acts such as Garbage.
I feel we have a good balance between melodic and yet, still dark and moody, and a slight rock edge.
Danesha: With the tour done and dusted, what's next for the band?
Jon: We're working on getting a single put together. I've got a couple songs that I need to finish up lyric writing for, then vocal recording. I'm also in the process of shifting over to guitar from bass for our live shows. We've a couple gigs already lined up for the end of January/beginning of February. We're also going to be out of the road again for a quick two weeks in the March/April timeframe—so be on the lookout for that. Following that, more songwriting to get a new album ready and in the chamber for release.
Erik: I do agree with Jon's words, yet now I must amend a bit due to recent events; indeed, a new single is in the works, and yet now is going to be slightly re-worked and delayed from the initial February release. The show must go on, after a small break. A festival date and possible tour may happen this year with some lineup changes. Also, several music videos have been in the works, one being very imminent as a tribute.
Tags Adoration DestroyedCleopatra RecordsDanesha ArtisEgo LikenessErik GustafsonJon Gilyeat
You may also like...