:Dark Delights: Deborah Dutch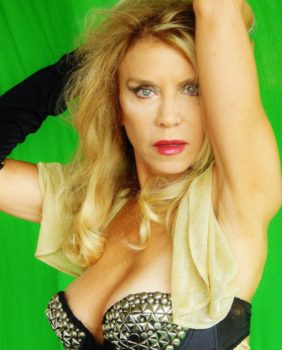 Dark Delights with Ladyaslan Presents:
Deborah Dutch – Actress
Ladyaslan: Welcome, Ms. Dutch. Thanks for joining me here on Dark Delights. What should my readers, aka "#Babybats," know about you?
Deborah Dutch: I was born in Philly and grew up in New Jersey. I appeared in the Gotham Super Show put on by Gary Lyon on August 20th in NYC. They have a link on the web page! Just in case some fans wanted an autograph and photo. I'll be premiering Hollywood Warrioress: The Movie in NYC! Also some upcoming films are being worked on—Len's new movie Hellcat's Revenge is shooting this summer, and Don Glut's and Dan Golden's She Wolves, soon to be released!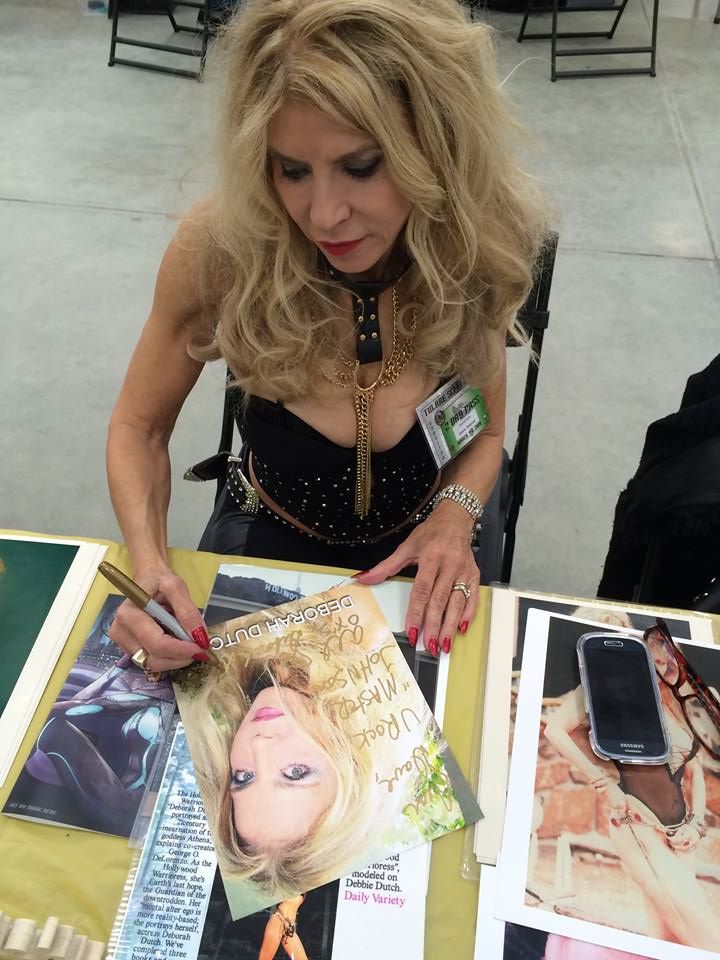 Ladyaslan: What inspired you to start on Broadway and work your way to movies and print ads?
Deborah Dutch: I was always a dancer and an actress as a young girl, so when I began my career, New York City, the "Big Apple," was where you went to be an actress! I auditioned and was cast in the Jr. Company of the Circle in the Square Broadway Theatre! I was encouraged and inspired by my uncle Paul Roebling, a celebrated New York actor. I remember going to see my uncle in Romeo & Juliet, an off-Broadway, co-starring with my aunt and was mesmerized by the beauty of theatre. It was the beginning of my dream to be a successful actress that I will treasure in my heart forever! The excitement of performing, the audience, and the art of the theatre was in my DNA! I even started working in films with very talented film students at the Columbia Film School! I LOVED everything about the world of entertainment. I would watch early films of Greta Garbo and knew that was my dream…that led me to Hollywood!
Ladyaslan: Summarize your different looks in movies in one to three sentences as if you were speaking to someone unfamiliar with your modeling, print ads, or movies.
Deborah Dutch: I began in AFI films in L.A. and NYC. I played the ingénue, myself. Young, pretty, and vulnerable to the vicissitudes of life. It led to a variety of opportunities as the heroine in the Kung Fu film, Bruce Lee Fights Back from the Grave to Sorority Girls and the Creature from Hell. I also was typecast as a sexy character, teenage hitch-hikers, dancers, rocker chicks, secretaries, and prostitutes! Once I became a Scream Queen, my persona expanded into vampires, ghouls, and murderess, as in Death Dancers, an erotic thriller. Then I created my "signature" role of a "Warrioress." It seemed to me that I was always either defending my life or killing a demon with a sword! Recently, I've been asked to play in an aristocratic period piece and another recent role, as a "biker chick"! So, as an actress you have to be able to play a variety of roles, from the nun to the prostitute and any number of other characters! I love the art of acting!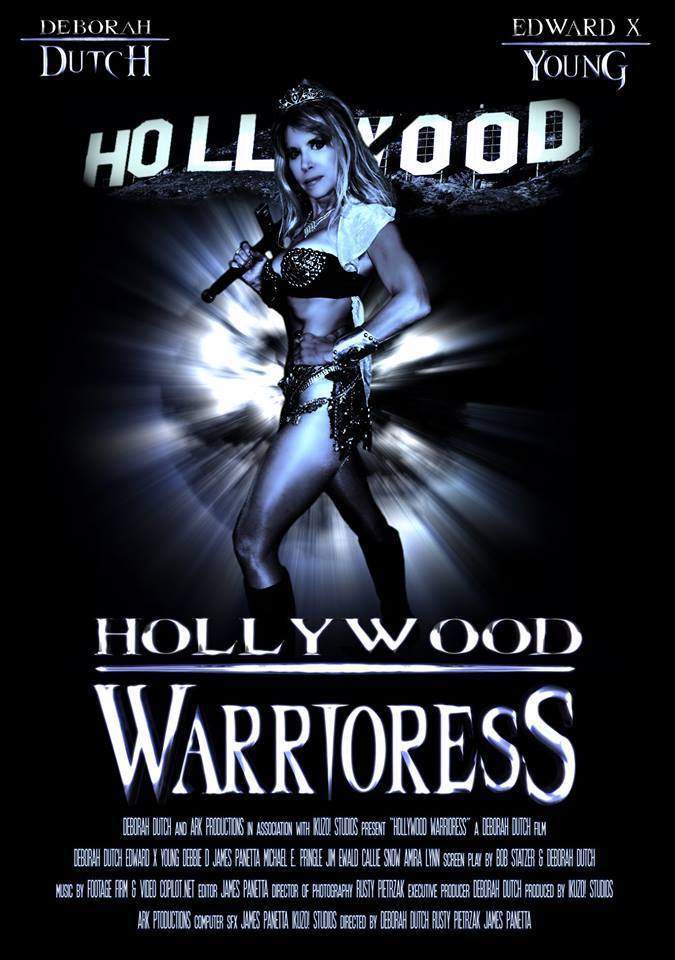 Ladyaslan: Enlighten our readers from the very beginning…how your first film was a Kung Fu epic called Bruce Lee Fights Back from the Grave (1976) which earned you celebrity status in South Korea.
Deborah Dutch: I got the role of the heroine in Bruce Lee Fights Back from the Grave as part of my destiny. It happened so fast. I got a manager as soon as I arrived in Hollywood, who set up a meeting and the star chose me on the spot at a dinner party! I knew it was because of my blue-green eyes. If you watch the film, you'll note the many close-ups on my eyes and my expressions. I learned Kung Fu on the set and did my own stunts! It was a challenging experience and I feel it was "trial by fire"! It truly trained me for the difficult journey that awaited me. I was asked to sign a five picture deal after filming was completed, and I turned it down, opening the way for more opportunities in the entertainment world.
Ladyaslan: Give our Babybats some insight on your early '80s work on movies and television shows such as D.C. Cab (1983) with Gary Busey and Miami Vice (1984). What was that experience like (do you still get chills when you hear the saxophone in the Miami Vice's soundtrack song "You Belong To The City" by the late great Glenn Frey)? I know I do…I miss GREAT sax [laughs].
Deborah Dutch: Logically following my short lived celebrity as a Kung Fu star, I got a known agent and began auditioning for major studio movies. I landed a role in Protocol with Goldie Hawn, and then the doors really started to open! I had my own trailer, scale plus money per week! I worked with major stars and was a starlet! I auditioned for D.C. Cab for the legendary Joel Schumacher and he chose me! It was SO EXCITING! I also was in a nice role in Paramount's The Man Who Wasn't There starring Steve Guttenberg and Torchlight with Ian McShane and Pamela Sue Martin! What a wonderful time for me! Miami Vice was the icing on my cake! I was flown into Miami right from the set of General Hospital and final casting on the set! I lounged by the pool of the Alexander Hotel where I stayed while filming. I remember seeing Christie Brinkley and Billy Joel who were staying there also, thinking this was FABULOUS!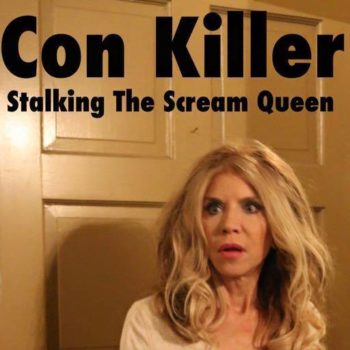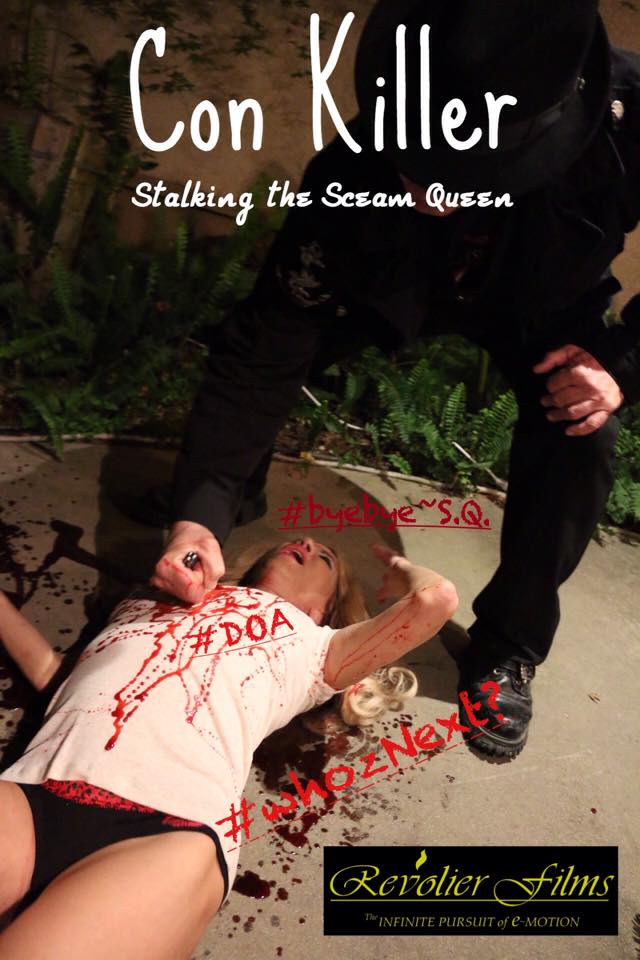 Ladyaslan: What do you prefer, stage work or film work and why?
Deborah Dutch: I love both stage and film, but prefer film for the simple reason that I get paid more money, my performance has a wider audience that endures the test of time, and I do the work and it's done, except if I got in a Broadway show! NOTHING compares to being on Broadway! The applause and the grease paint rules! YAY! However, the reality is that with theatre, especially in L.A., you are committed for months and there's very little compensation except for the fulfillment I feel in my life as an artist, and once the production is over usually there isn't a great demand for the video performances. I've been in many plays and loved them ALL! But practically speaking, film works better for my lifestyle as an actress.
Ladyaslan: You became a "Scream Queen" from starring in many "B" horror movies. Among the most notable of them are Sorority Girls and the Creature from Hell (1990) (frequently shown on USA's Up All Night); how did you come to play Mary Anne?
Deborah Dutch: The role of Mary Anne in Sorority Girls and the Creature from Hell was written for me. I was cast from my acting class at Playhouse West where we performed in many showcases. A very important venue for young actors to be seen! It was a SAG film so it was seen all over and got a lot of air play on USA'S Up All Night with Rhonda Shear! From this, I spring-boarded as an internationally known actress in horror flicks and became a Scream Queen! The shoot was a "shoe string" budget and what I call guerilla film making. We all stayed in a cabin up on Mt. Baldy and had a FANTASTIC time! It was challenging, very tough, but FUN! We were young, passionate, and filled with the desire to make our dreams come true! Our "youthful spirit" and trained acting technique translated to the film!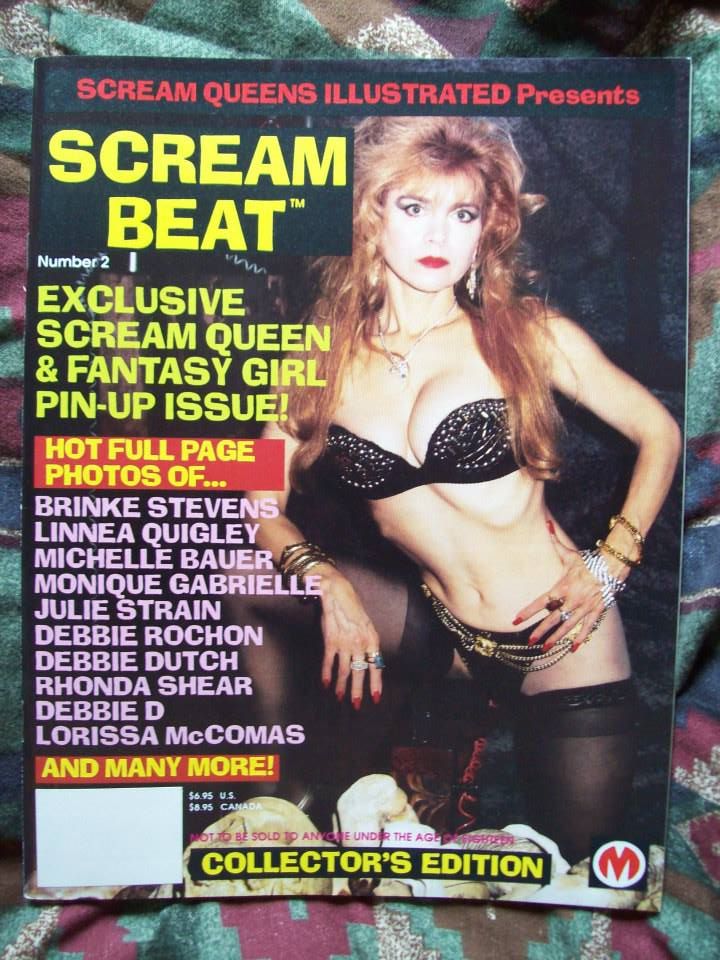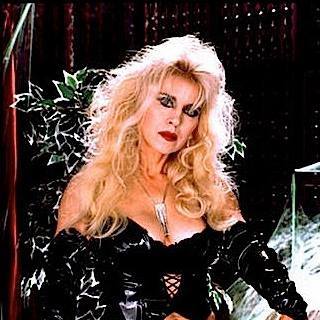 Ladyaslan: What was your motivation for Dead Air (1999) playing Jill Auphil? What was your most memorable moment?
Deborah Dutch: I was cast as Jill Auphil in Dead Air by the L.A. law, "it's who you know in this town"! I had worked with the producer in several films that were successful and we were friends! It was a wonderful acting experience and I loved the "twist" in my character. I turn out to not only be the serial murderer, but also a lesbian. I'm sorry, but don't want to give away my motivation, it's like the secret ingredient in a chef's recipe! My fave moment is when after seducing my co-star, I pick up the threatening shotgun and almost kill my husband, the Howard Stern wannabe! It's won awards in the film festival circuit and has aired on TV!
Ladyaslan: Tell us about the newest adverts for Christine Dupree's new book Hot Romantic Escapades for Lovers! Tell us about your character Amber.
Deborah Dutch: I was a model for the book and then was asked to do the commercial! I suggested Wade Twichell for the part of my husband and he was GREAT; we have chemistry! I had a FANTASTIC time and loved working with Christine Dupree! She's AMAZING and a celebrity wrestler with a following! Check out our wrestling scene; there's a reason for it, more fans! I know the commercial will reach a large audience on the internet and sell the book which is hot, sexy, and fun, and also a "self-help manual" to a happier, sexier love life for lovers!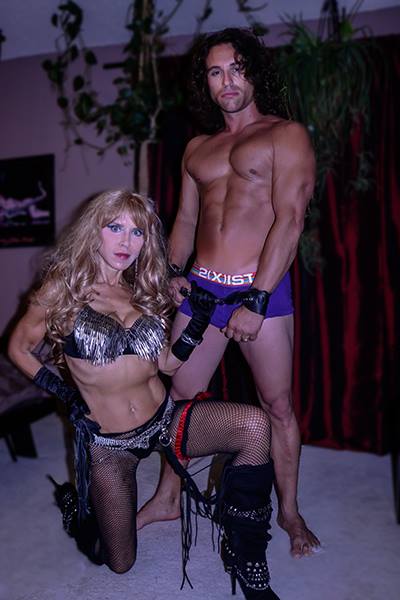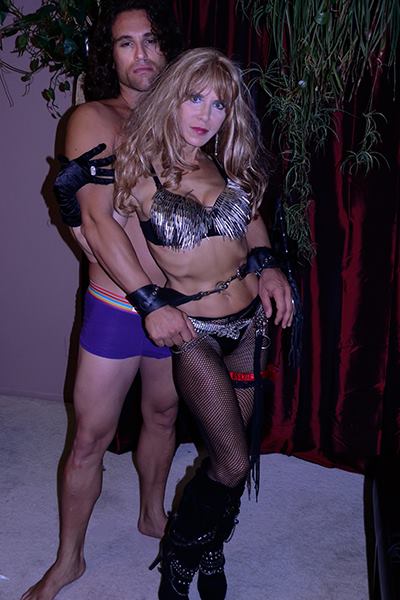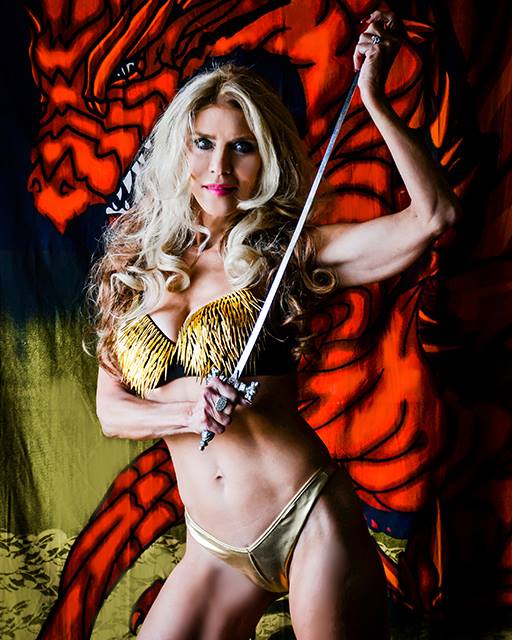 Ladyaslan: In 2014 you were part of the thriller Blood Mercury written, produced, and directed by Len Kabasinski and Luc Bernier. What was that experience like?
Deborah Dutch: I LOVED my role as Nurse Amanda in Len Kabasinski's Blood Mercury! It was a very sinister role and I drew upon my "evil twin" for my motivation. Also, I have a bloody, brutal death! GREAT EFFECTS! I was thrilled to work with Len; he's so talented, professional, and cutting edge! I made a niche for myself with this character, portraying her like Bettie Davis in Hush, Hush Sweet Charlotte! I used my Bettie Davis eyes to reveal the demon within….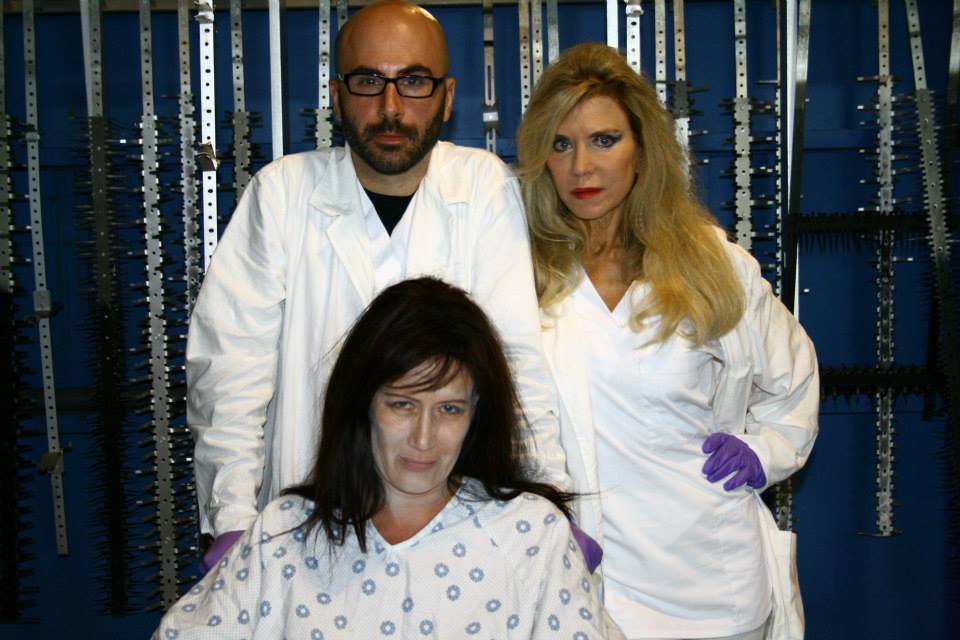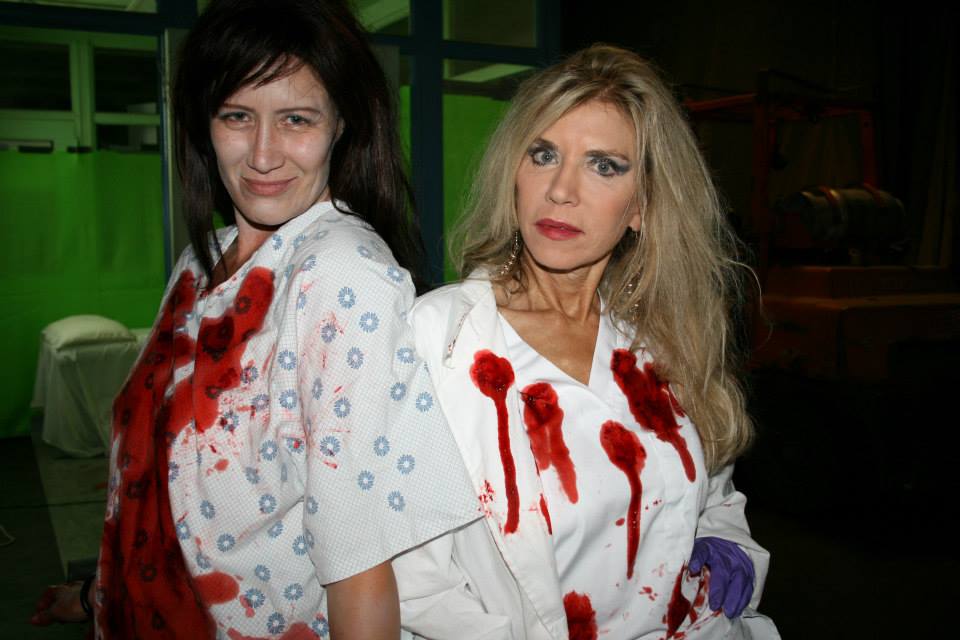 Ladyaslan: If you were given $1,000,000 to donate to the charity of your choice, which one would you choose?
Deborah Dutch: My fave charities are: Humane Society, the homeless, St. Jude, Project Angel Food, and SGI-USA. I would distribute the money equally between them.
Ladyaslan: I love music and I'm always interested in the musical tastes of my friends. Tell me your five favorite songs.
Deborah Dutch: My five fave songs:
"Somewhere over the Rainbow"
"Dream On" by Aerosmith
"Stairway to Heaven" by Led Zeppelin
"Don't Stop Believing" by Journey
"Bohemian Rhapsody" by Queen
Ladyaslan: Last but NOT least, where can my readers/#Babybats get more information on you and any upcoming projects?
Deborah Dutch: Facebook and IMDb. I want to wish ALL your audience, Ladyaslan, COMA and TE: "Let's make ALL our Dreams Come TRUE! Please, check out my movie, The Hollywood Warrioress on Amazon.com. It was a dream of mine, and I star in it and produced it! YAY! XOXO
**About Ladyaslan: She is a published gothic poet and horror erotica novelist. Ladyaslan's second book was just released on Amazon.com, Barnes and Noble, and other established book retailers internationally. Check out Lipstick & Absinthe and her other books at the link below.
Official Website: http://www.lipstickandabsinthe.com/
You may also like...