:Music Review: Assemblage 23 – Endure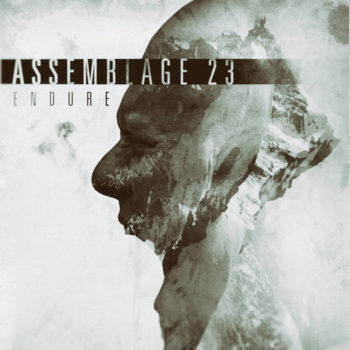 Assemblage 23 – Endure
Label: Metropolis Records
Release Date: September 9, 2016
Websites: Official │Facebook │Twitter │SoundCloud │Tumblr
Review by Danesha Artis
As a music reviewer, it would be best to give reviews as objectively as possible without letting feelings get in the way of reporting. Well, I can easily say that I've failed outright when I listened to Endure. And I think I'm fine with that; once I crawl out of the puddle of tears this album caused.
Good God. The next time I see Tom Shear, I want to grasp that man by his shoulders and ask who the hell hurt him and how dare you pass the feelings onto me.
The title track leads in with white noise and static, accompanied by a happy and poppy sounding backbeat. Little do you know that this stop and the next is just a quick stop before the feels rollercoaster drops you headlong into the rest of the album. And man, you will fall.
However, that is just fine. This is pretty much something to be expected of Assemblage 23. Their work usually has you vacillating between running out onto the dance floor or becoming a sobbing mess; or an odd mixture of the two. And again, this is just fine.
Endure just happens to hit you a little harder when delving into the themes of depression and attempts to overcome it. "Bravery" is a perfect example of the former: "Each one of us fights battles no one else can see. Some days just waking up is an act of bravery." And on the other side is "December": "When December ends, at last you will be free, unbound by earthly plight, unfettered by disease when December ends." This album starts off with hitting your feelings dead center and finishes with lifting you up and being a cheering section. That is honestly what I love so much about this.
I recall Tom apologizing about the fact that they were going to make everyone cry this tour. Apology accepted, dammit.
Track Listing
01. Endure
02. Afterglow
03. Bravery
04. Salt The Earth
05. Static
06. Call The Dawn
07. Butterfly Effect
08. Barren
09. Grid
10. December
Deluxe Edition Tracks
11. Afterglow (the Rain Within Remix)
12. Bravery (Interface Remix)
13. December (Neuroticfish Remix)
14. Ignorance
15. Salt The Earth (Angeltheory Remix)
16. December (Stereospread Remix)
17. Bravery (Solitary Experiments Remix)
18. Goliath
19. Ignorance (Mr.Kitty Remix)
You may also like...