:The Oontzcast: Episode 265 – "Ten Years Of Terror…For Your Bunghole!"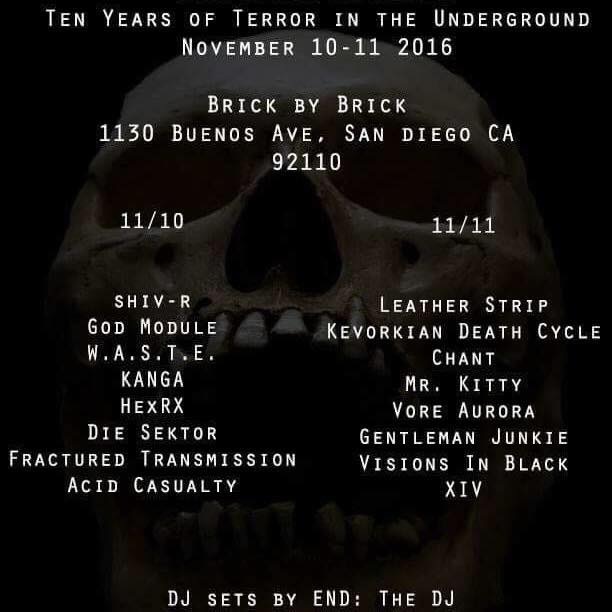 Album of the Month: KANGA – KANGA LP
Release Date: November 18, 2016
Label: Negative Gain Productions
Websites: Bandcamp│SoundCloud│Facebook│Twitter│iTunes
Jaymie and I (Yvette) are finally back on air/cyberspace after the longest hiatus Oontzcast has ever been on. We apologize for that, but there was this festival thing we were busy with….
This episode we feature tracks from our new album of the month, KANGA's self-titled LP, along with one track from each of the bands that played at the festival in the order that they played in, because of course I had to make it difficult to mix.
There is only one talk break this episode but we made sure to let all of you know the awesomeness that you missed out on, along with more drunken Cruella tales, and other randomness sprinkled throughout.
On a serious note: Our deep condolences to the families and friends of those whose lives were cut much too short by the Oakland structural fire, many of whom were members of our electronic music community. They will forever live on in our hearts and minds.
Track Listing:
01. KANGA – Something Dangerous
02. END: the DJ – Fires On The Shore – Touched by Stahlnebel and Black Selket
03. Fractured Transmission – Gaza
04. Die Sektor – Heaven Sent Hell Embraced
05. HexRx – Eviscerate
06. KANGA – Honey
07. W.A.S.T.E – Warlord Mentality
08. God Module – Deceit
09. Shiv-R – Pharmaceutical Grade (Mekotam Remix)
10. XIV – Here I Stand
11. Visions In Black – Inside The Void
12. Gentleman Junkie – If (Feat. Saiyaka)
13. Vore Aurora – In Out and Thru
14. Mr.Kitty – Birds Of Prey (Demo)
15. CHANT – Revolt
16. Kevorkian Death Cycle – Prey to God
17. Leæther Strip – It's Who I Am (Bilian_Remix)
Tags CHANTDie SektorEnd: the DJFractured TransmissionGentleman JunkieGod ModuleHexRxJaymie BurzetteKangaKevorkian Death CycleLeaether StripMekotamMr. KittyShiv-RStahlnebel & Black SelketThe OontzcastVisions in BlackVore AuroraW.A.S.T.EXIVYvette Arambula
You may also like...