:Interview: Starbass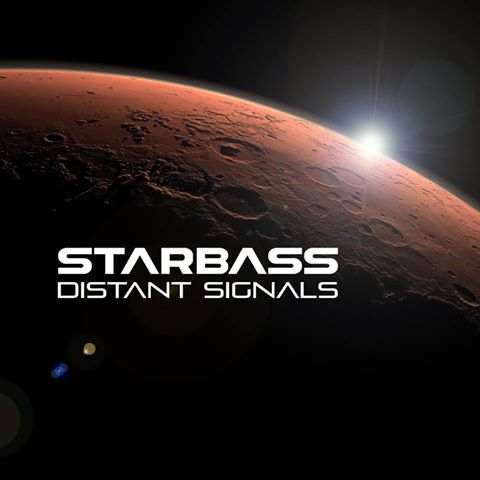 Need something to cut through the clutter of negativity from the past few weeks, but which will still reflect the darker mood and melancholy we're all feeling? Look no further than Starbass's "Love's Little Curses." Not precisely synthpop with the bass and dubs, but not really EDM, the Utah producer's understated track off of his upcoming LP, Distant Signals, has a goth darkness reminiscent of the late 80s synthpop, but with the delicate minimalism of modern underground electronic acts like Hot Chip. Mix in some dreamy, vampire inspired imagery, and you have one hell of a dark video to bridge the divide between classic and contemporary. We got the chance to chat with the man behind Starbass, Salt Lake City based Steven Comeau, to get an idea of the story behind "Love's Little Curses," and for a taste of what to expect from the album and future of Starbass.
Thank you so much for taking the time to chat. Tell us about your new album, Distant Singles. Is there a single story being told within the album?
As far as a unified narrative across the whole album, No. Each song has it's own story to tell, each one being inspired by a person or event in my life. The album itself was recorded during the winter of 2015 in near complete isolation in my tiny house on a ranch in the middle of nowhere, Southern Utah. It's so beautiful there but it's also so remote that I often felt very isolated from the people whom I love. The loose concept of Distant Signals is that I'm sending out across vast distances ideas and emotions to the people who mean something to me.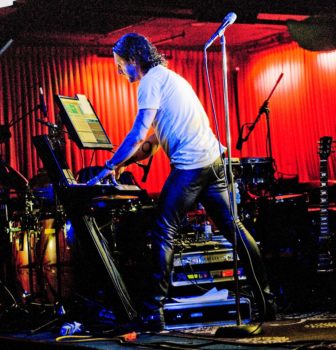 The video for "Love's Little Curse" has a definite 80s feel, was that deliberate?
Yes, in small ways. I deliberately did the same trick the Police did with "Wrapped Around Your Finger" (1983). I shot it at 60 frames a second then played it back half speed. This with the main lighting being candles gave it a very similar feel. Very fluid and dreamy. I was also thinking of the opening to The Hunger (also 1983), where David Bowie and Catherine Deneuve seduce another couple to the soundtrack of "Bella Lugosi's Dead". I asked the stylist to make us look like vampires that had been hitting it a bit too hard. She did a great job. The location is actually the back of my tiny house, that's actually where I live.
Tell us about your songwriting process? How are you inspired to start a song like "Love's Little Curses," and how does that develop from writing to composition, recording, and completion?
Each album is different. On this one I wanted a bass heavy almost Dub sound to the drums and bass. I started off creating drum lines and then added a heavy sub bass. From these drum and bass beds I sketched out the sound design and then lastly added vocals. I did the bulk of the writing over 60 days in a very disciplined daily routine. I did rough mixes and played them during DJ sets at smaller festivals and clubs to get a feel of how they sounded on a big system, I then finished the mixes and mastered them. "Love's Little Curses" conformed to this process along with all the other tracks. The interesting thing about that track is the female vocals were generated using the Mac's built in text to speech capabilities then process to sing a melody and harmony.
What equipment and production software did you use on Distant Singles?
The big revolution in my process that enabled me to record and produce this album in a tiny space was dropping $1700 on a pair of Audeze LCD-X Headphones. Sounds fucking absurd right? Well when you look at the fortune proper studios spend on monitors and acoustic treatments, It's a steal. Being able to accurately hear the music in a tiny space was fantastic. I also deliberately used very obscure, film scoring oriented sound libraries and synths. I used next to no EQ on the whole album, just picking sounds that went well together naturally. Oh, all that flute you hear on the album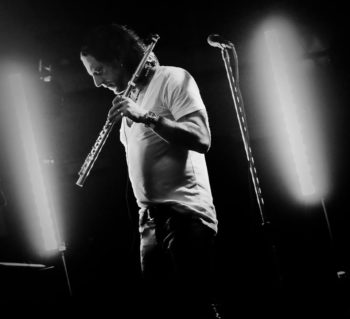 is real, I'm playing it.
How has social networking impacted how you interact with fans? Do you have a preferred platform?
On the plus side, social media allows me to access people and introduce them to my music all over the world. On the down side, to use social media well, you have to understand the underlying systems and biases of the social media platforms in order to game the systems and biases to actually reach those people. In a perfect world, my ideal social media platform to reach people would be whisky at the bar after a show with people all over the world. I'm Ok to use twitter for now…
We know that you play darker electronic music, but is that the music that you personally listen to all the time?
Mostly, but that can encompass a huge range of music. From Portishead to IAMX. From Joy Division to Trentmoller. None of these artists are all smiles and sunshine, but their work can span a huge array of textures and human emotion. People are for the most part complicated and kind of difficult, hence my love of the darker challenging side of art.
When you're preparing to perform, do you need to psych up or calm down? How do you do it?
I'm one that definitely has to get psyched up. I've played or DJ'd so many shows, parties & festivals over the years that I really have to rise above a certain cynicism that has accumulated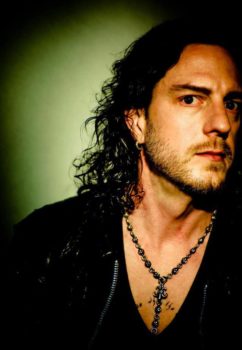 with age. I totally believe you have to put on a show when you perform, put your heart and guts into it or do everyone a favor including yourself and just stay the fuck home. I usually have a couple shots of whisky, clear my head and focus on being grateful for having an opportunity to play for people. I focus on my sort of karmic debt to the people who paid to see me do what I do. This usually lights a fire under my ass. That and the whisky.
Do you have any upcoming tour dates in the works?As soon as I get the live show fine tuned, I'll start putting together a plan. I love meeting new people and seeing other artists so getting out there and sharing this stuff is something that will totally happen in the months to come.
What can fans expect from Starbass in the near future?
I'm looking to collaborate and remix as much as possible. Both because I enjoy it immensely but also because it's a good way to get the word out there and promote my work.
Watch for the release of Distant Signals (release date tba) and follow Starbass online:
Facebook | Twitter | SoundCloud | YouTube
Tags "Love's Little Curses""Wrapped Around Your Finger"Audeze LCD-X HeadphonesCatherine Deneuve"Bella Lugosi's Dead"David BowieDistant SignalsHot ChipIAMXJoy DivisionPolicePortisheadStarbassSteven ComeauThe HungerTrentmoller
You may also like...