:COMA Music Magazine Presents: Ten Years of Terror in the Underground: TICKETS ON SALE NOW! – November 10-11, 2016 – San Diego, CA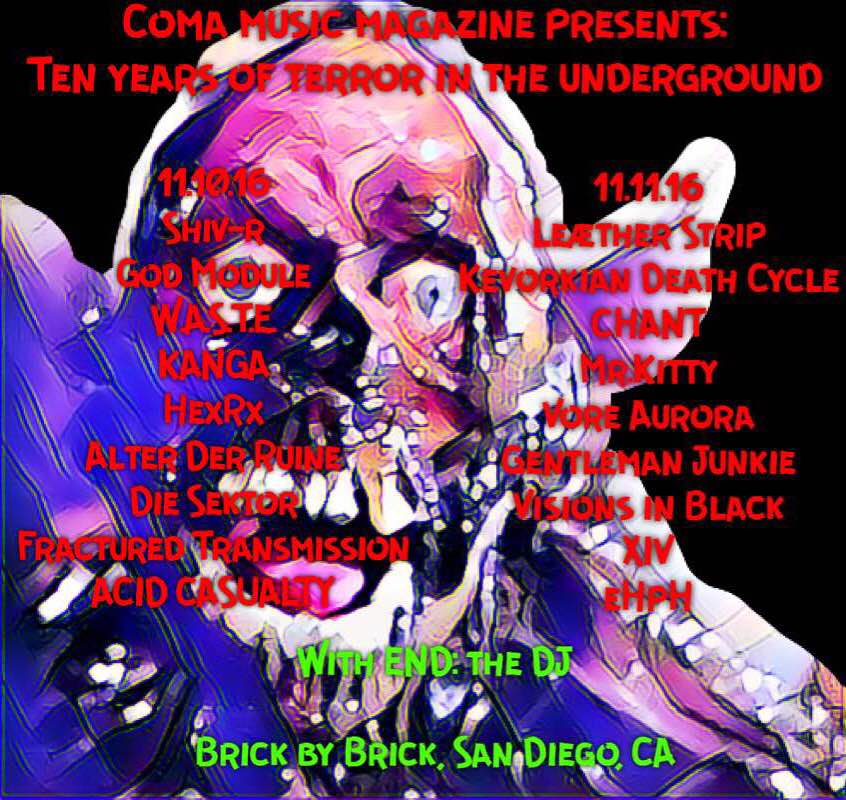 Tickets are now on sale for this epic event! Come celebrate COMA's 10-year anniversary with us!
Get your tickets while they're hot!
Venue has limited capacity increasing the likelihood of this event selling out. You have been warned!
DAY ONE
SHIV-R
www.facebook.com/shiverindustrial
www.shiv-r.com
GOD MODULE
www.facebook.com/godmodule
godmodule.org
W.A.S.T.E.
www.facebook.com/seektotalentropy
www.seektotalentropy.com
KANGA
www.facebook.com/kangakullt
kangangp.bandcamp.com
HEXRX
www.facebook.com/RXHEX
www.hexrx.com
ALTER DER RUINE
https://www.facebook.com/adrofficial/
https://alterderruine.bandcamp.com/
DIE SEKTOR
www.facebook.com/Die-Sektor-Official-139271376102530
vampirefreaks.com/DieSektor
FRACTURED TRANSMISSION
www.facebook.com/FracturedTransmission
www.fracturedtransmission.com
ACID CASUALTY
www.facebook.com/ACIDCASUALTYS
soundcloud.com/acid-casualty-1
$35 ADV & $45 Day of Show ($60 FOR TWO-DAY PASS)
$70 VIP TICKETS ($130 FOR TWO-DAY PASS)
6:00 P.M., 21+ ONLY
TICKETS AT: http://ticketf.ly/2de7Lxa
With END: the DJ both nights!
https://www.facebook.com/EndtheDJ/
http://www.ENDtheDJ.com
DAY TWO
LEÆTHER STRIP
www.facebook.com/LeaetherStrip
leaetherstrip.bandcamp.com
KEVORKIAN DEATH CYCLE
www.facebook.com/KevorkianDeathCycle
www.myspace.com/kevorkiandeathcycle
CHANT
www.facebook.com/Chantproject
www.chantproject.com
MR.KITTY
www.facebook.com/mrkittydm
mrkittydm.bandcamp.com
VORE AURORA
www.facebook.com/VoreAurora
soundcloud.com/vore-aurora
GENTLEMAN JUNKIE
www.facebook.com/GentlemanJunkieLa
gentlemanjunkie.bandcamp.com
VISIONS IN BLACK
www.facebook.com/Visionsinblack
visionsinblack.bandcamp.com
XIV
www.facebook.com/xivband
www.xivmusic.com
eHpH
www.facebook.com/eHpH-570401909735542
ehph.bandcamp.com/releases
$35 ADV & $45 Day of Show ($60 FOR TWO-DAY PASS)
$70 VIP TICKETS ($130 FOR TWO-DAY PASS)
6:00 P.M., 21+ ONLY
TICKETS AT: http://ticketf.ly/2de6Gp5
Tags Acid CasualtyAlter Der RuineBrick by BrickCHANTDie SektoreHpHEnd: the DJFractured TransmissionGentleman JunkieGod ModuleHexRxKangaKevorkian Death CycleLeaether StripMr. KittyShiv-RTen Years of Terror in the UndergroundVisions in BlackVore AuroraW.A.S.T.EXIV
You may also like...