:Dark Delights: Kevin David of 7hirteen Clothing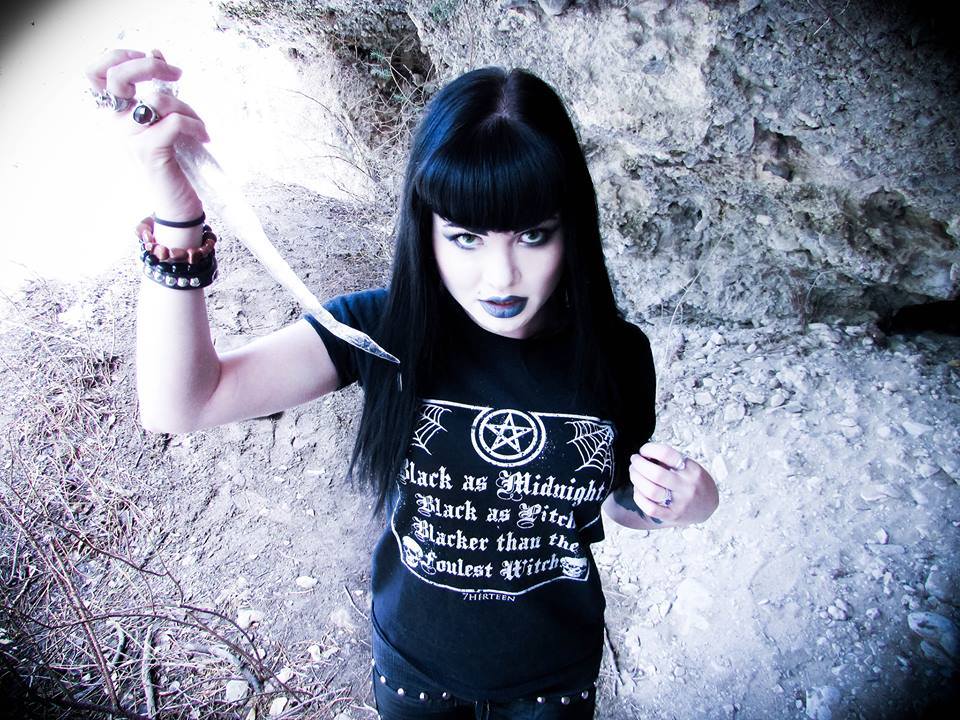 Dark Delights with Ladyaslan Presents:
Kevin David – 7hirteen
Models
Violette Syn – Ron Brand Photography
Amber DeVille and Aaron Munster – Monster Doll Photography
Tracy Wayne Gacy – Candylust
Ladyaslan: Welcome, Kevin David of 7hirteen. Thanks for joining me here on Dark Delights.  What should my readers, aka "#Babybats," know about you?
7hirteen: First off, thank you for having me. I would say I'm pretty quiet. Some would say antisocial. I'm married. I'm a father. I live in Iowa in a small town nobody's probably heard of. I write dark poetry and have self published two books of original poetry. I love horror movies and music. I love Reese's peanut butter cups, but only if they're fresh [laughs].
Ladyaslan: What inspired you to have a horror and occult line of clothing?
7hirteen: I honestly never really set out to start a clothing line. I'm always finding new creative outlets. I have ADHD and I battle anxiety and depression so I'm always trying to keep my mind occupied. I came up with one simple design that I created myself very crudely with Paint and Gimp. I put it up on social media and people really seemed to like it. It just kind of grew from there.
Ladyaslan: Summarize your different looks in one to three sentences as if you were speaking to someone unfamiliar with your webpage and print ads and their topic.
7hirteen: 7hirteen is an independent horror and occult inspired clothing line. The look is dark, mysterious; it draws you in.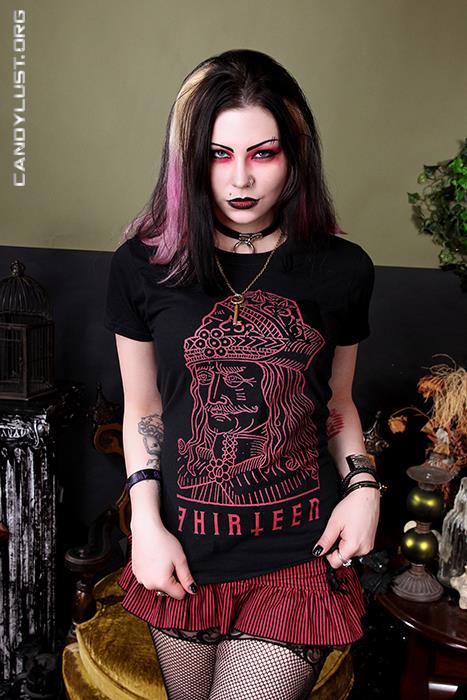 Ladyaslan: What is the overall theme (central topic, subject, or concept) of your clothing line?
7hirteen: The main theme is horror and the occult. They're both things that I am interested in. I read a lot horror books, watch and enjoy horror movies. I am intrigued by the occult, magic, the supernatural.
Ladyaslan: Is there any subject currently trending in the news that relates to your different styles and looks?
7hirteen: Not really. I try to not follow trends too much. My styles and looks are kind of all over the place I feel. It all depends really.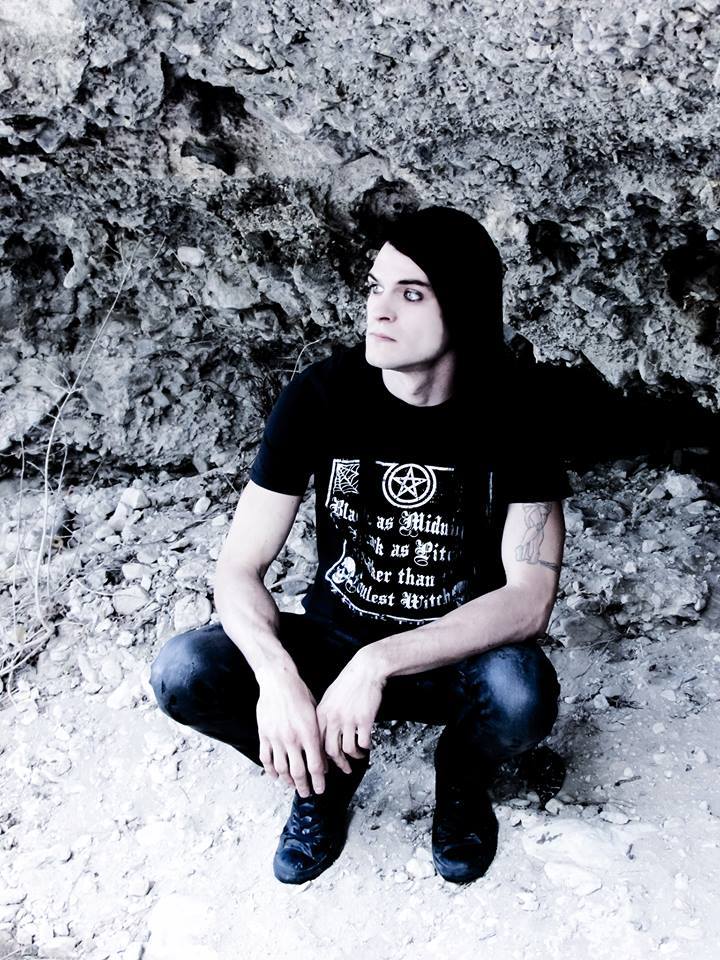 Ladyaslan: What can you tell us about the motto "Do The Creep"?
7hirteen: "Do The Creep" is actually the first shirt design I ever created. It was really just a mash up of the classic scene from Nosferatu where he is ascending the stairs and the song by Lonely Island. I saw the video and thought it was humorous that Nosferatu was maybe the original creeper.
Ladyaslan: Anything new in the pipeline people should be looking for in your line?
7hirteen: Nothing I can comment on as of yet, but yes I am working on a few things that I am pretty stoked about. You'll just have to wait and see.
Ladyaslan: How did you come to work with industrial/metal model Violette Syn?
7hirteen: We both were working with a mutual friend on an industrial music project. I had heard of Violette previously when he was producing some of my solo music and when I learned she had also done some modeling I decided to reach out to her.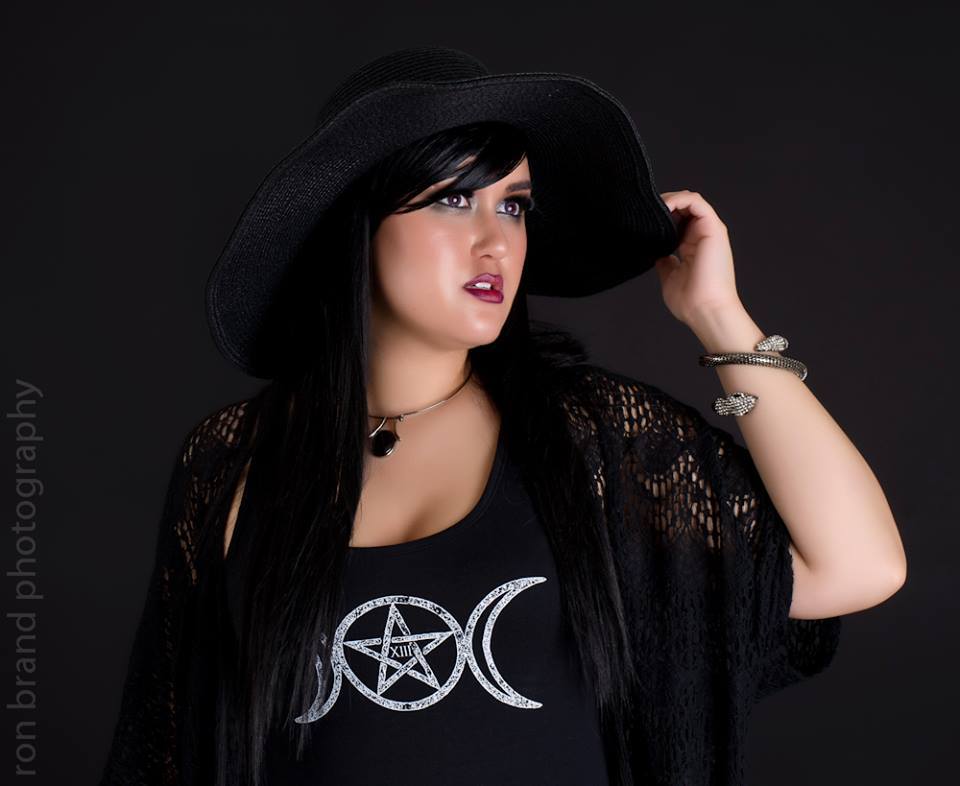 Ladyaslan: What are the three words that best describe you?
7hirteen: Funny. Mysterious. Trustworthy.
Ladyaslan: Are you a publicity-lover, or publicity shy?
7hirteen: I am definitely publicity shy. I don't do horror conventions or public appearances like other clothing lines. I prefer to be the man behind the curtain.
Ladyaslan: I love music and I'm always interested in the musical tastes of my friends. Tell me your five favorite songs.
7hirteen: "The Only Time" by Nine Inch Nails, "Shout At The Devil" by Motley Crue, "People Are Strange" by The Doors, "Paint It Black" by The Rolling Stones, and  "Coma White" by Marilyn Manson.
Ladyaslan: Have you ever had any paranormal experiences?  If so, what were they?
7hirteen: I have had several actually. I don't really talk much about it anymore. For the most part the activity, which included levitation, has subsided.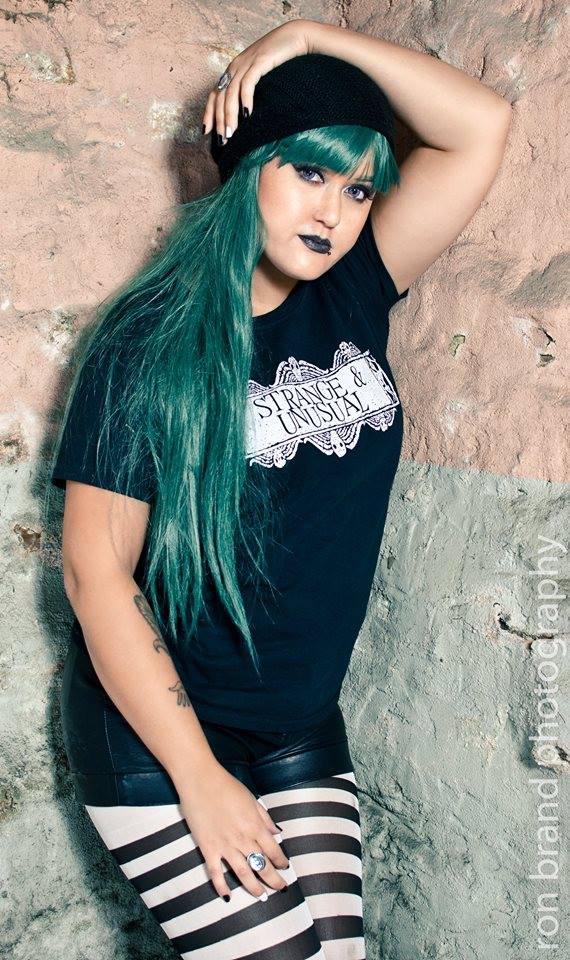 Ladyaslan: Last but NOT least, where can my readers /#Babybats get more information on you?
7hirteen: Once again, I'd like to thank you for this opportunity. 7hirteen is on social media including Facebook, Twitter, and Instagram. The website is www.7hirteen.com and for any questions or comments feel free to email me at 7hirteendesigns@gmail.com
**About Ladyaslan: She is a published gothic poet and horror erotica novelist and has her own branded T-shirt line. Ladyaslan's second book was recently released on Amazon.com, Barnes and Noble, and other established book retailers internationally. Check out Lipstick & Absinthe and her other books at the link below:
Official Website: http://www.lipstickandabsinthe.com/
Tags 7hirteenAaron MunsterAmber DeVilleAnitra DeLorenzoCandylustDark DelightsKevin DavidLadyaslanMonster Doll PhotographyRon Brand PhotographyTracy Wayne GacyViolette Syn
You may also like...