:Special Event Review: First Annual Goth Prom – May 28, 2016 – Denver, CO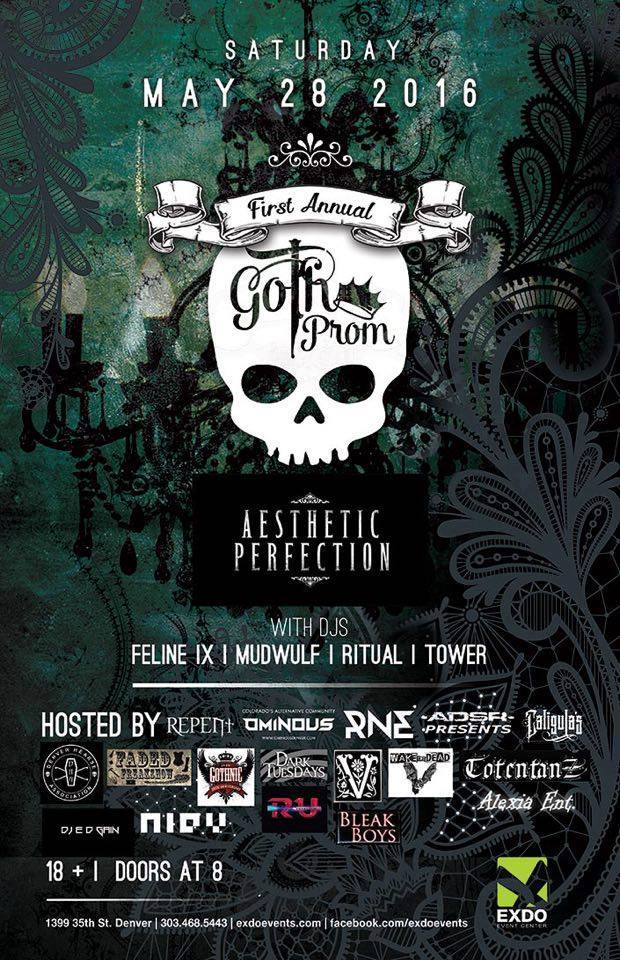 Denver's 1st Annual Goth Prom featuring Aesthetic Perfection
Concert Date: May 28, 2016
Venue: EXDO Events Center
Location: Denver, CO
Review by Sarah Martinez
Photos by Fernando Altonaga
I didn't go to my senior prom. Oh I had a cute dress and even a cute date who years later ended up being an actor on Grey's Anatomy, but on prom night I drove my orange bug to Muddy's Cafe, sat, smoked cloves, drank espresso, and read about existentialism while listening to a girl in a coconut shell bra read poetry and waited for my friends to join me. I don't recall any of my other new wave or death rock (what we were back then) friends attending their proms. That's just not something we did.
Fast forward a couple of decades and I find myself at Denver's First Annual Goth Prom. (Inaugural, gah! Come on guys!) This was the prom that all of the goths, GLBTQs, rivetheads, and general misfits would have been thrilled to attend when we were kids.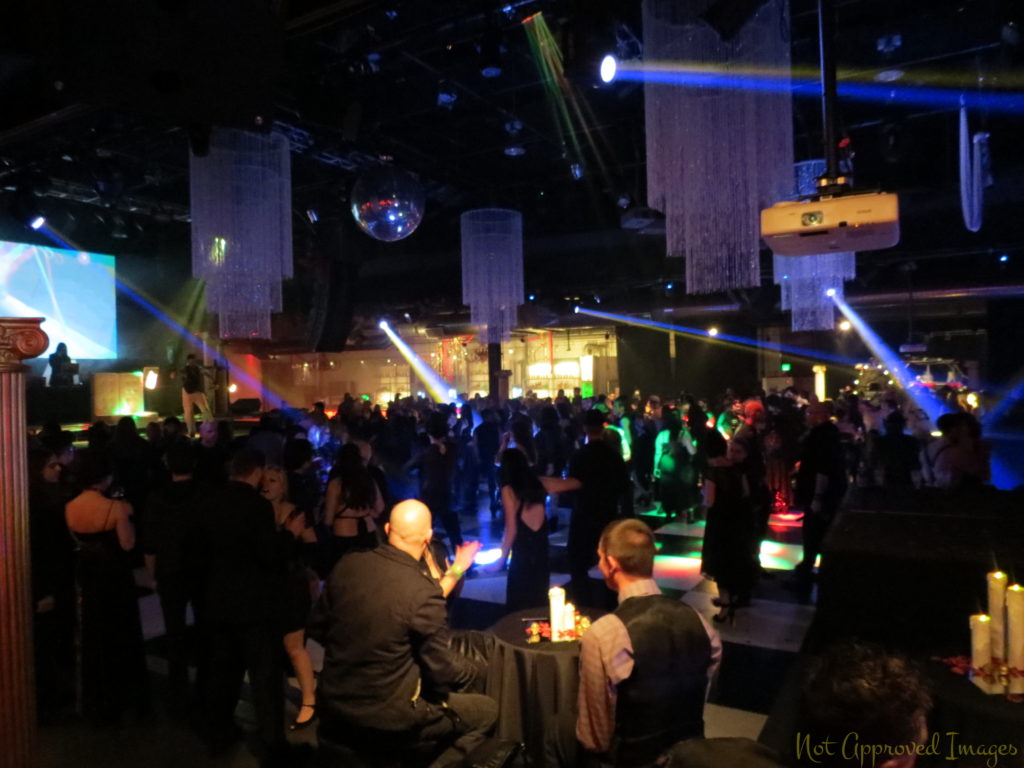 Huge chandeliers spread throughout EXDO Events Center and an impressive light setup highlighted black-cloaked tables which held candelabras, metallic skulls, and rose petals. EXDO is a large venue and on this night it was filled with mostly beautifully dressed goths which was just lovely to see. As with most proms, one still found cliques. We see this in clubs of course, but it was interesting watching it unfold in a prom context. Less refined members of the community hanging back and observing while some of the Super Goths and more prominent members of the scene mingled in their finery.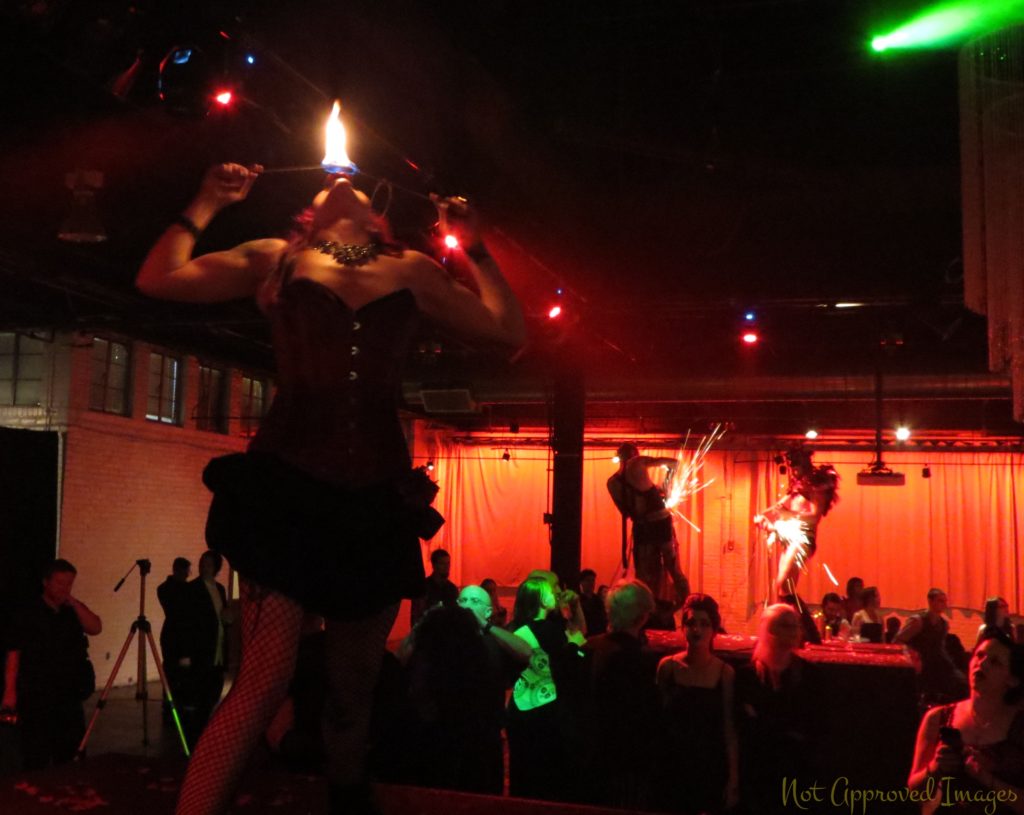 Those in attendance were treated to complimentary photos which were taken in front of a hearse from the Denver Hearse Association. Skull-flanked corsages and boutonnieres were available for purchase and many people I spoke with were hoping to be the one to walk away with either of the goth royalty crowns contributed by KINKz.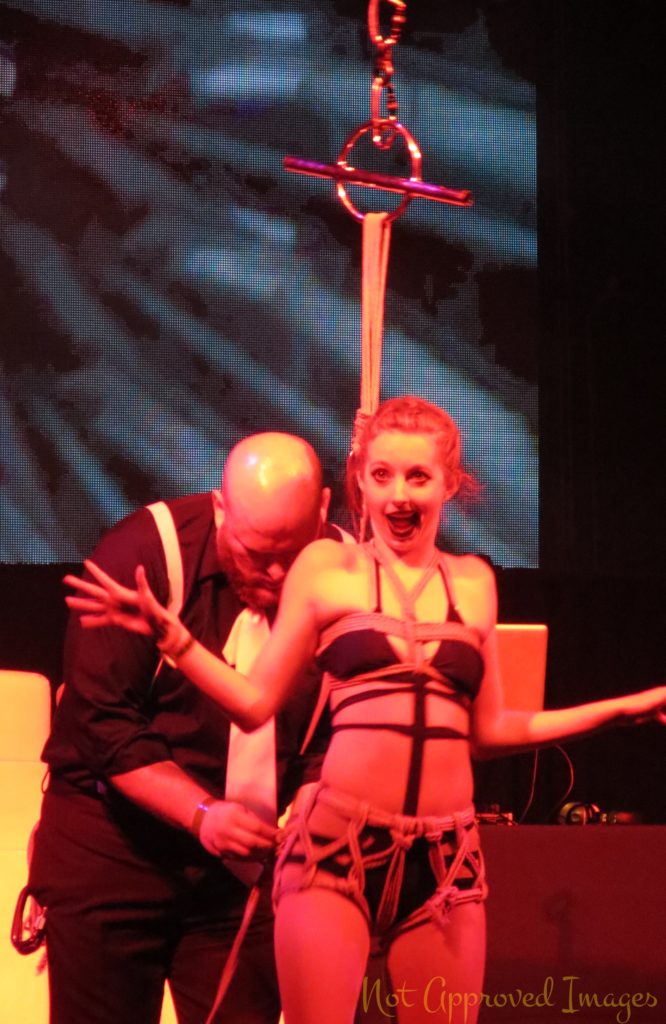 Aside from headliner Aesthetic Perfection, I didn't know what to expect from a music standpoint. Would DJs Tower, Mudwulf, Ritual, and Feline IX go campy and tongue-in-cheek to pay homage to stereotypical prom music or go classically goth? For the most part the music was solid and there was plenty of classic goth goodness mixed in. Oh what I would have done to hear Thrill Kill's "The Days of Swine and Roses" at a prom back in the day. Thanks, Mudwulf!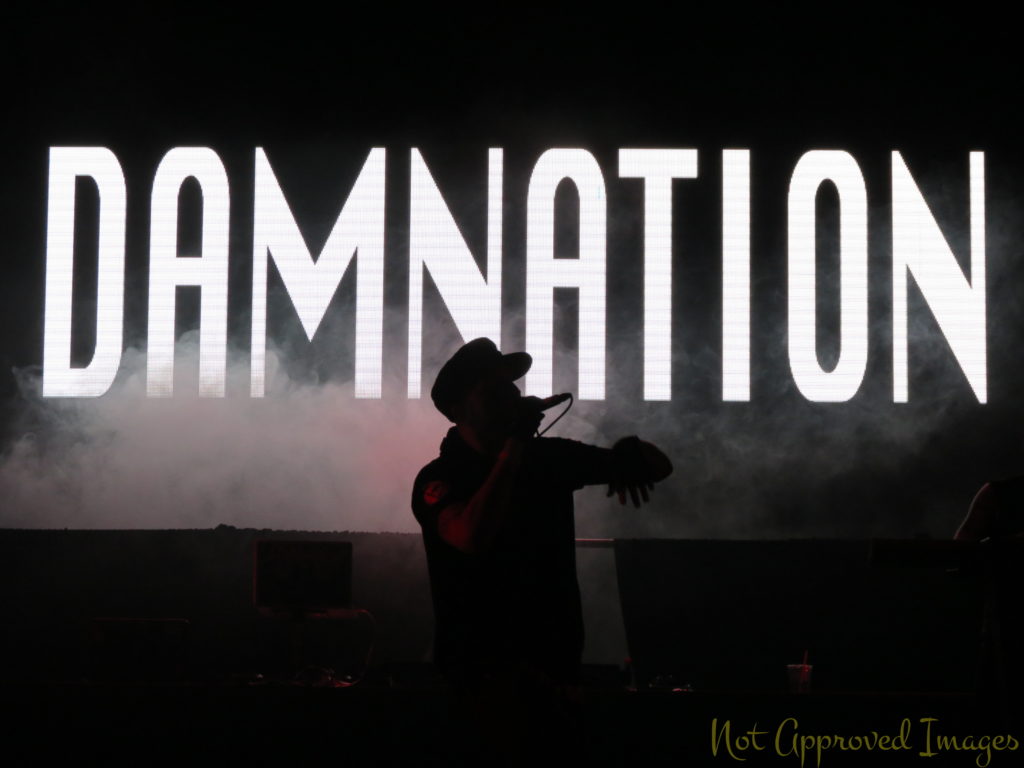 After the crowning of the King and Queen, which was done by lottery where anyone could choose to be king or queen, Aesthetic Perfection took the stage. Though Aesthetic Perfection's been around for 15+ years, I think of them as part of the newer generation of music for this scene. Frontman Daniel Graves has honed his stage presence through the years and is more than adept at working the crowd. He also gives credit to his audience which feeds his performance. In a recent Facebook post Mr. Graves stated, "Something has changed since I've returned to the stage. The excitement, the energy, the emotion, it's all amplified. The connection with you, the audience has deepened. I don't know if it's me, or if it's you or if it's both of us, but something has changed for the better. I'm enjoying this more than I have ever in my life." For many in attendance, the whole prom element was merely window dressing for Aesthetic Perfection's performance. With such a large crowd, there're bound to be differences in taste regarding any band that would have played, and it was interesting hearing people's dramatically different takes on this Goth Prom headliner.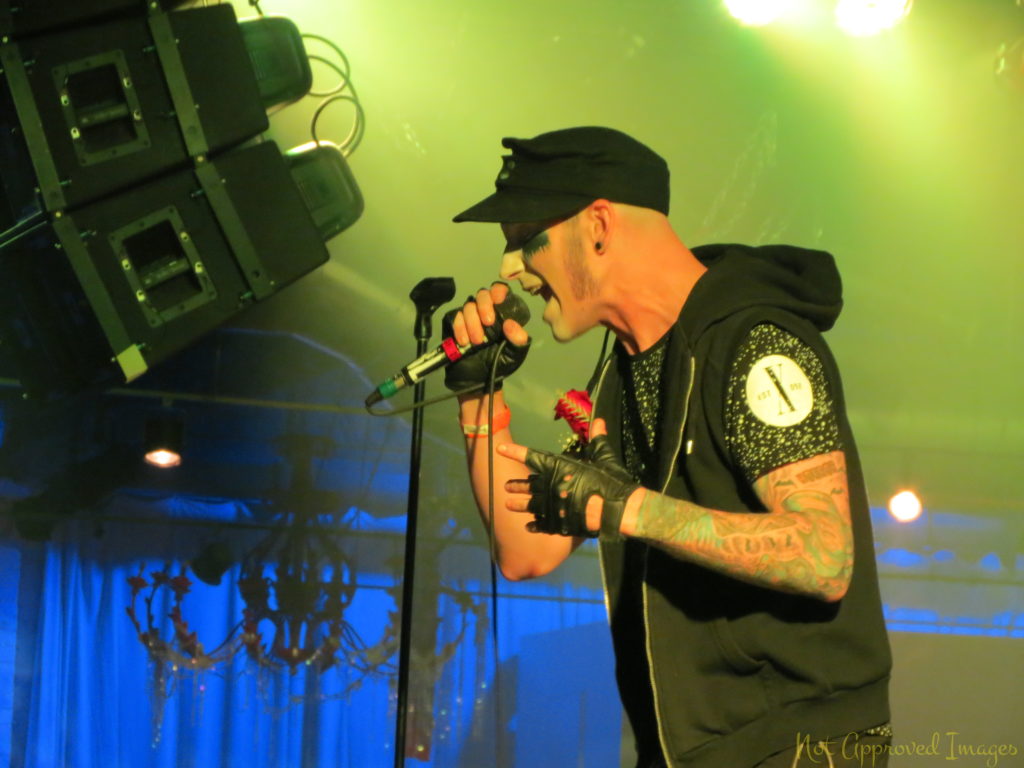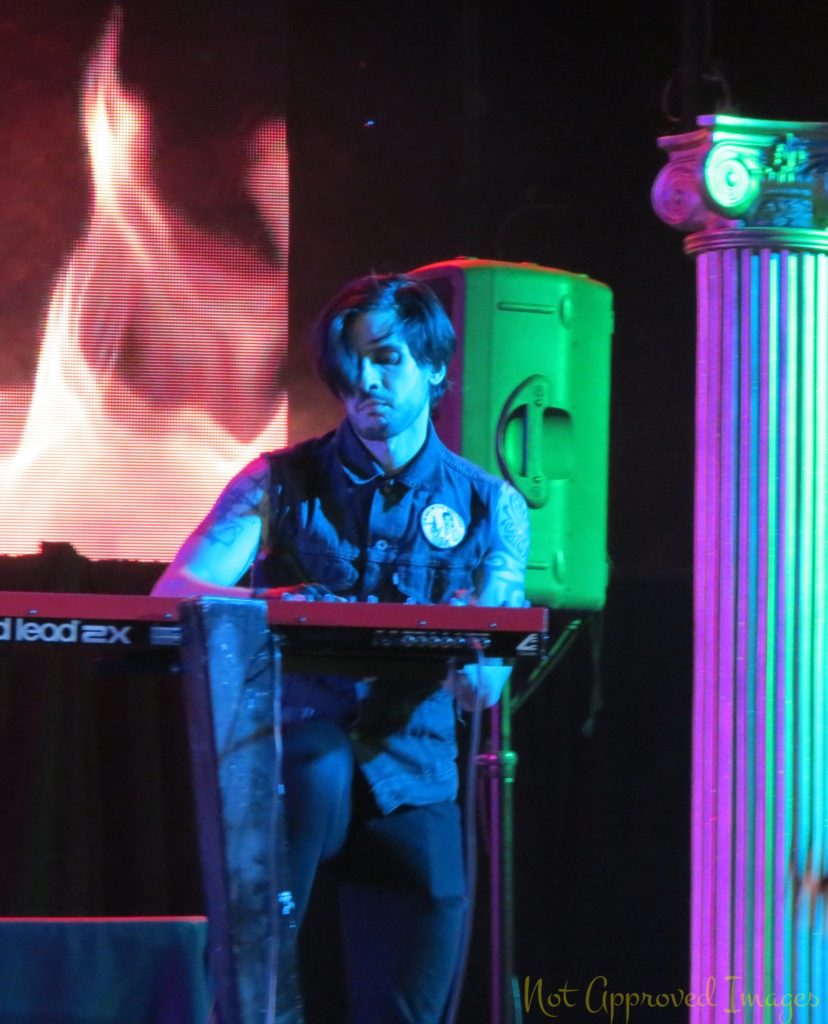 Though there were many promoters and organizations involved in bringing this night to fruition, the event was spearheaded by Desiree Albee with much assistance from AJ Ritual. From the outside looking in, with the exception of a couple of pauses due to technical glitches in both the DJ sets and Aesthetic Perfection's performance, the night went off beautifully and everyone involved really should be proud of the outcome and giving those of us who may have missed it the first go around a truly lovely prom night.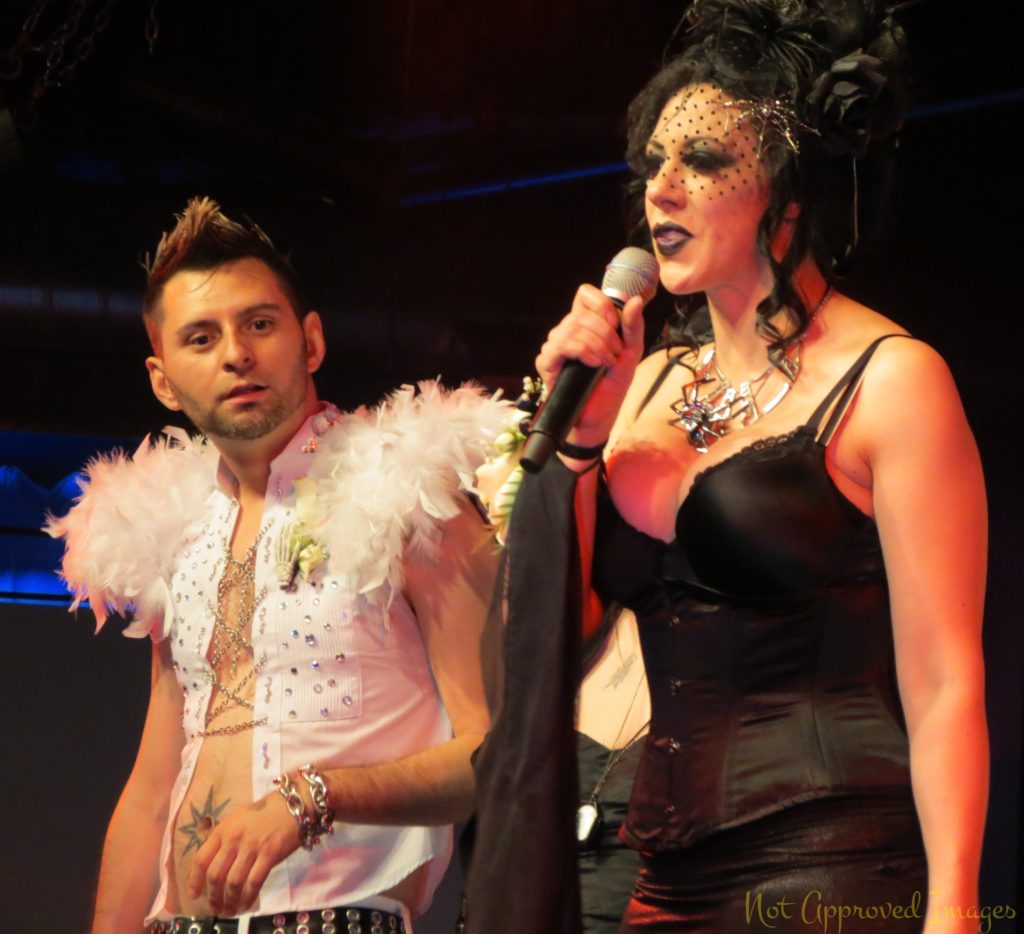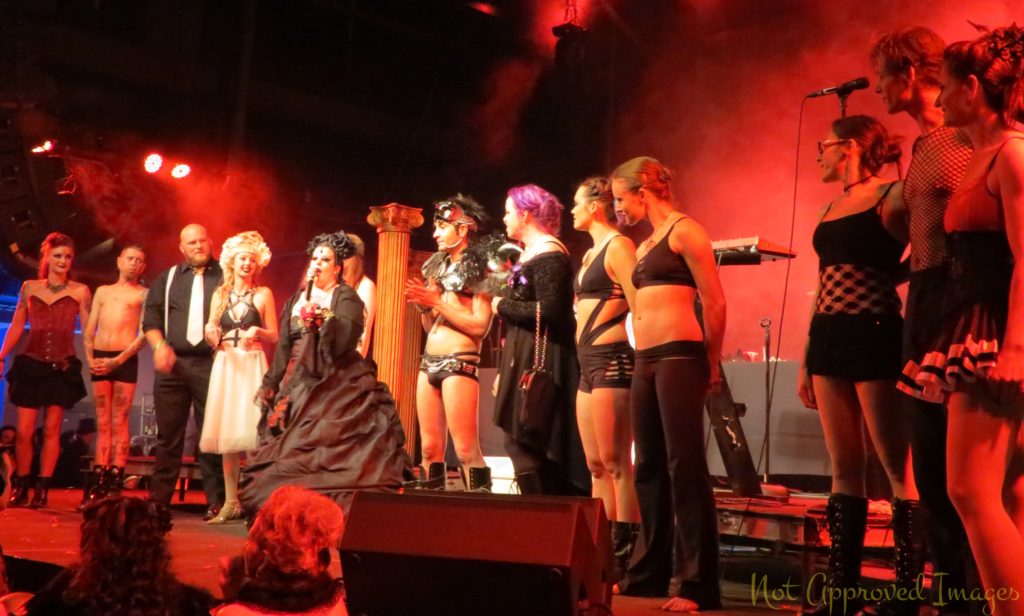 Tags 1000 Homo DJsAesthetic PerfectionDJ Feline IXDJ MudwulfDJ TowerFernando AltonagaSarah Martinez
You may also like...