:Music Review: Angelspit – Cult Of Fake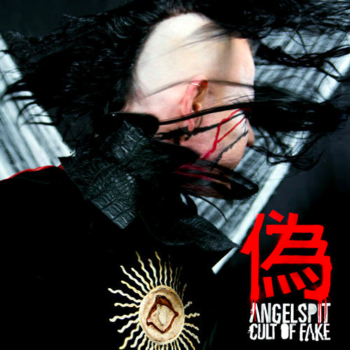 Angelspit – Cult Of Fake
Release Date: June 6, 2016
Label: Negative Gain Productions
Websites: Official │Facebook │Twitter │YouTube │Bandcamp
Review by Fernando Altonaga
Cult Of Fake starts off immediately with the signature Angelspit sound with the track "Thanks For Your Cooperation" and continues with catchy dance beats and authentic vocals throughout, staying fresh and strong straight into track two, "Eat Volts." Angelspit's sound is constantly evolving yet easily identifiable, in this case going from more of an electro-punk sound to something much more danceable.
The title track, "Cult of Fake" has the potential for mass appeal, but is still edgy enough to be underground. By the time you reach the fourth track, "New Devil," you're fully immersed in a nihilistic electro frenzy with an in-your-face punk attitude and throbbing beats. "Breath" is crisp and cool with hard-hitting bass and minimal synth work allowing the smooth vocals to show through. "Out For Blood" begins with brief cinematic screeches and then immediately starts kicking ass with attitude and hard-hitting drums.
At this point, I realize that Zoog is a fucking maniac. I've often wondered, but now I know, that it's possible to have a catchy, punk-rock, electro dance album. "Happy Murderland" is a concoction of hard beats reminiscent of classic EBM, and again an in-your-face attitude. "Sky High" echoes back to Angelspit's badass 2006 release, Krankhaus. The album is stomping its way into oblivion with throbbing bass and face melting lyrics, and it really gives your ears a proper ass-kicking.
"On The List (She's Not)" will burn up the dance floor with just the right amount of funk in the beat. Now you're dancing in a trance and it feels unstoppable. The whole time I've been listening, a ferocious momentum has been building, keeping me moving. Since we're fired up, let's listen to "Disaster Porn." The hook sucks you in and now you're sweating hard. Just when you think you're going to hear another dance floor banger, "My Little Blade" comes on and changes the dynamics with an old-school inspired structure. It's a great change and feels punk rock as fuck.
Now that I'm super inspired and full of energy, I'm going to hit the studio and unleash!
Track Listing
01. Thanks For Your Cooperation
02. Eat Volts
03. Cult Of Fake
04. New Devil
05. I Am Trouble
06. Breath
07. Out For Blood
08. Happy Murderland
09. Sky High
10. On The List (She's Not)
11. Disaster Porn
12. My Little Blade
You may also like...