:Dark Delights: Dawna Lee Heising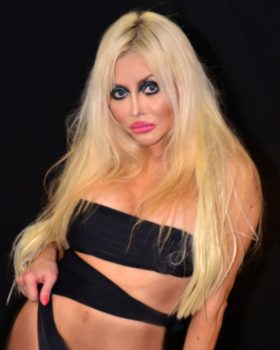 Dark Delights with Ladyaslan Presents:
Dawna Lee Heising
Welcome to Dark Delights, Dawna and thank you for taking the time out of your busy schedule to chat with me and your adoring #Babybat fans! Update us on what is going on in your world….
Dawna: I am a Type A personality and have major experience in writing business plans and executing marketing and publicity campaigns. When I returned to acting and started working on low-budget indie films, I realized that I could help with marketing schedules and publicity campaigns. I always help as much as I can to produce and promote the films that I am cast in, but I have learned to be more selective when choosing films. I'm studying acting at South Coast Repertory now and have almost 100 credits, so I am looking for bigger and better roles in quality projects.
Ladyaslan: What inspired you to become an entertainer, especially in the production end of the business?
Dawna: I've always been drawn to performing. I was a cheerleader in junior high, on the dance squad in high school and a cheerleader at Cypress College, where I earned an A.S. in Chemistry. I've always taken ballet and jazz, and won the Miss Cyprus, Miss Hawaiian Gardens and Miss Orange County Universe contests to serve the communities around me. I also served as Miss Los Angeles Chinatown, which was a huge pageant. I learned so much about my Chinese heritage from my year as Miss Los Angeles Chinatown. The sponsors of the pageant sent me to Taiwan and Hong Kong, and sent me on a cruise to Mexico. I earned an A.A. in Theatre Arts from Fullerton College and studied acting under Sal Romeo. I was with Sal's Friends & Artists theatre company for twelve years, along with Dustin Nguyen of the television series 21 Jump Street.  It was a great experience and I learned so much about the Strasberg method of acting from Sal.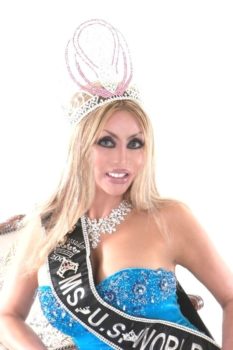 After that, I won Miss San Francisco Universe while attending U.C. Berkeley and was discovered for Fantasy Island. I played Miss Hawaii in Fantasy Island, and Cleo, the Snake Dancer, in the last episode of Magnum P.I. I was also cast as the Hawaiian Governor's wife in an episode of The New Gidget, which was directed by Ted Lange. After that, I took a break from acting and got a B.S. in Business Management and an MBA from Pepperdine University and became a marketing director for technology companies. I started four technology marketing departments from the ground up and eventually became the vice-president of marketing for a software start-up company. I returned to acting full-time five years ago. I am privileged to have some incredibly successful family members in the business to look up to. My cousin on my father's side is producer David Ka Lik Wong, who won a Primetime Emmy for Peter and the Wolf on Broadway, along with his partner George Daugherty, who is a classically trained conductor. They were also nominated for a Daytime Emmy for Rhythm and Jam, and for other prestigious awards for the children's series Sagwa, the Chinese Siamese Cat.  My uncle on my mother's side is Tak Fujimoto, who was the director of photography for Silence of the Lambs, Philadelphia, and Sixth Sense.
Ladyaslan: How excited were you to play Reita in Gregory Hatanaka's Samurai Cop 2: Deadly Vengeance?
Dawna: I am very thankful to Gregory Hatanaka for casting me in Samurai Cop 2: Deadly Vengeance, which has gotten great reviews across the world. I had the amazing good fortune to be cast by Gregory in a scene with Tommy Wiseau, who will soon be portrayed in a film by James Franco. He was very charming and helpful in my scene with him, and he exudes charisma. The scene was shot in 35mm film and has generated tons of interest because of Tommy, who is in great demand these days. Samurai Cop 2: Deadly Vengeance is the sequel to the legendary cult classic Samurai Cop (1991), and stars Mark Frazier and Mathew Karedas. Alongside the original cast, the film also stars iconic actors such as Mel Novak, Bai Ling, Tommy Wiseau, Laurene Landon, Thomas J. Churchill, Joe Estevez, Kristine De Bell and Joycelyne Lew. Being a part of Samurai Cop 2: Deadly Vengeance has really changed my life and career. I've received attention from my scene with Tommy Wiseau and discovered my wonderful manager, Joe Williamson of the Williamson Management Group, from the film. Joe is an associate producer on Samurai Cop 2: Deadly Vengeance and is the vice president of publicity for Gregory's company Cinema Epoch. He has given me great hope for the future!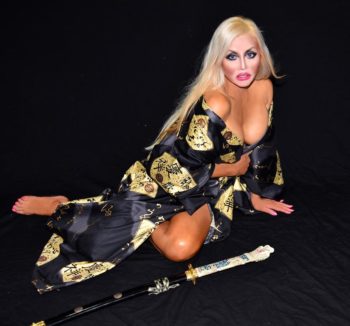 Ladyaslan: How did you come to be in the Ted V. Mickels sequel of Ten Violent Women: Part Two?
Dawna: My good friend Luc Bernier introduced me to Ted, and I played reporter Tara Turner in his 2014 film Paranormal Extremes: Text Messages from the Dead. Ted is a legendary filmmaker who founded TVM Studios, a Las Vegas-based film and video production studio, in 1993. He is the recipient of numerous awards, including a Certificate of Recognition by Nevada Lieutenant Governor Lorraine T. Hunt for his contributions to the filmmaking industry, and I jumped at the chance to film with him in Nevada. Ten Violent Women: Part Two is the sequel to one of Ted V. Mikels most successful films Ten Violent Women, and has empowering women as the motive of the action.  I play Joanna, one of the ten violent women, and my good friend Donna Hamblin is the lead in the film. Donna is a great actress and is terrific in the film. She was also kind enough to let me stay with her during the week of filming and is as beautiful inside as she is outside. Ted gave me a wonderful compliment on the set of this film. He told me that I looked fantastic, even better than in Paranormal Extremes: Text Messages from the Dead, and asked me if I had lost weight. This was a real compliment as Ted is known for his taste in women. He once lived in a castle with a multitude of beautiful women.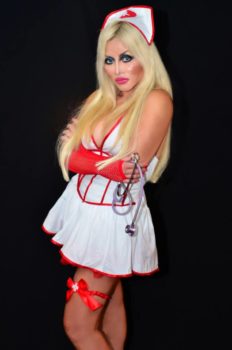 Ladyaslan: Tell us about Garden Party Massacre? How did you become involved in that project?
Dawna: Gregory says that he wrote the character with me in mind. I'm hoping that I'm not as crazy as Melanie, but she turned out to be my best role yet. I rehearsed my scenes with my Strasberg method acting teacher Michael Sewell and in an acting class at Golden West College with Tom Amen so I was very prepared. Armee Jacob did an incredible job on my hair and makeup for the film. I won't give anything away, but I ended up looking like Ursula in The Little Mermaid [laughs]! Gregory won a Best Screenplay award for the Garden Party Massacre script at the 2015 FANtastic Horror Film Festival, so I knew it would be a great film. Roxy Shih was the producer on the film, along with Gregory, and the eleven day shoot was perfectly planned out. This is the third time that I have worked with Gregory and he is an amazing actor, as well as being an excellent screenwriter and director. I can't say enough about his talent in all areas, but especially acting. His characterization of Linc was wonderful to play off of. I love working with Gregory as he knows the characters inside and out and can demonstrate exactly how the blocking should go. The film is so hilarious that everyone was cracking up on the set. I can't wait to see the finished version and I hope it wins as many awards as Gregory's first film Deadly Revisions!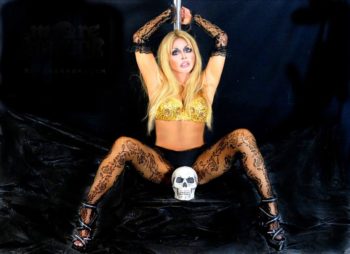 Ladyaslan: Tell us about Eye on Entertainment and how you became Executive Producer?
Dawna: I started the television show Eye on Entertainment on Time Warner Cable in 2005. I was a marketing director in technology and I missed show business so much that I teamed with director and cinematographer John Cox to travel to Hollywood after work (12 hour days!) and on weekends and do interviews with actors, directors and producers. I did interviews for many of manager Matt Chassin's clients and met Domiziano Arcangeli, Bill Oberst Jr., Creep Creepersin, Jared Cohn and many other stars of the horror industry through him. The Eye on Entertainment team includes John Cox, Renah Olzinger, Linda Maxwell of Time Warner Cable and producer Jerry Moore, who distributes the show on the East Coast and through his television channels. We've done interviews for indie film projects for over 11 years, and I also started the show More Horror in Hollywood with Seth Metoyer to highlight horror films. I just naturally became an executive producer, especially on Eye on Entertainment since I started the show. I am very well educated and trained in writing business plans and executing marketing and publicity campaigns.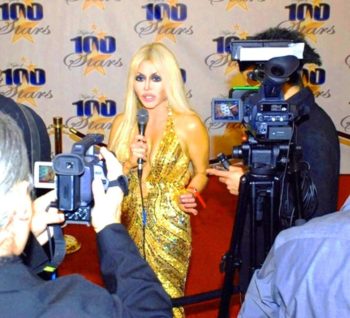 Last year, I made a decision to focus more on my acting career since I am now studying at South Coast Repertory and great opportunities are coming to me, but I realize that Eye on Entertainment can be a potent force in promoting the projects that I am acting in! I was incredibly honored to win a 2013 EOTM Award for Outstanding Television Talk Show Host. The Entrepreneurs on the Move (EOTM) Awards celebrate entrepreneurial achievements and performances in business, philanthropy and the arts (recordings, television, radio, and literature; film, directing and writing). The 2013 EOTM Awards 2013 were held on August 4, 2013 at The Historical Pacific Design Theatre at 8687 Melrose Avenue, West Hollywood, California. I was especially happy because my husband Paul and my mother, Fumie Lee, were in the audience to see me accept my award on stage. It was amazing to share my award with them and to see how proud they were! I was also honored to win Best Actress at the 2014 Mockfest Film Festival for After School Massacre from Frolic Pictures and Jared Masters. I owe a lot to Jared Masters for casting me in six of his wonderful films and for giving me the fantastic role of Naomi Perkins in After School Massacre.
Ladyaslan: What are four words that best describe you?
Dawna: This might be four words [laughs]! 1. Achievement-oriented, 2. Driven, 3. Positive, 4. Nice!
Ladyaslan: What movies/projects do you have in the pipeline for your fans to be on the lookout for?
Dawna: I will be working on films with great directors Gregory Hatanaka, Thomas J. Churchill, Mark Savage, Aki Aleong, Phil Condit, Damien Dante, Joey Harlow and Adam Steigert this year, and I am negotiating with others! I can't talk about the projects yet, but I am thankful to have the best manager in the business, Joe Williamson of Williamson Management Group, to support, guide and protect me!
Ladyaslan: How did you learn about acting (i.e. personal experience, education, etc.)?
Dawna: I would describe myself as very well-trained as I have an A.A. degree from Fullerton College in Theatre Arts and took acting at U.C. Berkeley and Tepper-Gallegos. I have also taken acting workshops at Irvine Valley College with Tim Russ and Richard Hatch. I can tell when my performance is real when I feel it inside. I have certain triggers I use when I have to feel different emotions. It's easy for me to cry and I use my Dad's death as a trigger for sadness. Doing the play Murder at Thick City inspired me to start taking acting lessons again. I was with the Friends & Artists Theatre Company early in my career and played Mei Li in Flower Drum Song and Liat in South Pacific, but then I returned to school to get my MBA. I realized how important it is to always try to perfect your craft doing the play. We had rehearsals three times a week for months before the performance, and the actors were wonderful. The lead character was played by Patrick Faucette, who is a regular on Tyler Perry's The Haves and Have Nots and the play was written by Gary Hardwick. It was an awesome murder/comedy and my character of Layla was a showgirl. We performed the play at the LMAO dinner theatre, and I even got to do a pole dance during the intermission! I am now studying the Uta Hagen method with Emily Heebner at South Coast Repertory and the Strasberg method with Michael Sewell, and am constantly striving to perfect my craft. The greatest thing I have learned is to speak from my diaphragm for more power in my performance—and in my life!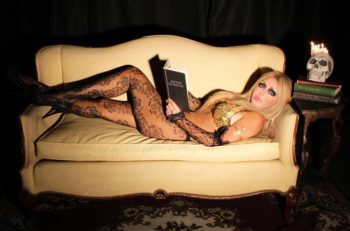 Ladyaslan: What advice would you give people just starting out?
Dawna: The best advice that I can give to anyone is to prepare yourself with a good education as a basis, and then keep training after that. There are so many talented people in Hollywood with the best educations that you need to be well-trained just to keep up. Some of the best acting experiences I have had have been on stage. I played Mei Li in Flower Drum Song and killed myself to learn the incredibly hard songs (not entirely successfully [laughs]), but it was a fantastic acting experience to train myself to cry every night on stage. I feel that it is important to keep exploring new techniques, as well. I started with the Strasberg method at the Friends & Artists Theatre, then studied the Uta Hagen method with June Barfield. I am now studying the Uta Hagen method at South Coast Repertory and the Strasberg method with Michael Sewell. Another important thing to prepare yourself for is the rejection that is a part of the business. Actors get rejected every day, from submissions to auditions to callbacks and then reviews. Along the way, if you become more well-known, are the Internet trolls. Just believe in yourself and your skills, surround yourself with positive, supportive friends and management and stay POSITIVE! Then any negativity will just bounce off you and disappear!
Ladyaslan: What other creative endeavours do you enjoy?
Dawna: I have been taking kick boxing and pole dancing for the last five years and it has been wonderful. I also still model swimsuits for Bikini Magazine so I do photo shoots at the beach every few months with my favorite photographers John Cox and David J. McNeil. I am supposed to be doing a shoot with a Bikini Magazine photographer named Michael Keller in Oceanside in the near future. My husband and I have two daughters, Marissa and Misty, and we spend a lot of time with them and with my mother Fumie Lee and my sister Laurie Lee, who is a Nurse Practitioner and a hospital administrator. Family is the most important thing in life and I am very blessed that my family is so close. Marissa is a top pharmaceutical rep at Sanofi-Aventis and has won a trip to France for her excellent skills in sales. Misty is a child psychiatrist at UCLA and is a former Fulbright Scholar.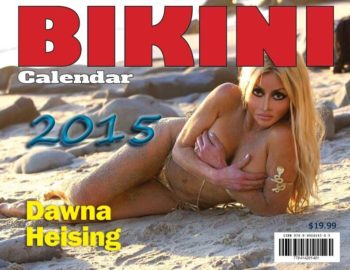 Ladyaslan: If you could be a Bond Girl, which James Bond film would you want to be part of? Who is your favourite James Bond?
Dawna: The gorgeous Ursula Andress in Dr. No was my favorite Bond girl. She played Honey Rider in the film and won a Golden Globe. The picture of her in the white swimsuit coming out of the ocean is iconic! Ursula Andress and Brigitte Bardot have always been my favorite movie stars, and I believe that Sean Connery was the ultimate James Bond!
Ladyaslan: If you were given $1,000,000 to donate to the charity of your choice, which one would you choose?
Dawna: I would donate to the Boys and Girls Clubs of America. The Boys and Girls Clubs of America provide youth with a safe place to learn and grow; ongoing relationships with caring, adult professionals; life-enhancing programs and character development experiences; and hope and opportunity. This environment enables all young people, especially those who are most in need, to reach their full potential as productive, caring, responsible citizens. I used to volunteer at the Boys and Girls Club in Buena Park by teaching ballet classes.
Ladyaslan: Finish this sentence: In my next life, I'm coming back as…
Dawna: I would have to say as myself! I love my wonderful family and my multiple careers, and I just can't imagine being anyone else!
Ladyaslan: Do you have an existing website or blog or any links you would like the fans to check out? If so, please provide.
Dawna: The Eye on Entertainment website is:  http://www.eyeonentertainment.tv
My acting website is a work in progress: http://www.dawnaleeheisingactress.com
Our YouTube channel is: http://www.youtube.com/eyeonentertainment
My Facebook page is: http://www.facebook.com/dawnaleeheising
My LinkedIn page is: http://www.linkedin.com/dawnaleeheising
My Instagram page is: http://www.instagram.com/dawnaleeheising
My IMDb page is: http://www.imdb.me/dawnaleeheising
My Twitter handle is: @dawnaleeheising
**About Ladyaslan: She is a published gothic poet and horror erotica novelist. Ladyaslan's second book was just released on Amazon.com, Barnes and Noble, and other established book retailers internationally. Check out Lipstick & Absinthe and her other books at the link below: Official Website: http://www.lipstickandabsinthe.com/
Tags Dark DelightsDawna Lee HeisingEye On EntertainmentLadyaslan
You may also like...