:Interview: Violette Syn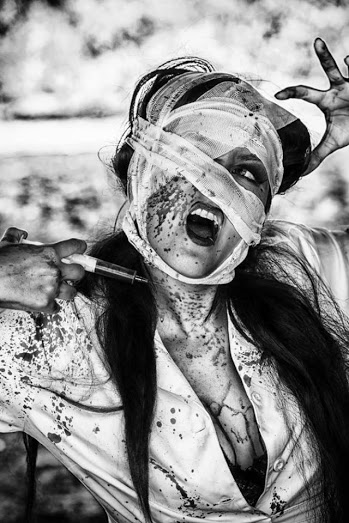 Dark Delights by Ladyaslan Presents:
Violette Syn
Ladyaslan: Welcome, Violette. Thanks for joining me here on Dark Delights. What should our readers, or #Babybats, know about you?
Violette: Thank you for having me. My name is Violette Syn. I'm an independent artist, singer/songwriter, multi-instrumentalist, alt model, and horror/sci-fi enthusiast from Kansas City.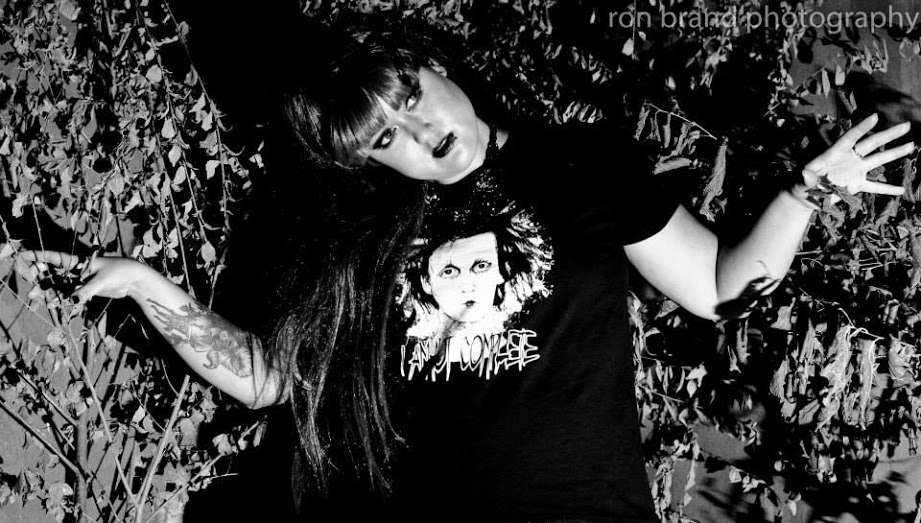 Ladyaslan: What inspired you to be in bands/a solo artist? How did you come up with the name?
Violette: I've always been into music and performing, ever since I was a child. I started vocal training at thirteen years of age, started developing a classical repertoire, competing, and later got a vocal performance scholarship in college. As much as I loved doing that and appreciate the experiences I had, it just wasn't what I wanted to do. I wasn't looking to hit Broadway or join a professional choir. It just wasn't me. I found my love in electronic music. Eventually I joined a band playing guitar, keys, synths, and vocals. After I left that band I began collaborating with various artists and became a solo artist. I didn't start getting into music production until a couple years ago. As for my name, I just wanted something that was my own. I was adopted at a young age, first being given a birth name, a second from my foster family, and third from my adopted family. I wanted to give myself something that was mine alone.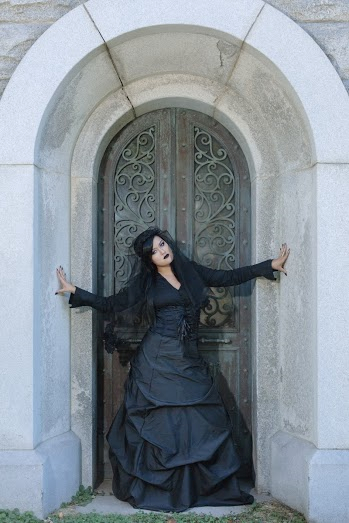 Ladyaslan: Summarize your music in one to five sentences as if you were speaking to someone unfamiliar with you and your music.
Violette: My music is pretty dark, especially lyrically. I often toy with the balance between darkness and light. Also, I'm highly inspired by horror, fantasy, and science fiction composers. As well as classical music, which can be heard throughout my music?
Ladyaslan: What is the overall theme in your music?
Violette: I don't know that I have a theme per se, I just create what I feel at that time, which changes often.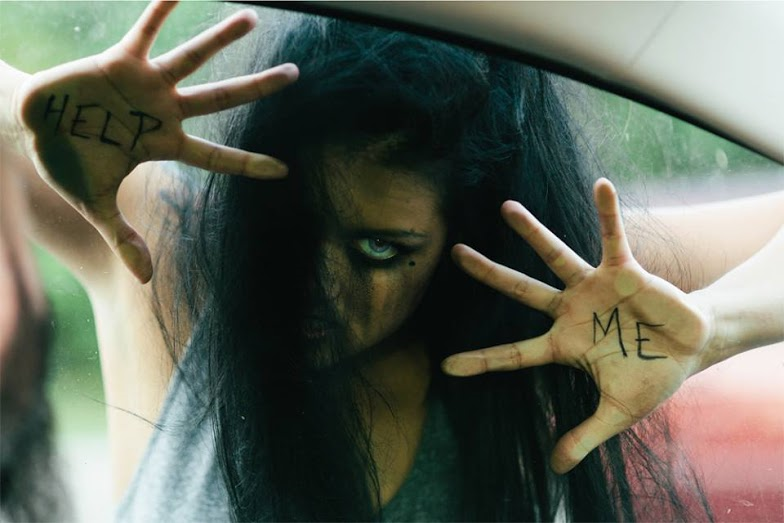 Ladyaslan: What makes you get up every morning and do what you do to make your dreams come true?
Violette: I love music. I love creating sounds and worlds where I can escape and just get lost.
Ladyaslan: You're throwing a party in a magical world where anyone, living or dead, real or fictional, will show up if invited. Who are the first 10 people you invite?
Violette: First of all, I would invite you, along with my closest friends and family. Then to make things interesting, I would invite Edgar Allan Poe, H.P. Lovecraft, Tim Burton, Guillermo del Toro, Johnny Depp, Doug Jones, David Bowie, Falcor from The Neverending Story, and he'll need a dragon friend so Haku from Spirited Away. You have to have dragons at a party thrown in a magical world.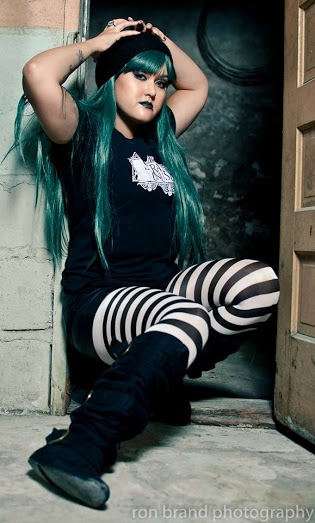 Ladyaslan: If you were interviewing me, what's the first question you'd ask?
Violette: What made you want to do what you do? Interviewing, writing, which by the way you're a fantastic writer and poet. I own both of your books.
Ladyaslan: My great uncle was a well-known artist (Edward DeLorenzo) in the '50s and I grew up in the middle of wild bands and Warhol (my gran lived a street over from the Warhol's in Pittsburgh), and my parents owned a pub where they promoted acts from bands to spoken word and I guess it was just something that happen to pass in my DNA from my parents. My guesstimate is that I am following in my parents footsteps just on a different medium. My writings (poems/short stories), well I have or suffer from "night terrors" since my mum passed and I have odd dreams, and I write about what I dream at times and I am very passionate—go figure, I am Italian. Around the high school years I did a fuck ton of LSD which brought up my grades and I fully threw myself into literature (go figure [laughs]) and really this IS my passion. I am not sure what I would do if I didn't have my artsy moments and some medium to express my insanity and having a lovely sister(s) like yourself—that compliments my mind, body, and soul. )O(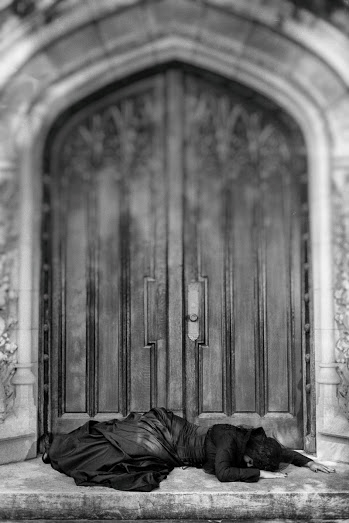 Ladyaslan: What was it like to collab with Jeff Scheel (Gravity Kills lead vox) on Microwaved's cover of the classic '80s tune "Obsession" (Animotion cover)?
Violette: It was pretty great. I've been a huge fan of Gravity Kills for a very long time. Let's say 20 years. It's pretty surreal getting to work with someone you've been listening to for so long. Jeff is a great guy, a great friend, and I'm looking forward to working with him again in the future. That collaboration wouldn't have been possible without Gabe Wilkinson, aka Microwaved, and Sean Payne from Cyanotic and Glitch Mode Recordings, who did incredible production work on the song.
Ladyaslan: How did you come to work with Drowning Susan?
Violette: I met Mark Gerster back in 2011. Drowning Susan did a remix for my band at the time, we stayed friends throughout the years, and in 2014 I was a featured guest vocalist on my first album with DS, Resonate. In 2016 I did a cover of Nine Inch Nail's (NIN) "Ringfinger" on their single release Consumed By The Signal which also features a variety of eclectic remixes from various artists. I will be working on another album with DS later this year.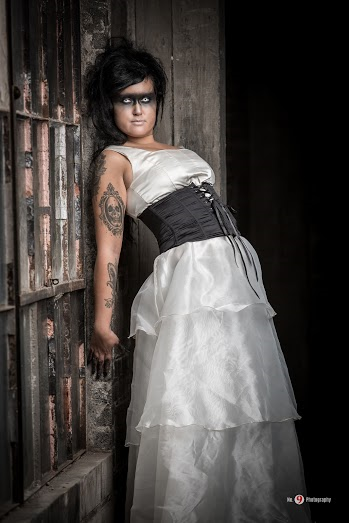 Ladyaslan: If you could have your portrait painted by anyone, living or dead, which artist would you choose?
Violette: Honestly, Tim Burton. I'm a huge fan. I would love to be a character in his world. Also, Hayao Miyazaki. Well, because he's awesome.
Ladyaslan: My last question for you—the obligatory but always fun…WHO inspired you and who did you look up to as a youth?
Violette: I was around 11 years old when I first heard the Smashing Pumpkins and NIN. I remember it being Halloween night and I was watching MTV in my mom's room, and both "Today" and "Wish" came on. I was instantly hooked on both bands. SP also played live that night and I remember thinking, "I want to do that." So I started taking guitar lessons. Later I picked up the bass and piano, and a couple years ago I decided to pick up programming. Vocally, I was inspired by a lot of classical singers. Then when I was a teenager I heard Kidneytheives and Switchblade Symphony. Those two really changed things for me.  Also, Free Dominguez (Kidneythieves) and Shikhee D'iordna (Android Lust) are huge influences for me. Both are incredibly talented female musicians, singers, songwriters, who both have inspired me to continue growing as an artist.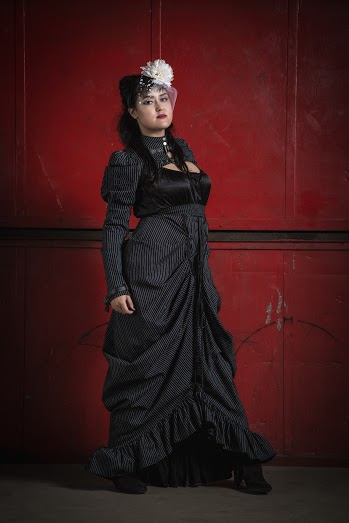 Violette Syn
SoundCloud │Bandcamp │Twitter │Instagram
Microwaved
"Obsession" (ft. Jeff Scheel of Gravity Kills and Tara Saavedra of Violette Syn) [Animotion Cover]
Drowning Susan
Consumed By The Signal │Resonate
Neutrino Oscillation – Bandcamp
Photographers:
Jonny Hackett No. 9 Photography
Official │Facebook
Brian Miner Photography – Official Website
Ron Brand Photography – Facebook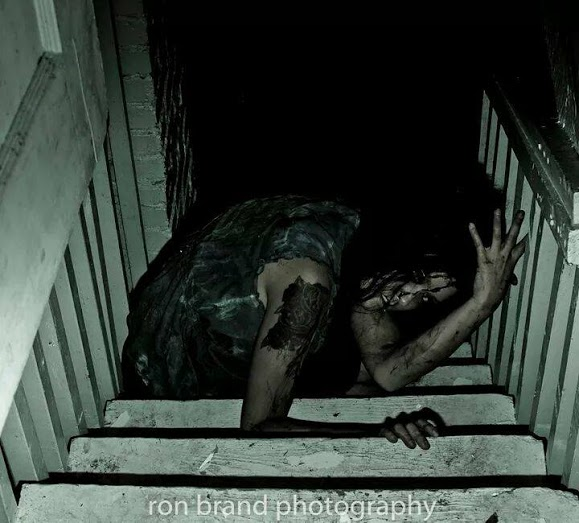 Clothing Companies I Model For:
Monkey Wrench Clothing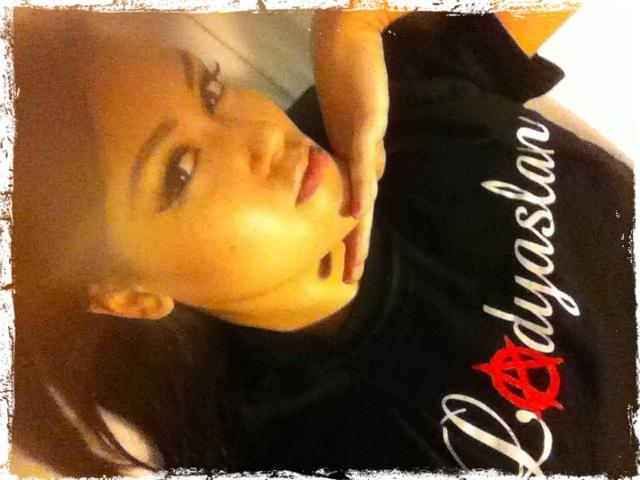 **About Ladyaslan – She is a published gothic poet and horror erotica novelist. Ladyaslan's second book was just released on Amazon.com, Barnes and Noble, and other established book retailers internationally. Check out Lipstick & Absinthe and her other books at the link below.
Official Website: http://www.lipstickandabsinthe.com/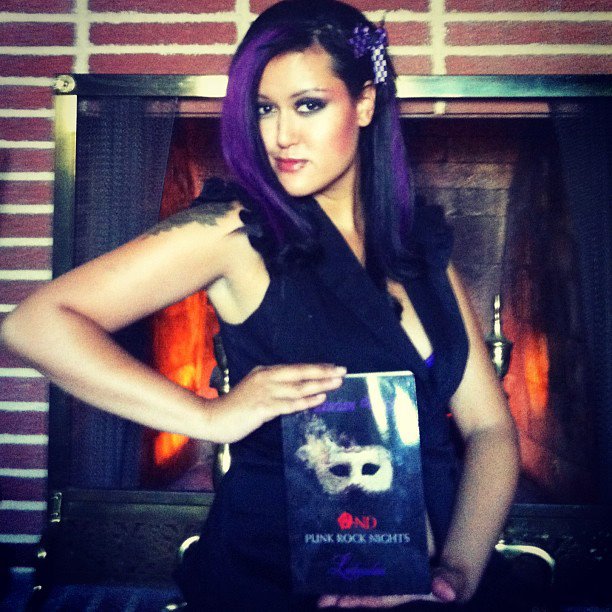 Tags Dark DelightsDrowning SusanLadyaslanMicrowavedSean PayneViolette Syn
You may also like...