:Music Review: eHpH – eHpH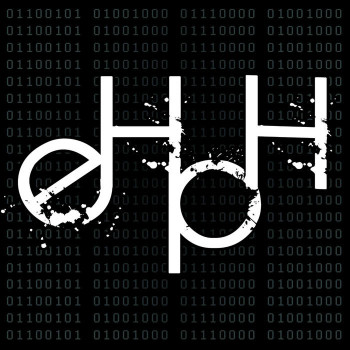 eHpH – eHpH
Release Date: November 1, 2015
Label: Bleeding Light Music
Websites: Bandcamp │SoundCloud │Facebook
Review by Dan Aleksander
Denver's Fernando and Richard make up eHpH, vanguards of the Elektro Villain clan. Late last year, after pushing out several singles, the self-described deathwave duo finally released their eponymous album. It would be fair to refer to it as an allusional thirteen track computerized hallucination. Working day and night in their DIY studios among the alpenglow of the mountains and the plains has paid off. In the release's "Aftermath," this album's journey is also a vigorous expression that electro body music is, first and foremost, an art form.
Could you dance the night away to many of the tracks from this assembly? Not really. Is there one particular track that is going to be the instant underground club hit sweeping the Internet and the nation? Outside of "Damnage," it's not a certainty. What is a certainty, however, is that not one of those questions is significant. eHpH uses darkwave tropes in a most superior manner.
From the prototypical introduction in "All Systems Crash" which is a simple lullaby to a technological apocalypse to the more sensual and maudlin "After All The Reasons," F and R use their electro palettes to paint a distorted and corroded world. You can hear F's musical influences (from Foetus to The Sisters of Mercy to even some hip hop) in the style and cadence of his lyrics. R also doesn't do a desperate job to present Fad Gadget and more modern sounding beats and tones.
If the music most of us consume were a town, a lot of the dance music would be at the shopping mall (don't worry, it's the coolest shopping mall around) but this effort would find itself in an art museum. "The Bleeding Light (Is Calling Me)" is a lyrical ornament of the kinds of things you'd hear in a Combichrist or Skinny Puppy track. "This Night" is as much morose as it is seductive. With a track like the Bile-esque "How We Burn," you can tell that the group has magnificent influences within and outside of the realm of music.
"Hex One" is unintentional double entendre as its bemusing programming leaves you lost in a world distinctive from your own. "Fallen Supreme" and "Thru Time" are undervalued releases that gives you a glance at the lyrical and musical prowess of its creators. The entire album is a hot, grimy, irresistible excursion blending practical EBM with mysterious, out-of-time beat intelligence.
Unfortunately, this is a group that you probably won't get to experience live outside of America's Great Plains but these two dons of digitality definitely deserved to be consumed the way you'd consume the not-so incidental music of a film's score. With full disclosure, I will admit I've been a fan of the duo for a while and I like to throw their songs in between a heavier aggrotech track and a smoother EBM number. In fact, it goes without saying that eHpH is an excellent soundtrack to your industrial lives.
Goes great with: Skinny Puppy, Fad Gadget, Diverje, The Klinik, Foetus, early Suicide Commando
73 de Dan Aleksander for Coma Music Magazine
Twitter: @HaveTilFive
Spotify: tinyurl.com/thejusticecode
You may also like...