:Festival: Los Angeles Gothic Festival 2016 – February 19, 2016 @ Bleu Night Club, Westminster, CA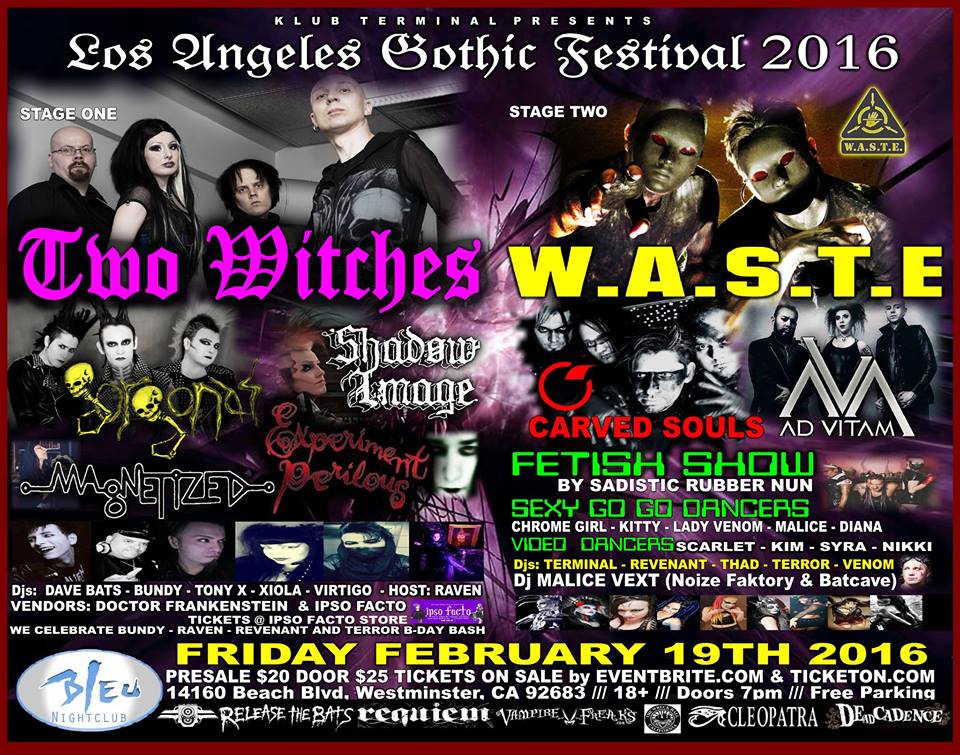 Klub Terminal Presents: Los Angeles Gothic Festival
Friday, February 19, 2016  7:00 p.m. – 2:00 a.m.
A celebration of dark underground culture, including music, art, body art, fashion, and fetish with vendors, go-go dancers, and live performances.
Main Stage:
Second Stage:
Fetish and bondage show by Madame Sadistik Rubber Nun plus guests
DJ's:
Gothic Room:
Dave Bat
Bundy
Tony X
Xiola
Virtigo
Industrial Room:
Terminal
Malice Vext
Revenant
Terror
Venom
Special ticket sale $15, only 100 available on Eventbrite
Regular presale $20 available here.
Two dance rooms, free parking, special drinks all night
18+
As always Klub Terminal supports the Keep Smiling Foundation and encourages guests to donate new toys, greeting cards and any kind of new disability equipment.
Bleu Night Club   14160 Beach Blvd, Westminster, CA 92683
Tags At VitamBundyCarved SoulsCleopatra RecordsDave BatsExperiment PerilousGorgonasKeep Smiling FoundationKlub TerminalMagnetizedMalice VextRevenantShadow ImageTerminalTerrorTony XTwo WitchesVampire FreaksVenomVirtigoW.A.S.T.EXiola
You may also like...