:Music Review: Taylor Hoodlum Stevenson – Daeva
Taylor Hoodlum Stevenson – Daeva
Release Date: November 11, 2015
Label: Giallo Disco Records
Website: SoundCloud
Review by John "DJ Engine" Courte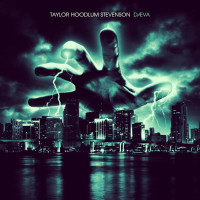 TL;DR: If you need to pack a dancefloor, buy this EP off bandcamp.com and play the first track. Anyone who doesn't dance to it is missing some combination of ears, legs, or taste. For a more detailed breakdown, read on.
I'm getting a lot of Giallo Disco material in my inbox lately, to which I will raise no objection. The label has consistently offered quality material in the Italo and neo-Italo niche for ages, in Internet terms, and Taylor Hoodlum Stevenson's Daeva is no exception. It's a little different from the label's usual horror-disco fare: It retains the Giallo Disco darkness, but it's not a cinematic darkness, it's the sweaty darkness of a basement club with a lone strobe light flashing overhead on pale skin and black leather. There are no permits, no fire escapes, and the nearest municipal emergency assistance is one or two universes sideways from there.
Daeva starts off with a big bang, the title track slamming home 16th-note bass and melody lines reminiscent of Moroder, Ultravox, and Clan of Xymox's "Stranger," with a little bit of The Fair Sex's "Not Now, Not Here" thrown into the pot, minus the guitars. Stevenson's vocals are like a less-serious Douglas McCarthy with just a touch of Faderhead's sneer going on. I can smell auto-tune from a mile away, and if he used it on this EP, I couldn't tell.
This is why "Baby Doll" could almost be Nitzer Ebb or Fad Gadget covering Madonna's "Burning Up." It's a little less intense, musically, but it's a story about a female badass crime boss or some such, who will happily dispense comeuppance should anyone be foolish enough to cross her. The instrumentation is minimal and the arrangement is passable, but it's the vocal work that carries this track.
From here, I have no idea what happened. The last two tracks seem to be from completely different artists, which speaks either to Stevenson's range as a composer or his lack of focus as a producer. That said, they're good tracks and here's why:
"Slob Commandos (Traumatize)" is about as perfect an old-school EBM track as there could ever be. It's got elements of U Men-era Front 242, the gated snares of early '90s Leæther Strip, vocal sample technique like pre-BSQ Revolting Cocks, and a slight hint of late '80s Belgian New Beat, along with Talla 2XLC's pre-rave and pre-"The Bog" Bigod 20. Yes, that's high praise for a track that really shouldn't be on this EP at all, given the tone of the first two tracks. So of course it gets weirder from there.
I don't know if he did it on purpose or not, but "Subway Stalker" could be mistaken for classic underground Detroit techno. That's a sensitive subject, depending on who you talk to and given the amount of jazz-music-grade intellectual masturbation that goes into classifying techno genres, but I think it qualifies: It's an ethereal piece, made of reverb-kissed 808 drums, square wave bass, and a seriously minimal string arrangement. It also sounds like it was a jam, done in one or two takes, fortunately captured on a 4-track cassette, then mastered and pressed on the cheapest vinyl available in North America between 1993 and 2002.
You could do far worse than this whole EP. All the tracks are good, even though there isn't much internal consistency except between the first two, and that's tenuous at best. There may be reasons, like he needed four tracks for the vinyl pressing by a certain date, he rescued some old sketches and released them as tracks, or just because fuck you, that's why.
From a DJ perspective, Daeva is where it's at on this EP. "Baby Doll" is early-evening filler, but you could balance your set with either "Slob Commandos" or "Subway Stalker," depending on whether you were leaning more toward EBM or techno respectively.
If Taylor Hoodlum Stevenson can exceed or repeat the strength of Daeva on his next release, across multiple tracks, we are in for some good things.
Track Listing
01. Daeva
02. Baby Doll
03. Slob Commandos (Traumatize)
04. Subway Stalker
Tags Giallo Disco RecordsJohn CourteTaylor Hoodlum Stevenson
You may also like...