:Music Review: Studio-X vs. Simon Carter – Dance With Me 'Dance With The Devil' EP
Studio-X vs. Simon Carter – Dance With Me 'Dance With The Devil' EP
Released: June 19, 2015
Label: Alfa Matrix
Websites: Last.fm│Studio-X Facebook
Review by Shibari Reiss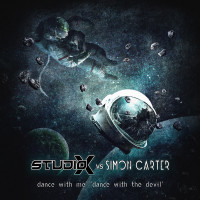 "Have you ever danced with the Devil in the pale moonlight?" This is the question that the Joker asked Bruce Wayne in Batman.
It is also what inquiring minds of Studio-X vs. Simon Carter want to know as they bring you their EP, Dance With Me 'Dance With The Devil.'
My answer is: I can't stop dancing to this EP.
This is a fun, danceable, energetic release! It has your heart pumping, your feet stomping, and your head bobbing from the first few beats of the title track "Dance with Me 'Dance With The Devil'." There are three versions of this track: the original, the Alternate Edit, and the remix by 00tz 00tz. All of them excellent, but most of all FUN!
"Can You See" is the third track, which at first play, I thought would be a bit slower, but there is no slowing down—they keep up the pace with a pounding beat that could be used in the background of gaming, or streamed while you get your treadmill or elliptical workout done.
"White Knight" is probably one of my favorite tracks; it has this amazing stompy beat which can only be described as candy for your ears.
Just as I try to catch my breath, "Too Late" begins, and this is a pure adrenaline rush! The intensity does not slow down with "Travelling (Dead of The Night)."
"Away from Home" starts and has an EDM feel to it, pounding in your ears with lyrics like "Home is where the heart is, home is where you are, home is where my heart is, I want to make a new start." I have to confess this is also one of my favorite tracks on this EP.
If you think that the beats are going to slow down, you would be incorrect. "Your Own Way" makes its way and continues with its generous injection of energy and excitement as it ends with "Changing Times."
While the tracks are off the charts with enthusiastic beats, there are some pretty awesome changes in pace during the songs that keep each song unique, shining on their own accord.
This album motivates you to get up and move, whether it be to the dancefloor or if you need a little push at the gym. This is definitely a score for the dynamic duo of Simon Carter and Studio-X. I will admit I am finding myself becoming quite fond of this partnership.
Track Listing
01. Dance With Me 'Dance With The Devil'
02. Dance With Me 'Dance With The Devil' (Alternate Edit)
03. Can You See
04. White Knight
05. Too Late
06. Travelling (Dead Of The Night)
07. Away From Home
08. Dance With Me 'Dance With The Devil' (00tz 00tz Remix)
09. Your Own Way
10. Changing Times (feat. A2B2)
Tags Alfa MatrixShibari ReissSIMON CARTERStudio-XStudio-X vs. Simon Carter
You may also like...