:Music Review: A.I.Zero – Follow EP
A.I. Zero – Follow EP
Release Date: July 17, 2015
Label: ScentAir Records
Websites: Bandcamp │Facebook
Review by Dan Aleksander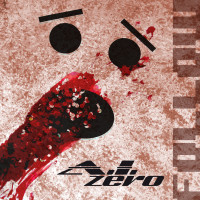 Leave it to Germany to keep a good thing going, musically speaking. As mentioned in previous reviews, other countries and parts of the world are starting to wake up to the ultra heavy beat but German bands are mainly still proudly standing atop the measuring stick. A.I. Zero, the new-ish project from Flesh Wire & Maikko from Human Decay, released their Follow EP earlier this year. With their first EP released only a year ago, this dark electro-industrial (and at time noise-y, harsh EBM) group is taking the ball and running with it. Ja, genau.
It's tough to mix bits and pieces of genres together and not sound like you're trying to be everything to everyone. A lot of creative license is lost, as well, when you try to play to a multitude of crowds. There are exceptions to that rule and A.I. Zero conjointly sets and pushes through all sorts of industrial boundaries in this venture. Mostly remixes of "Follow," A.I. Zero gives their own presentation of the track amongst remixes and adaptations from some well-known as well as up-and-coming acts.
Substantial lyrics, melodic grooves, industrial sensibilities, and a twinge of avant-garde/experimental sounds come through all over the album. There isn't a track you should skip and even the remixes differ enough from each other to stand on their own, separately. Away from the main event, there are two really amazing tracks. "Disease of Responsibility" makes us think about what it entails to stand up for everything we don't think is just. The inclusion of "Keinen Bock" is most welcome. It definitely has a combined Einstürzende Neubauten and Deutsch Amerikanische Freundschaft edge to the track.
The album could have maybe used one less version of "Follow" and one more version of another track, but it more than compensates for its five different incarnations. Oracle Kai's remix of the title track is a heavy, aggrotech spree. Those legends Armageddon Dildos put this group over in a remix of "Follow" that is more like a dirty dirge. The Restriction 9 redux of the main track adds a bit of noise and Sneaker Pimps-esque trip hop to a well-balanced release. The other nice thing about this release? No dubstep drops. These awful outs are starting to pop up in releases from bands that don't need the cheap tropes of an inferior musical genre.
Play this music as loud as you can and, while you're smashing things, take a moment to take in some of the message. Groups like this can be accused of being cut from the same cloth but there's definitely content here that needs to be analyzed and objectively digested. Take this entire release, shuffle it in with DAF, Einstürzende Neubauten, Diverje, Project Pitchfork, and Die Krupps and you've got yourself a seriously elite soundtrack for the day or night.
– Dan Aleksander for COMA Music Magazine
@HaveTilFive @AggroDriver81
facebook.com/aggrodriver
It's the last month of Aggro Driver '81! Enjoy our 24-7 industrial/EBM/noise/synthpop/aggrotech (and Throwback Thursday) while you still can!
http://aggrodriver81.wix.com/aggrodriver81
http://aggro-driver-81.radiojar.com
http://tinyurl.com/aggrodriver
Track Listing
Follow [Oracle Remix by Oracle Kai]
Follow [Armageddon Dildos Remix]
Disease Of Responsibility
Follow [Remix by Photic Sonar]
Keinen Bock
Follow [Restriction 9 Remix]
Follow [EP-version]
Tags A.I. ZeroAggro Driver '81Dan AleksanderScentAir Records
You may also like...