:Music Review: Kiss Is Kill – Imposter Syndrome
Kiss Is Kill – Imposter Syndrome
Release Date: December 5, 2014
Label: Self-released
Websites: Bandcamp │Facebook │Twitter │Instagram│SoundCloud │iTunes │CD Baby
Review by Shibari Reiss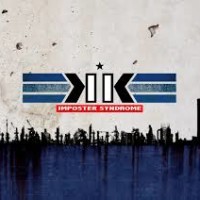 Kiss Is Kill is the solo project of producer James Chapple. Originally from Toronto, Canada, he now hails from Seattle, Washington. One year ago he released Imposter Syndrome; I am not sure why this album has not seen more press to be honest. I hadn't heard of either James or Kiss Is Kill until I received an email for the compilation I was working on. James had sent me a link and said that he would like to take part in any project available.
I have to admit, I love being sent new music! It is like being introduced to a new friend, and you are on a journey that only the two of you know about. The thing that excites me the most about new music is that several people can listen to the same songs and have different emotions or interpretations, and what they take away from the experience could be completely different than anyone else's.
So as I embark on the journey, ear buds placed perfectly, I take a deep breath and press play. When I click the link and listen to the first song, "Moving," I am blown away. Fast-paced and guitar driven beats and lyrics that cut to the heart:  "I'll listen, I'll smile, I'll stay here for awhile, I think it's time for change."
As it moves into "Ready," it has a slow electronic beat with a sensual feel to it, but as the song progresses and the sexy beat remains, the angry lyrics of "wish I could shut you up, wish I could shut you down" make me think to myself, "Yeah, James Chapple, I think you are writing my life story here."
The album changes up the music style a little with songs like "I'm Burning" and "The Shift," breaking into a more electronic sound, but always coming back to the guitar base. I think anyone who is a fan of industrial or electronic music would find something to enjoy about this album. Most of the songs are full of guitar and drums which give this an old school industrial feel, but not so much so that you feel you are stuck in the past. The music is a fresh approach and the lyrics are poignant and easy to identify with.
While it would be easy to compare this project to other bands, I think that it would be unfair to do so. Kiss Is Kill is completely original, with driving guitars, sexy beats, and vocals that are spot on. This is not some type of bubble gum industrial. This is industrial rock /electronic at its finest.
I could easily write a narrative on each track, but it would be best for you to get the album, discover it, and take the journey yourself. I liked the album so much that I made it an album of the month for The Oontzcast and invited James to take part in the compilation Tainted Candy Vol 2.
All in all, this is an incredibly strong debut for Kiss Is Kill, and while the music and vocals are good, the lyrics are the catalyst, making this album to one of my favorites this year.
Track Listing
Moving
Ready
Believe
Communion
Revelation
Digging In
Taste Of Home
I'm Burning
Walls
The Shift
You may also like...