:News: Parasite of God Debut Album Available for Pre-Order, Release Music Video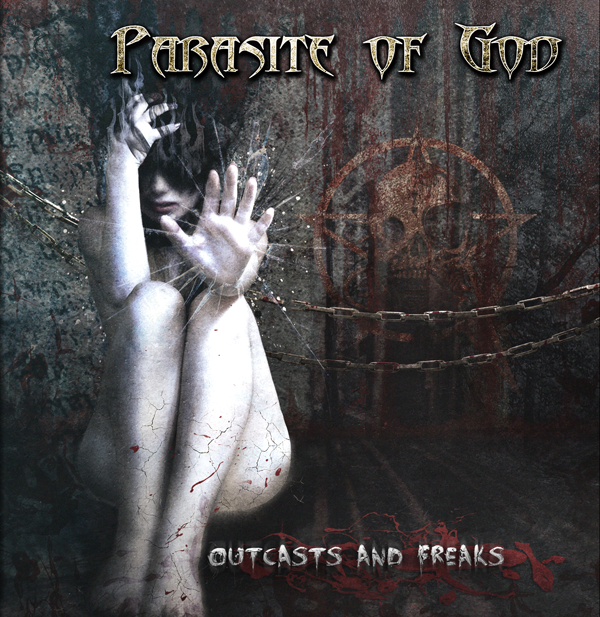 Xperiment XIII is proud to announce the debut album for Parasite of God, entitled Outcasts and Freaks.
The album will be available as digital download and as a limited 2 disc Deluxe Gatefold Edition package:
Replicated CD and premium 410gsm stock used for Digiwallet
12 page booklet which is a visual masterpiece
Spot gloss on matte to make the beautifully dark artwork come alive
Double-sided printing so no area is left untouched
Anti-static plastic inner sleeve for CD's
Resealable cello outer sleeve to protect CD package
Also included are:
1x Band autographed A6 postcard
5x POG A6 fridge magnets with artwork (high-quality, vinyl material)
2x POG Stickers (different artwork on each)
1x POG Keyring torch for first 30 orders ONLY
Outcasts and Freaks is available for pre-order on Parasite of God's bandcamp and will be released on March 30, 2016.
Watch their music video for "Through Sorrows" off Outcasts and Freaks below:

Track List:
CD1 – Outcasts and Freaks
1. Outcast
2. In The Shadows
3. Breaking The Girl
4. Vante Black
5. Legion
6. Through Sorrows
7. Virgin Blood
8. Black Widow
9. Nine
10. Fucked Up
CD2 – Freaks Unleased
1. Black Widow (WEBSPlNNER Remix by Valhall)
2. In The Shadows (The Left Hand of Creation Remix)
3. Breaking The Girl (Violet7rip Remix)
4. Through Sorrows (Pheromone Remix)
5. Virgin Blood (Noisuf-X Remix)
6. Black Widow (Obsidian FX Remix)
7. In The Shadows (Cellhavoc Remix)
8. Breaking The Girl (Angeldust Remix)
9. Through Sorrows (Ruinizer Remix)
10. Virgin Blood (The Luna Sequence Remix)
11. Black Widow (Acylum Remix)
12. In The Shadows (Ironhand Remix)
13. Breaking The Girl (CygnosiC Remix)
14. Virgin blood (vProjekt Remix)
A message from the band:
"This album was made over a longer time. Our goal has always been to make music we enjoy ourselves. We have a wide range of musical influences and the result is here. We don't make music to fit in a genre or to tie us down to certain rules, we simply do what we want. The lyrics on this album mainly follow the same spirit! Stand up proud never bow, follow your own heart and be yourself, leave the judging to the weak ones. If u enjoy this album it makes us proud; if u don't just Keep searching for the things that makes your life richer!"
Tags AcylumAngeldustCellhavocCygnosiCIronhandNoisuf-XObsidian FXParasite Of GodPheromoneRuinizerThe Left Hand of CreationThe Luna SequenceValhallViolet7ripVProjektXperiment XIII
You may also like...