:Music Review: Juno Reactor – The Golden Sun… Remixed
Juno Reactor – The Golden Sun… Remixed
Release Date: June 5, 2015
Label: Metropolis Records
Websites: Official │Video Channel│ Facebook│ Twitter│ SoundCloud
Review by Don Waugh Esq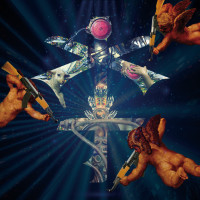 A wise man once said there are only three absolutes in life: life, death, and taxes.
Allow me to add a fourth absolute: Juno Reactor will blow you away.
Ben Watkins, the flesh and blood behind the machine, has made his career of taking exotic sounds and pushing them to new limits. His last studio album, 2013's The Golden Sun of the Great East, was widely applauded on release, and filled dance floors across the world. Like his other albums, it also reached out to artists who sought to push themselves out of their comfort zone.
But when an artist like Juno Reactor invites others to come play with his material, the remix album that results is like an entirely new album altogether. Every remixer was handpicked for the project by Watkins himself, and the resulting flow of ideas makes this as good as the original album (if not better, in the mind of this reviewer).
All nine of the original songs from The Golden Sun of the Great East are here, plus Mickey Noise does a digital download exclusive remix of "Tanta Pena," from the 2008 album Gods & Monsters. (Reviewer's note: it's worth buying the download just to get that track. You won't be disappointed.)
Extrawelt leads the charge to the dance floor with a stripped down mix of "Final Frontier," and then Spain's GMS brings the guitars on their inspiring remix of "Zombi."
"Guillotine," as remixed by Israel's Bliss, definitely stands out on this collection for its guitar and electronic collaboration. It comes together as rough and tumble, in your face. In addition, Ritmo's reworking of "Invisible" transports one to Goa as a sitar runs through a tribal beat. Feeling the trance coming on? You should.
Zeologic's remix of "Tempest" is another track that exceeds the source material, infusing stone cold psytrance into the single. If this were enough, you could write this album off as better than most.
However, to quote the late, great Billy Mays, "WAIT! THERE'S MORE!"
Tortured Brain's remix of "Byculla" brings the mystical goodness with feminine chants, making it a standout. And if you thought that was something, Mickey Noise does a remix of "Tanta Pena" from Gods & Monsters that is available only on the digital download album. This one has a big 'ole bass line that had me dancing around the apartment, and I'm sure that my downstairs neighbors appreciated it. The mystical female chants used here are in good form, too.
Look, I'm not gonna lie to you. I'm a big Juno Reactor fan. (Noooo, you think?)
But if you have to buy one album this holiday season that you don't have already, this is it. The source material was good. But this remix album takes it one step further, pushing against the envelope and ripping it wide open like a nosey roommate. Watkins' personal selection of remix artists definitely helped the progression of the album from good to better, and on its own, The Golden Sun… Remixed is a must have.
Track Listing
01 Final Frontier (Extrawelt Remix)
02. Zombi (GMS Remix)
03. Guillotine (Bliss Remix)
04. Invisible (Ritmo Rmx)
05. Tempest (Zeologic Remix)
06. Trans Siberian (Cylon Remix)
07. Shine (Modus Remix)
08. Byculla (Tortured Brain Remix)
09. Playing With Fire (Jitter Remix)
10. Tanta Pena (Mickey Noise Remix) [Exclusive Digital Download]
You may also like...