:Music Review: The Synthetic Dream Foundation – The Witch King (1st Movement)
The Synthetic Dream Foundation – The Witch King (1st Movement)
Release Date: May 29, 2015
Label: Mythical Records
Official Website: http://www.tsdf.net
Review by Don Waugh Esq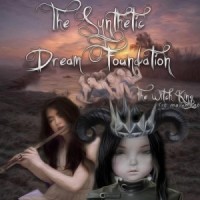 Brett Branning founded The Synthetic Dream Foundation in 2006 in Tampa, FL, hoping to create a project that would never be defined by labels. He definitely succeeded, as TSDF has released a wide array of sounds, ranging from experimental to goth to industrial to psytrance, and no two releases have sounded alike.
Which brings us to The Witch King (1st Movement), the first of three scheduled EPs. Released back in late May 2015, it was to be followed by the second and third in the series, but unfortunately, those have yet to hit our ears here at COMA.
Although only three songs long, the (1st Movement) EP is a showcase in well written music. It leads off with the track, "In The Realms of the Unreal," which gives a lot of play to classical symphonic instruments. Think everything you know about fantasy, with great sweeping touches and choirs. There's a lot of bass in here, and my downstairs neighbors got to bang on my floor (for a change—it's called sharing the experience, bub!). But it's not in a bad way, as you can almost imagine this on a medieval dance floor, somewhere, in time.
The second track, "The Human Harvest," brings the beat to the dancefloor. We're talking about what can be best described as trance-y EBM with digitalized choirs in the background. It's nothing groundbreaking, but it's a lot of fun to groove to. And really, isn't that all we really want?
Closing out the EP, the track, "In Letters of Black Night," really took me for a loop. While it had moments of dance music at its core, the symphonic element brought a harp to a synthesizer fight. Yeah, you read that right. It's not a cohesive mix, but if anyone were to try to do that, this would be the place for it.
If you've never heard The Synthetic Dream Foundation before, this is a good introduction to Brent's work. If you're a longtime fan, you already know the treat you're in for, and like me, you'll be waiting for the second and third installments of the series.
Track Listing
1. In the Realms of the Unreal
2. The Human Harvest
3. In Letters of Black Night
Tags Don Waugh EsqMythical RecordsThe Synthetic Dream Foundation
You may also like...