:Interview: Faderhead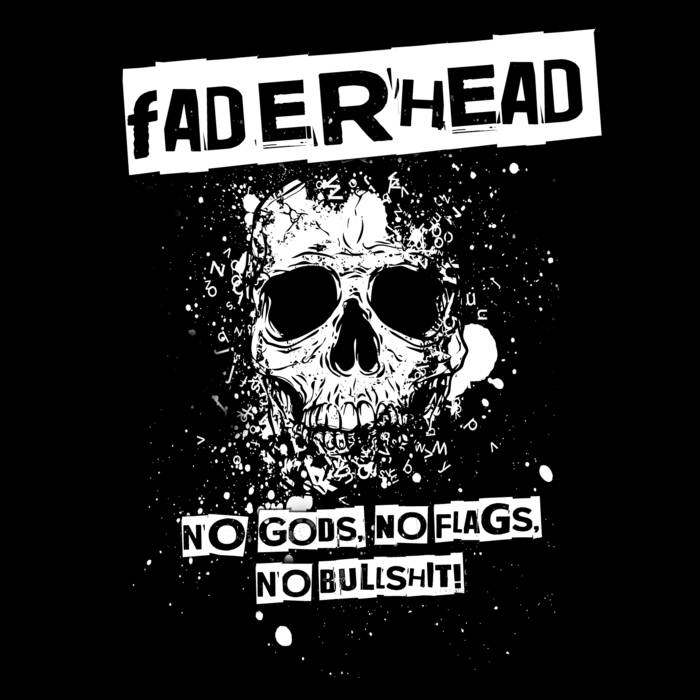 :Interview: Faderhead
Conducted via email December 2015
Question by Shibari Reiss
On the evening of November 13, 2015, a series of coordinated terrorist attacks occurred in Paris, France and its northern suburb Saint-Denis. Attackers killed 130 people and injured 368. The Islamic State of Iraq and the Levant (ISIL) claimed responsibility for the attacks saying that it was in retaliation for French airstrikes on ISIL targets in Syria and Iraq.
One of the attacks took place at the Bataclan Theatre where the American band Eagles of Death Metal were in concert performing to an audience of around 1500 people.
I think the whole world gasped at the horror of the situation.
Faderhead released a new single in response to the attacks called "No Gods, No Flags, No Bullshit" on November 19.
On November 21, backlash began to circulate about Faderhead and their lack of sensitivity with the Paris terror attacks. An article was published on another media outlet basically brandishing Faderhead with being greedy and making money off the back of the recent terror attacks. The inflammatory article took jabs at the band and published comments from "fans" who were seemingly upset by the release of this single.
I took a moment to message Sami to get his opinion on the article and on the single, as well as the future for the band. Sami was quick to respond and politely declined to comment directly on the article and the fiery accusations. He was, however, more than happy to discuss how the song came about and much more about Faderhead.
Shibari: Tell us a little bit about your new single "No Gods, No Flags, No Bullshit" and what inspired you to write it?
Sami: The song is about my view of the public reactions to the whole "Terror in Paris" event, which were extremely emotional and lacking any rational thought. Of course, that is to be expected. It's also a comment on the state of social media, where everyone has a soapbox now and people are actually discussing what other people can post.
Shibari: While the reaction to the song has been mixed, I have found most of the responses to "No Gods, No Flags, No Bullshit" have been primarily supportive and positive, I would venture to say some of your best work to date. It is evident that you have grown as an artist; do you think that people responding adversely is due to that growth?
Sami: No. There will always be people who don't like something. I've literally heard everything in regards to "No Gods, No Flags, No Bullshit":
1) same old Faderhead shit
2) doesn't sound anything like Faderhead
3) great, classic Faderhead style
4) too heavy
5) not heavy enough
6) too melodic
7) not melodic enough
8) music doesn't fit the lyrical statement
9) lyrics are shit and have no meaning/statement
And this has been going on for 9.5 years now. I really wonder if people who comment on my songs actually think I listen to their comments and take it to heart. I'd be insane if I did that. 😀
Shibari: I was reading on your blog that you have a new project in the works, FH-X, that is due to release in February 2016; what can you share with us about that?
Sami: After taking a break for the last couple years I am currently working on my eighth studio album which will be titled FH-X and is scheduled to come out in February 2016. This marks the 10-year anniversary of the release of my first album FH1, hence the "X" in the title. I'll be running a Kickstarter campaign for this since I have decided to separate from L-Tracks Records and that will start this week.
Shibari: We are excited to hear it! What do you hope people take away from the songs?
Sami: I'm not hoping for anything. I'm not making music to make money, but to make my music. So for me, just writing these songs is accomplishment enough for me. People sometimes really get what a song is about and sometimes they imagine the weirdest things but really love their interpretation—and that is totally fine. The only thing I hope that people get from the songs is enjoyment in whatever their current situation is: sad, happy, angry or frustrated.
Shibari: Any tour dates planned for 2016?
Sami: Yep, confirmed so far:
Feb 12 2016 – Manchester, UK – Ruby Lounge
Feb 13 2016 – Newcastle, UK – The Cluny
Feb 19 2016 – Cardiff, UK – Fuel
Feb 20 2016 – London, UK – Electrowerkz
Feb 26 2016 – Bochum, DE – Matrix
Mar 18 2016 – Erfurt, DE – TBA
Mar 26 2016 – Gießen, DE – MuK
Apr 09 2016 – Hamburg, DE – Markthalle
Jul 24 2016 – Köln, DE, Amphi Festival
More to come. Maybe even North America in the fall, we'll see.
Shibari: What is in the future for Faderhead?
Sami: We'll see. It all depends. I notice myself getting older and more relaxed, so there will probably be a shift away from the clubbier tunes. But it's difficult to say. First we'll celebrate 10 years of Faderhead in 2016 and then see where that goes.
– – – – – – – – – – – – – – – – – – – – – – – – – – – – – – – – – – – – – – – – – – – – – – – – – – –
All in all, I want to say thank you to Sami for taking time out of his busy schedule for this interview. My two cents on the track: it is one of the best Faderhead tracks I have heard in a while. While it tackles a serious topic, it still has a danceable and gritty beat.
I also look at it this way to the "naysayers" out there: Artists deal with daily events, whether good or bad, through their ART. Singer/songwriters do the same. It seems that we live in a society where everyone has something to say, but they are also offended by anything and everything.
With such a hard topic as terror attacks, it is easy to understand why people would be sensitive about the subject, but on the other hand, it is understandable that artists would want to mesh out their feelings through the medium they work in. I don't feel that Sami is trying to make "money" off the devastating events that affected so many. What I do feel, is that the event impacted him in such a way he couldn't help but express himself in the way he knows best.
The 1960s and '70s were filled with singers and songwriters fleshing out their anti-war statements against Vietnam, against the system, against the government. How is our generation any different? While it doesn't come in the sound of a folksy song of peace and love, "No Gods, No Flags, No Bullshit," is poignant and angry and relevant for the world we have around us now.
This…is the world we live in.
You may also like...