:Music Review: Street Fever – Afflictions EP
Street  Fever – Afflictions EP
Release Date: August 11, 2015
Label: Keats/Collective
Websites: Official │Facebook │SoundCloud
Review by Tyler Courville (DJ Gn0m3)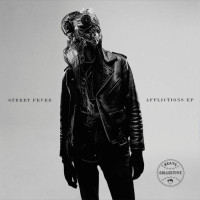 If you like steady beats to punch invisible hobbits to, this EP will be right up your alley. It is a great combination of the new and the old style industrial, which has been making a pleasant comeback. All of these tracks would easily pair with most of the current club hits. With so many danceable/clubbable tracks those invisible hobbits won't stand a chance.
The track "Resistor" is a great opener for this EP and definitely gives you an immediate feel for the album. The female vocals coupled with the steady bass, snare, and melody will have you swaying about the house or the dance floor. If you are Die Form fan you will probably like this track.
Being from OC, the title "Chamber" instantly caught my attention since that is one of our local haunts. This track will not disappoint either. There is definitely plenty of stomp to the beats. It also has a hint of a house/electro feel to it which certainly adds to the flavor of the track.
"La Corde" had a familiar feel to it. Like when you feel like you have heard something before, but can't quite put a finger on it. The French vocals certainly added to the feel of the track. If you enjoy Trackwasher or Pzychobitch, this track will certainly feel familiar to you.
Personally, "Dispose" is my favorite track on the album. I'm listening to it right now and it has me moving in my chair. Being a DJ, that is usually how I pick my club tracks. If I am stomping my foot or moving to a song, you can bet there will be others who will too. This track has a great, slower beat to it, probably in the 120-126 BPM range, and would probably go well with a 3TEETH or even an And One track.
The last track on the EP certainly is not the least. "Severance" is a great track to end with. Not just because of the name, but also because of the energy it puts off. It gives you a boost that leaves you wanting to listen again. The EP as a whole has that feel to it. Each track asks for attention and I, for one, was happy to give it.
Track Listing
Resistor
Chamber
La Corde
Dispose
Severance
You may also like...