:Festival: Festival Gótico 2016 – 20 de Febrero 2016 @ Señor Grill, Distrito Federal, Mexico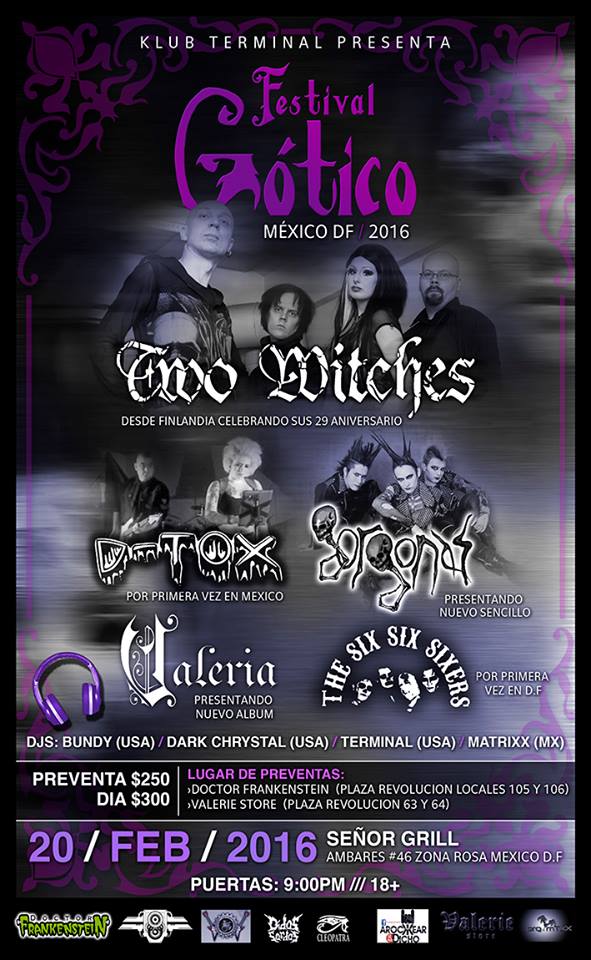 Klub Terminal Presenta
Festival Gótico 2016
Sábado 20 de Febrero 2016  at 9:00 p.m. – 3:00 a.m. UTC-06
Two Witches (Finland) – Celebrando sus 29 aniversario (celebrating their 29th anniversary)
D-ToX (USA) – Por primero vez en Mexico D.F.
Gorgonas (Distrito Federal, MX) – Presentando nuevo material
Valeria – Presentando nuevo album
The Six Six Sixers (Monterrey, MX)
DJ's:
Bundy
Dark Chrystal
Terminal
Matrixx
Firma de autografos 9:00 p.m.
Preventa: 250 Pesos
Dia: 300 Pesos
18+
Vea el evento Facebook aqui. (See the Facebook event here).
Sorpresa especial:
Keep Smiling Foundation Klub Terminal, te invita a ser parte de esta noble causa a favor de los niños Discapacitados; Trae un juguete nuevo y participa en la rifa de un Regalo Conmemorativo de todas las bandas que participan en este festival.
(Special surprise:
Keep Smiling Foundation and Klub Terminal invites you to be a part of this noble cause in favor of disabled children; bring a new toy and participate in the raffle of a commemorative gift for all the bands participating in the festival).
Señor Grill México Restaurante Bar   Amberes #46 Zona Rosa, Mexico Distrito Federal, 06600 Mexico City, Mexico
Tags D-TOXDJ BundyDJ Dark ChrystalDJ MatrixxDJ TerminalFestival GóticoGorgonasKeep Smiling FoundationKlub TerminalKlub Terminal MexicoSeñor Grill México Restaurante Barthe Six Six SixersTwo WitchesValeria
You may also like...