:Music Review: Various Artists – Wild In Blue
Various Artists – Wild In Blue
Release Date: June 22, 2015
Label: Giallo Disco Records
Official Website: giallodiscorecords.bandcamp.com
Review by John "DJ Engine" Courte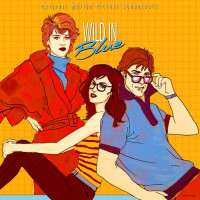 Back when I was actually making music instead of writing about it, I'd fire up the PolySix, the Juno, and the TR707, plinking out melancholy synth riffs and atmospheric washes. I'd get away with about five minutes of that before the bandmates stormed into the room shouting, "Why are you programming the montage music from Real Genius? We can't use that in our set, it sounds nothing like Front Line Assembly!"
Okay, maybe not those exact words, but you get the idea: The 90's was too soon. It wasn't "retrowave," it was just dated. Like, video-store dated.
In the '80s, the video store was a venue of socialization and popular culture acquisition second only to the mall in its importance in the dark times before the internet. You had to actually rent physical media, take it home, and play it in a device the size of a desktop PC. You can guess what was on the shelves for rent: Pretty In Pink, The Breakfast Club, St. Elmo's Fire, Weird Science, Real Genius, Tuff Turf, and other 90-minute music videos full of commentary on the wealth and popularity divide in American high schools. There was also a host of rip-offs intended to separate you from your money when the movie you wanted was already rented. In most of those movies, anything that wasn't an easily recognizable new wave standard was composed and programmed by someone in a studio with what would now be a wonderful collection of vintage synths and drum machines.
Fast forward to June of 2015. Giallo Disco Records releases the compilation Wild In Blue—an "original motion picture soundtrack" for a film that's right at home on those video store shelves.
But the movie doesn't exist. Listening to this album, you could easily be forgiven for thinking it did, because as an exercise in compilation, it's a masterpiece.
Giallo Disco is the record label and project launch pad of Antoni Maiovvi and Vercetti Technicolor, and their usual niche is the sub-subgenre of retrowave known as "horror-disco." Most of the work on Giallo Disco is exactly what you'd imagine "horror-disco" sounds like: Goblin, John Carpenter, Alan Howarth, and Ennio Morricone's soundtrack for The Thing. As a matter of fact, horror-disco is almost the entirety of the label's discography, so Wild In Blue is a bit of a departure.
Wild In Blue is not horror-disco. Wild In Blue is a piece of fiction. It's an '80s movie that was never made. But it's a surprisingly good piece of fiction, down to the track listing, which is formatted as if you were playing it on a vinyl LP.
As you listen, you'll be reminded of New Order, Talk Talk, Clan of Xymox, and other new wave synth pioneers, and on the surface, maybe you'd think it's a piss-take, a parody, a novelty. It's not. There is deep respect for the classics here, as there should be if you're working in a largely derivative genre. Still, you'd be hard-pressed to find another album that recreates enough of the '80s-movie gestalt that you can imagine Wild In Blue – The Movie playing in your head as you listen to the soundtrack. It's a great addition to the world of retrowave, and a well-done digression for Giallo Disco as a label.
It's also proof that I should have stuck to my guns with that programming-'80s-soundtracks exercise: It's now a legitimate thing.
Track Listing
A1. Antoni Maiovvi – Molly's Theme
A2. Umberto – High School Daze
A3. Kindest Cuts – Prone
A4. Mushy – Cross Fade
B1. Mirror Talk – Everything Is Ridiculous
B2. Vercetti Technicolor – Confessions
B3. H ø R D – Deliverance
B4. Fever Dream – Infatuation
Tags Antoni MaiovviFever DreamGiallo Disco RecordsH ø R DJohn CourteKindest CutsMirror TalkMushyUmbertoVercetti Technicolor
You may also like...