:Music Review: Machines On Blast – Expanding The Order – The Remixes
Machines On Blast – Expanding The Order – The Remixes
Release Date: August 22, 2015
Label: Self-Released
Websites: Facebook │Bandcamp
Review by Dan Aleksander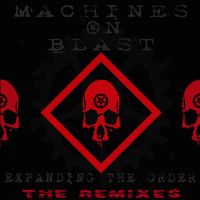 Back in August, Melbourne, Florida's harsh electro purveyor Machines On Blast released Expanding The Order – The Remixes, focusing on ten remixes of two songs from their June 2014 self-titled debut effort. Self-described as a "musical outlet…created as a way to channel the vast thoughts, ideas, and sonic visions" and an "electro minefield" could not be closer to the truth. Machines On Blast is as advertised and aptly named.
The album happens to remix the two best tracks from their debutante release and also includes the first ever M.O.B. track recorded, "Filthy Creatures"—a staple of what the group sounds like complete with vocoder, distortion, abrasiveness, and EBM sensibility. The remixes on this album, however, gave creative license to other musicians to expand M.O.B.'s sound and wavelength. That's probably why Expanding The Order is such a great name for the collection.
Often found on the outskirts of "our" musical collective, Machines On Blast always seem to come up in my playlists because of remixes they've done for groups like Standard Issue Citizen. I've heard a few tracks off their first album and have to say "The Order" and "Expanding" are the best choices to have remixed: they're must-listen tracks and give you a taste of the visions that M.O.B. promote.
There are six remixes of "The Order" and they all give a different take on the dystopian commentary on control. The Particle Son, Flammpunkt, and Blaire Sangeet Constance mixes keep mostly to the group's mantra of sonic visions. Man Woman Machine's "Hey Idiot" remix gives "The Order" an interesting drum & bass feel while Strange Sounds create a noise-filled IDM-meets-EBM combo pack. The best remix of all has to be the K O/S Recompile mix: a cybernetic wasteland full of :Wumpscut:-esque word pictures and the other elements we know and love about harsh electro.
"Expanding" closes out the rest of the album's remix portion. FlammPunkt's remix is much akin to their remix of "The Order," a sequel, if you will. The other remixes are pretty garden-variety and don't really expand on what was done with "The Order." The exception in this case is actually the best remix on the entire album. The Chrome Corpse adaptation of "Expanding" is the most powerful track and gives you the best combination of EBM, industrial, and aggrotech attitudes. Grinding rhythms and a great use of technology, I'd be lying if I said I just didn't want a straight up Chrome Corpse vs M.O.B. remix album; West coast vs East coast, rivethead style.
Goes well with: Standard Issue Citizen, Visions In Black, I.Decimate, :Wumpscut:, Alien Vampires
Happy Holidays.
– Dan Aleksander for COMA Music Magazine
aggro-driver-81.radiojar.com
aggrodriver81.wix.com/aggrodriver81
@aggrodriver81 @havetilfive
facebook.com/aggrodriver
Track Listing
The Order (Original)
Expanding (Original)
The Order (Particle Son Remix)
The Order (Man Woman Machine Hey Idiot Remix)
The Order (FlammPunkt Remix)
The Order (K O/S Recompile Mix)
The Order (Blaire Sangeet Constance – Darkwave Mix)
The Order (Strange Sounds Inc. – Idiot Savant Mix)
Expanding (FlammPunkt Remix)
Expanding (Strange Sounds Inc. – Implosion Mix)
Expanding (Chrome Corpse Remix)
Expanding (Blaire Sangeet Constance – Eerie Mix)
The Filthy Creatures (First M.O.B. track ever recorded)
You may also like...