:Convention Review: Colorado Horror Con & Halloween Film Festival – October 30–November 1, 2015
Colorado Horror Con & Halloween Film Festival
Dates: October 30–November 1, 2015
Venue: Ramada Plaza
Location: Northglenn, CO
Review by Sarah Martinez
Photos by Fernando Altonaga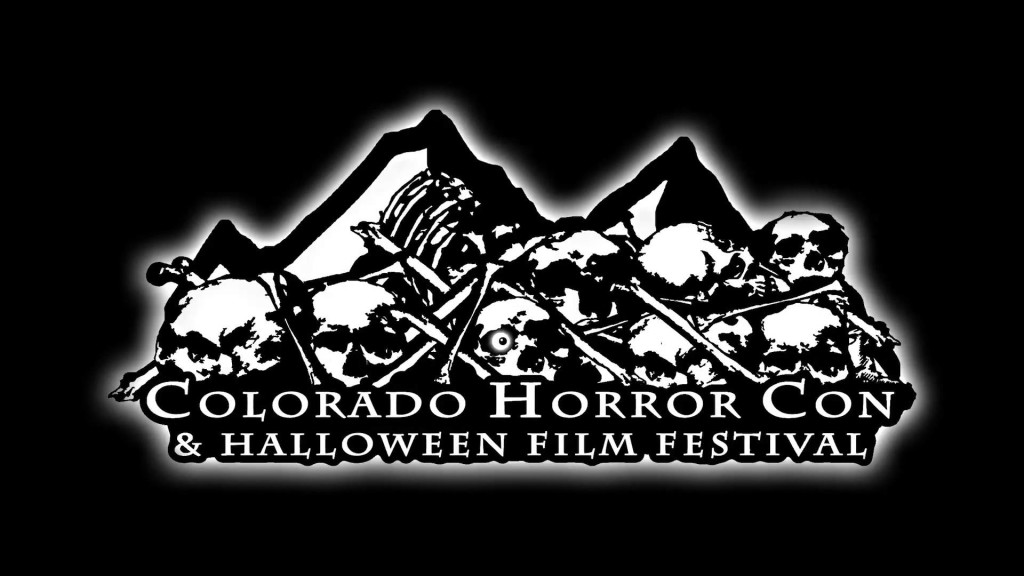 Colorado Horror Con was way cooler than I thought it'd be. While that may sound like a backhanded compliment, let me throw out this caveat: I'm not the kind of gal who hits up Comic Con or StarFest or the like. Cosplay doesn't do a thing for me and I was certain I'd be out- geeked by everyone at the convention. This was the inaugural Colorado Horror Con and we can honestly say it truly was a delight for horror fans of all levels.
Walking into the Ramada just north of Denver we WERE greeted by people in costume, such as Zombie Mozart, Ash from the Evil Dead and the cutest little Sam from Trick 'r Treat, as well as a myriad of undead girls in varying degrees of undress. There was also an array of really cool art, some tricked out hearses, an easy and accommodating staff, and a litany of passionate fans.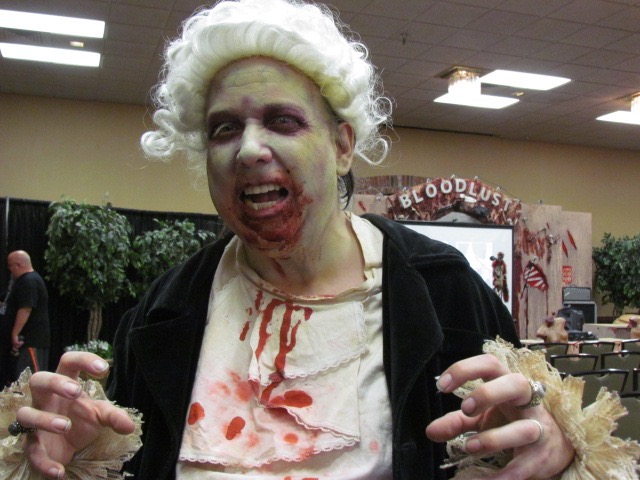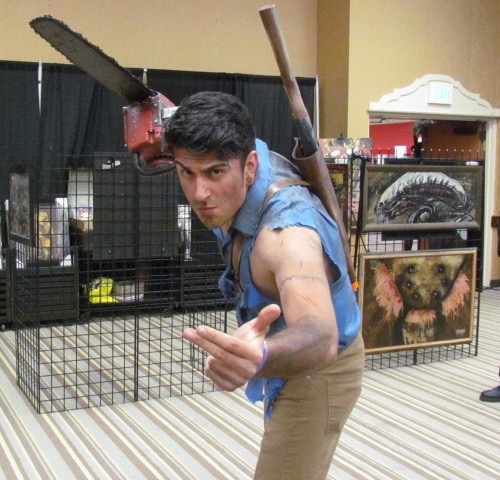 We perused the tables of comics, flesh-like masks, and talked to the owners of the booths that said traffic was somewhat slow but this WAS Halloween day and there was much to do in Denver all weekend. People were pleasant and eager to talk about their art and the films that inspired it. Live snakes could be purchased along with the Day of the Dead soundtrack on vinyl, and if that didn't suit your fancy, there were the celebrities one could chat and take a photo with.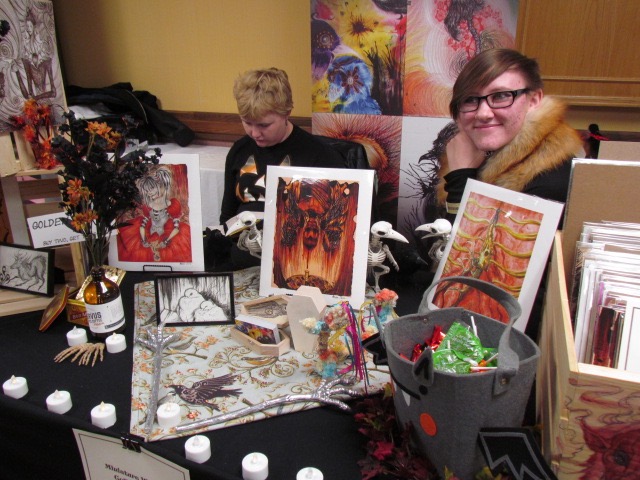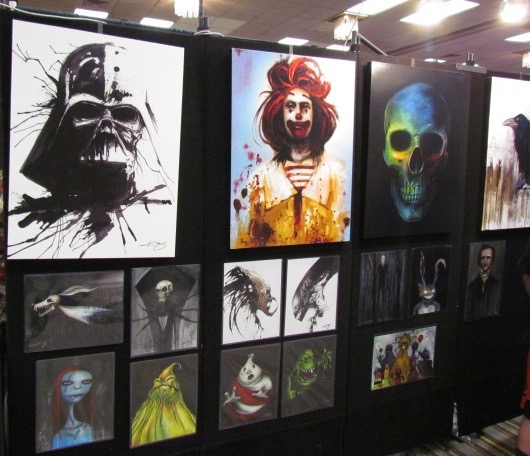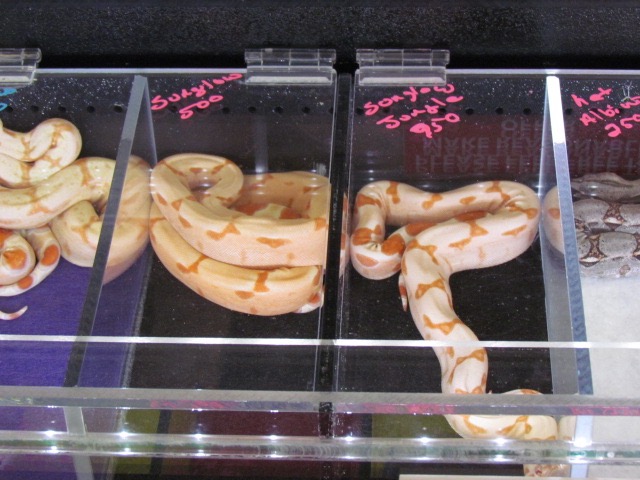 I had a short list of people that I'd wanted to speak with at the convention including Andrew Divoff. You may remember Mr. Divoff from his role as the Djinn in Wishmaster or for less horror inclined fans, his role as Mikhail Bakunin on LOST. He's making jewelry now in addition to acting and showed off one of the rings he made which was incredibly intricate and looked as though it'd be somewhat uncomfortable to wear. When asked about it he said that was deliberate and talked of its correlation to life itself. Mr. Divoff had done so much '80s television and we asked about some of the people he'd gotten to work with through the years. He told us an amusing anecdote about meeting Andy Griffith for the first time who was rather put off by the fact that Mr. Divoff chose to go by Andrew as opposed to Andy.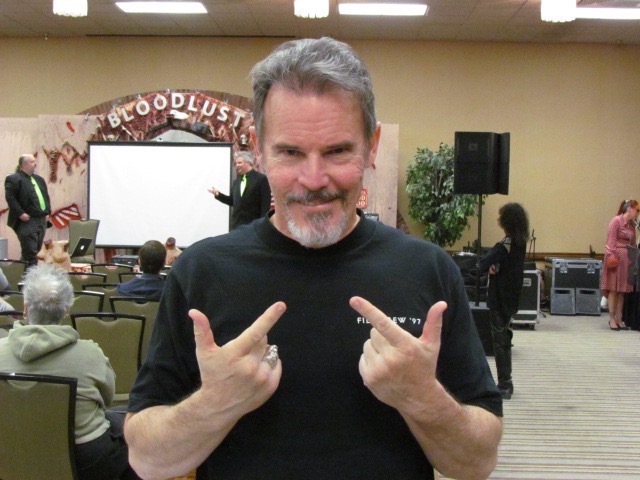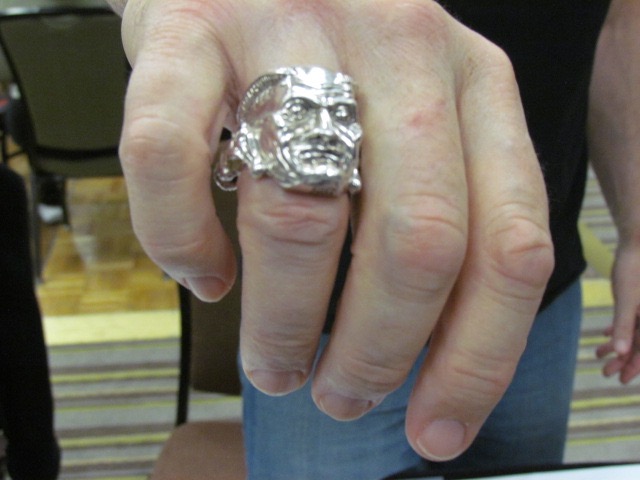 Other celebrity guests included Lynn Lowry (Cat People, The Crazies), Robert Allen Mukes (House of 1000 Corpses), Camille Keaton (I Spit on Your Grave), Jonathan Tiersten (Sleepaway Camp), and others.
My favorite person that we spoke with during the convention was Bob Elmore. Mr. Elmore did stunts on The Texas Chainsaw Massacre 2 and has done stunts for many other films. He was also incredibly gracious with his time and reminded me of a kindly grandfather. Being a big fan of Casino, I asked about his time working with Martin Scorsese and Robert De Niro and he shared some interesting tidbits. We also learned that one of Mr. Elmore's favorite people that he got to work with over the years was John Candy, having done stunts for him over the course of six films. He told us a tale of Mr. Candy asking him to take his credit card to Tiffany's to pick up a few Christmas presents for the crew and others, then stepping out of the store with $35,000 worth of trinkets.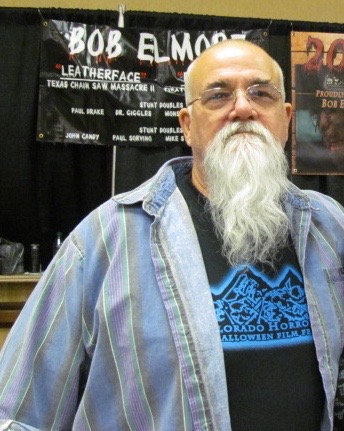 The Convention held multiple film screenings, costume contests, and spoken word events throughout the weekend. There's enough over-the-top geekery to satisfy hardcore fans, really interesting higher end art and paraphernalia for the niche collector, and enough spoken word performances and celebrity interactions to satisfy someone looking for a personal experience.
Halloween weekend would seem to be the appropriate time to hold such a convention, but the wealth of opportunities in Denver spread everyone a little thin at every event we attended over the weekend. Perhaps The Colorado Horror Con (& Halloween Film Festival) could do itself a favor by scheduling itself a weekend earlier in the month next year. Nonetheless, we plan on attending next year to see what they bring to the table and recommend you do the same.
A heartbreaking addendum that must be added, Mr. Elmore's son Austin passed away shortly after the convention. We at COMA offer our sincere condolences to Mr. Elmore and those who knew and cared for Austin.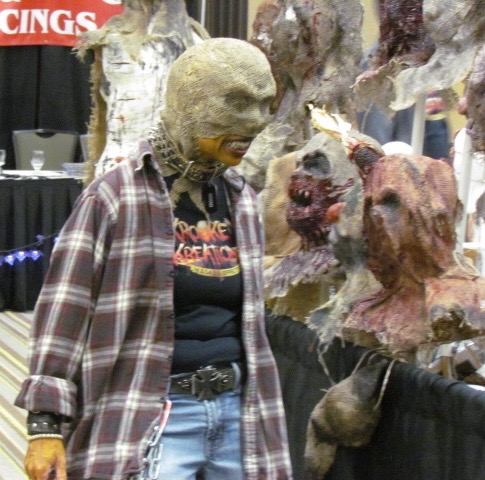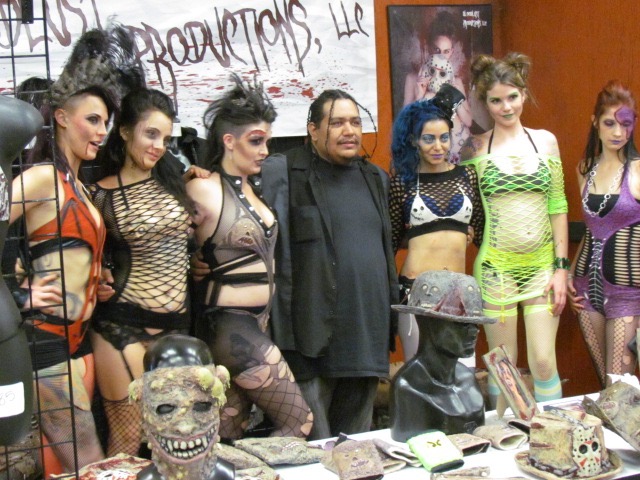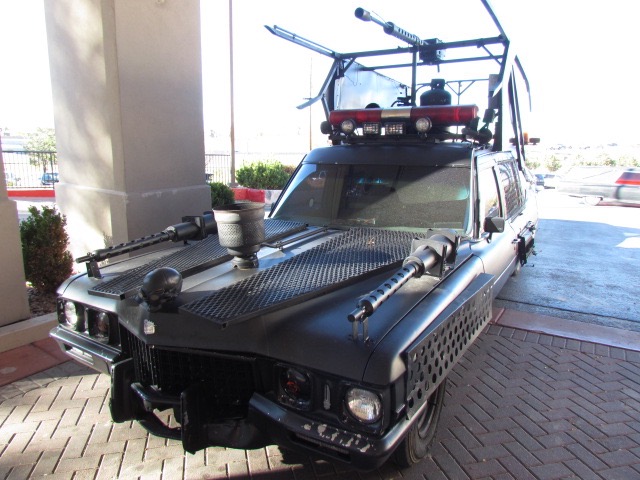 Tags Andrew DivoffBob ElmoreColorado Horror Con & Halloween Film FestivalFernando AltonagaSarah Martinez
You may also like...