:Music Review: Bleeding Corp. – Infected Sounds
Bleeding Corp. – Infected Sounds
Release Date: December 1, 2014
Label: Advoxya Records
Websites: Facebook │Twitter │Bandcamp │YouTube │VampireFreaks │ReverbNation
Review by Dan Aleksander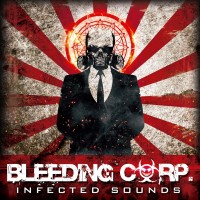 Look to South America and not Europe for the new breeding ground of aggrotech. It must be all that Suicide Command they listen to down there. Following the cues of Colombia's Psyborg Corp. (think: rivethead Power Rangers) and Argentina's Bereshit (think: sado-masochistic dystopia), enter Ecuadorian aggrotech outfit Bleeding Corp.—who've already got a grip on the hellektro scene. They recently released Infected Sounds and the album clocks in as advertised: aggressive, dark, distorted vocals with real, unromantic, remorseless cadency.
South America is still widely underrated as a hotbed for this type of music. However, not only are strictly industrial clubs popping up all over the continent, South American fans of this brand of music are all over social media and are very knowledgeable about the past, present, and future of the scene. It shouldn't be a surprise as there have been strong European influences in South America for over a hundred years: many Germans came to South America during and after World War II.
While South American aggro maintains the Teutonic blend of harmony and melody, the accents— even through distortion—might even seem harsher than their German and Belgian counterparts. Certain areas of that section of the world have seen war being fought on their doorstep in more recent memory. It also seems at times like a lot of groups from this neck of the woods have something to prove: not in a desperate way but in a "let's show you we can hang with everybody else" kind of way. The result is amazing and I'm constantly, pleasantly surprised by the quality of this genre's music making its rounds. Even into Central America with groups like Mexico's Hocico, it would be hard to disagree that a stronger, harsher brand of aggrotech is being perfected near the equator and southward.
Every Infected Sounds track begins with an introduction that goes from zero to 3000 bpm in about 30 seconds, as to not dissuade the group's identity. Seriously, this is vintage aggrotech. A coarse cacophony melts together and the album should be listened to in order as it is attempting to tell a story. In no way is this a concept album but an Alpha-thru-Omega of pessimistic ardor.
"Live Or Die" immediately discloses the group's nihilism, commanding you to open your eyes and realize you're not special at all. "Sweet Revenge" is just that, a dancefloor anthem about something we've all felt or something we've all wanted to accomplish. "Die On The Road," "Taste of Blood," and "Let The People Bleed" encompass a trilogy of noise terror and aggro hysteria. Overall, Infected Sounds is brutal, savage, and beautifully destructive music with hackneyed platitudes compensated because of the fact it's likewise unapologetic.
The choice tracks from this album: A joint venture with Venezuelan harsh EBM troupe Subliminal Code called "HellBound" spells out the doctrine of a true legion of doom. "Electro Fuckin Musick" is what it says it is: an epic fucking disaster of strident, coarse proportions.
Goes great with: Alien Vampires, Hocico, Psyborg Corp., Bereshit, Subliminal Code, Vigilante, Noize Level (the latter of which are Chilean aggrotech)
– Dan Aleksander for COMA Music Magazine
aggro-driver-81.radiojar.com
aggrodriver81.wix.com/aggrodriver81
@aggrodriver81 @havetilfive
facebook.com/aggrodriver
Track Listing
Welcome To The Corporation
HellBound (feat. Subliminal Code)
Die On The Road
Taste Of Blood
Let The People Bleed
The Black Heart
Electro Fuckin Musick
Ruegos
Live Or Die
Murder In The Front Row
Sweet Revenge
The System
Infection Complete
Tags Advoxya RecordsBleeding Corp.Dan AleksanderSubliminal Code
You may also like...