:Music Review: Am Tierpark – Uncaged
Am Tierpark – Uncaged
Release Date: November 6, 2015
Label: Distortion Productions
Websites: Official │ Facebook
Review by DeAnna Storemski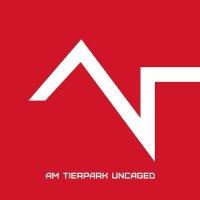 Tierpark is a large zoo in Berlin where famed Leæther Strip, Klutæ, and Sequential Access member Claus Larsen and Danish electronic musician John R. Mirland (of Mirland, Holm/Mirland, and Mechanical Principle) walked and discussed their favorite things, one of which, of course, was music and how they really were just tired of the over-production of music that we had grown to know over the years; becoming almost a numbing of emotion. These two have worked together before on other tracks like Mirland's "Fragments," but this had to be much different. They wanted to do a project where the lyrics and sound had be raw and emotional, but coming from somewhere real.
Claus stated that he felt that music had been losing some of that special something that made the listener feel. So with Mirland on board, they brought this straight forward, clean sound and "uncaged" part of their souls. I feel like this album has the makings of a stormy, tormentous, and beautiful relationship amongst the ups and downs of every emotional track.
The synth driven album has a very retro, pre-over-production feel, very '80s synthpop. The first release (and first track) on the album, "A Step Too Far," was also released on video where we get to see a very rare soft and emotional side of Claus.
The best part is a simple, but much needed laugh, that wasn't ever meant to be in the video but ended up staying because it brought something special…and with that being said, I have to agree on that. The song itself is what I affectionately like to refer to as an "earwig"; once you hear this track (and all the others, as well) it will be burring in your mind all day. You will find yourself humming the synthline or spouting off random lyrics while shopping in the store.
With that I consider this album a success. I think they set out and did exactly what they wanted to accomplish. This album is made up of fifteen dance-y synthpop-to-the-core tracks with a little EDM thrown in the mix.
I think Mirland's signature style and sound is inescapable while still bringing versatility. I think the marriage of this project is exactly what the community needed to bring us back to earth, to our core. It allows us to watch these two artists open up with subjects so very personal and dear to them, to watch them bleed in every note.
Am Tierpark's Uncaged is now available in physical and digital formats online through Distortion Productions.
Track Listing
A Step Too Far
No One Can Be Changed
I've Had Enough
The First Stone
Indestructible
The World Will Smile At Me
Lost In Flesh
A Love Forbidden
Sleeping Gods
The Shadows Won't Hide Us Tonight
Tension
Not That Kinda Guy
Sensitive
Going Home
Walk This Earth
Tags Am TierparkClaus LarsenDeAnna StoremskiDistortion ProductionsHolm/MirlandJohn R. MirlandKlutaeLeaether StripMechanical PrincipleSequential AccessTierpark Berlin
You may also like...