:Fundraiser: Tom Shear's Cat JJ Needs Surgery!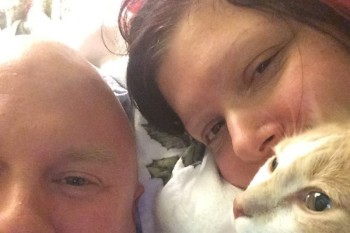 Tom Shear's furbaby JJ needs surgery! 
A message from Michael Welch, long-time friend of Tom's:
"We all know and love Tom Shear's music, be it Assemblage 23, his mad phat DJ'ing skills, or his always clever, insightful remixes.
Most of us know of Tom and Megan Shear's love of their kitties – Bender and JJ.
Not everyone knows that Tom, as a self-employed musician, is not rolling in cash. And when a fur-baby heads to the hospital, the financial toll can be crippling.
JJ needs surgery – we know this because Tom and Megan posted about it (here: https://www.facebook.com/tom.shear.58?fref=nf&pnref=story). Let's each do what we can to help ease the financial burden of this unforseen and costly medical hiccup for the Shear family.
If everyone on Tom's page donated $1, they'd be all set. I'm challenging everyone to match or exceed my tiny donation of $5, and let's be sure that JJ's health is in the clear, and the Shear family can afford to pay for it.
I'm Michael Welch, just an old friend of Tom's from way back when. Check with Tom for my credentials to be sure your donation isn't a scam.
My email is mikexwelch@gmail.com  so you can torment me directly if you feel I've done wrong.  : )
Let's pull together as a community of friends, fans and pet lovers to help this artist and his family not be sucked into a financial pit. We need Tom happy and clear-minded so he can make more music, and we want Megan happy because, well, she already has to deal with Tom."
You can show your support and help by donating here.
You may also like...