:Music Review: Metal Disco – Unearthly Vices
Metal Disco – Unearthly Vices
Release Date: August 23, 2015
Label: Werkstatt Recordings
Websites: Facebook │SoundCloud
Review by Dan Aleksander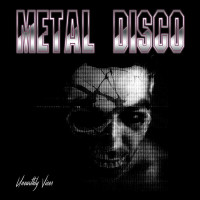 There's a bit of mystery about Metal Disco and their latest offering from Werkstatt Recordings. Who is making this music? Where are they from? They don't really say much about themselves in their online descriptions. "Analog Technoid Electronics." That's all you can really read about them.
Mysterious. Enigmatic by their lack of presence. Reminds you of the idea that sometimes the image is fantastic and the background is helpful, but it's really the music.
And we've all heard that one before—the analog deal. Experimental musicians often try to recapture the analog sound digitally but Metal Disco actually recorded Unearthly Vices in that way. You can tell. The beautiful "cassette tails" at the beginning and end of their tracks: remember when you'd rewind a tape to the beginning and it would start out?
Although released recently, this album is an exclusive time capsule. It's 1983 in 2015. Most of the tracks on the album take you back to the days of Deutsch Amerikanische Freundschaft (DAF), The Klinik, Liaisons Dangereuses, Borghesia, The Normal, and even a little bit of Gary Numan. They aren't imitating these electronic deities either, they're paralleling them, if anything.
Emulating the days when EBM wasn't even a turn yet (that wasn't until some Belgians called Front 242 in 1984 coined the term), emulating the days when another vein cut from industrial music was morphing into the kind of music we're used to today. So, don't be fooled. This isn't a relic unearthed by a small record label: this is new stuff and it's beautiful, not gaudy.
There's an idiosyncrasy these days with retro being en vogue. Never understood that but the idea isn't completely disgusting. Column A: Retro for the sake of being retro. Column B: A successful musical and scientific experiment that's good for your ears. Metal Disco obviously subscribes to the latter column. You can modernize and keep the same basic principles. Metal Disco understand that, right down to the name of the group that hearkens back to minimally produce cassette-only compilations that would reach the States 5-10 years after they were released.
The titular track on the album is extremely balanced and very dance-worthy. The monotone vocals just fit right in. You go somewhere with this one that not a lot of songs these days take you. Not to draw out the theme of "taking you back," you are virtually transported into the singer's world and gripped for the rest of the album.
Even when the album diverts to computerized female vocals in "Desire," its escape from the EBM is replaced with a generous synthpoppy jam. The bonus Cyborgs on Crack remix of "Kite" brings everything together in a nicely wrapped conceptual continuity that leaves you wanting more. That's money right there.
The most modern tracks on the album junction the album's terminus. "Empire" and "Technoid" slightly disappoint you. Unsure whether it was simple artistic weariness or the undertaking of displaying the group's range; they're not terrible tracks, either. With groups like these, one always has to be mindful of some other type of imaginative provocation or commentary on music as a whole. However, compared to the rest of the album, they'll leave you a little confused as to the direction. No matter, they're consumable melodies.
Unearthly Vices is a primer in electronic music and will give you simple yet knotty electronic prose. Mysterious. Enigmatic by their lack of presence. The kind of feeling you'd get when the cassette tape had a printed cover with a track listing, a copyright, but otherwise blank space inside the jacket.
Have this with a heap of Gary Numan, The Klinik, Liaisons Dangereuses, DAF, Orange Sector, eHpH.
– Dan Aleksander for COMA Music Magazine
aggrodriver81.radiojar.com
aggrodriver81.wix.com/aggrodriver81
@aggrodriver81 @havetilfive
facebook.com/aggrodriver
Track Listing
Strobe
Kite
Bliss
Metal Disco
Desire
Successor
A Thousand Dreams
Empire
Technoid
Kite (Cyborgs On Crack remix)
You may also like...