:Music Review: Ghostfeeder – The Messenger
Ghostfeeder – The Messenger EP
Release Date: October 27, 2014
Label: Beyond Therapy Records
Websites: Official │Facebook │ Twitter │Bandcamp │SoundCloud │iTunes
Review by Yvette Arambula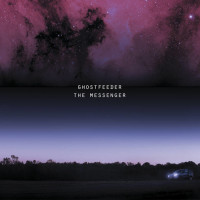 Rochester, NY based Ghostfeeder have outdone themselves with this new treat they call The Messenger. Derek Walborn is the mastermind behind this music project, blazing the stage with Luke Dangler on guitar. They recently toured with En Esch on the SPÄNK! Tour and I was fortunate enough to catch them at the San Diego show. The Messenger is a conceptual EP, an aural narrative of a man's abduction by an alien, supernatural force. With an almost entirely new sound, they take us on a sonic excursion beyond our world.
The first track on this release is aptly titled "The Messenger." It starts out slow, definitely reminiscent of early-to-mid 2000s Nine Inch Nails. There's a chorus effect on the vocals that makes the song haunting. "The Highway" is a bit of an anthem for outcasts. He's yearning to be taken somewhere else, saying to whoever will listen that "there's something up there for [him]."
"The Dream" is the shortest song on this EP clocking in at 2:44. It's a bit darker than the previous tracks. Another one where he feels out of place, that there's something unknown inside of him. "This Shell" sounds like it would be enjoyed by enthusiasts of more mainstream electronic pop. At first listen, it felt a bit out of place considering the subject matter of the album, but it grew on me. And the lyrics do fit in with the outcast theme that's been explored thus far.
"One Blink Of An Eye" sounds a bit more mechanical musically, more "industrial" in the strictest sense of the word, not necessarily just the musical genre. The chorus has a nice melody, not as dark as the verses. "Starfields – Fireflies" is another haunting tune. During the second half of the song you'll find discordant piano notes à la Nine Inch Nails in the background. The track ends with "ashes to ashes and dust to us, we try to save you but you just don't listen to us," just like the chorus on "The Messenger," coming full circle in a way. Maybe it represents the return trip?
This EP is different than their earlier work. It is much more somber, really evoking the message, if you will, of actually being abducted and taken to realms that are terrifyingly, yet at times delightfully, unknown. They have really grown into their sound, this being a more "adult" EP, with not as much of the fun, angst-y electronic rock that they are known for. I definitely recommend checking it out; best listened to with eyes shut, allowing the mind to wander into the melodies, accompanying the protagonist on his journey.
Track Listing
The Messenger
The Highway
The Dream
This Shell
One Blink Of An Eye
Starfields – Fireflies
Tags Beyond Therapy RecordsDerek WalbornGhostfeederLuke DanglerYvette Arambula
You may also like...