:Music Review: Faderhead – Atoms & Emptiness
Faderhead – Atoms & Emptiness
Release Date: February 7, 2014
Label: L-Tracks Records
Official Website: Official │Facebook │Bandcamp │Twitter │YouTube │Blog
Review by Nicole E. Calcagno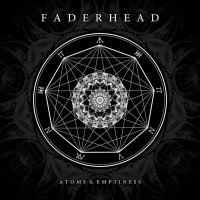 To add to the collection of diverse albums by Faderhead, Atoms & Emptiness is one I think has the potential to become a fan favorite. This is one of the darkest Faderhead albums I have heard. It has several songs that are haunting and have a sad tone to them. That being said, it does also include your classic rebellious and anthemic dance songs that Faderhead is known for.
The album kicks off with "Stand Up." This is personally one of my favorites on the album. It is definitely a dance song with an anthemic or chanting feel to it. It has a great beat and is very much his style. Track two, "Every Hour Kills" continues that tone. This song starts out slower. It builds, and builds, and makes you crave the beat and then BOOM! It kicks in and it's hard not to just loose your mind when it hits. Another notable dance song on this album would be "When The Freaks Come Out," which is another favorite of mine. It's got a great beat that one would be dead if they didn't want to just let loose and dance to it. Same with "Someone Else's Dream." This song had a hard driving beat, but it teases you. It slows down and picks up. It makes you want the beat.
The remaining songs on this album are a great mix of beautifully haunting, dark, and classic ballads. "Champagne & Real Pain" has that classic Faderhead "yell" to it, but it's a slower groove that is really catchy. The title track, "Atoms & Emptiness" is something that I think will really evoke emotion if you listen to it. It's slower but has a haunting beat to it that will really be something that people can connect to. Another personal favorite on the album is "I Forget." It has a constant beat there, but it's also very dark and something you can really get into to.
"You Can't Resist" is another track that is slower yet has this driving, almost tribal beat to it. It's definitely something that plays with you a bit. Slowing down, picking up, and overall, a decent beat throughout. "Through This Pain (You Heal)" is another great song in that wheelhouse. This is probably my least favorite song on the album. That being said, it does really have the potential to connect with an audience word-wise, it's just not my first choice.
The other things you will find on this album are dark ballads. "Anti-Paradise" is a slower song that literally sounds troubled. One can tell that there is real pain in this song. "My Heart Is Safe" is definitely in that realm too. It's probably the softest and most uncharacteristic song for Faderhead to do. On other albums he has had songs that are a bit softer, but something about this song, it just sticks with you.
Overall, this album is really diverse. It has a little something different than what you would typically expect from him, but it all translates well. You have your stomp-worthy dance songs, you have your rebellious classic Faderhead anthems, and you have your slower ballads. I personally enjoyed this album a lot. Faderhead is one of those artists that can pretty much pull off whatever he wants. I think this album proves that.
Track Listing
01. Stand Up
02. Every Hour Kills
03. Champagne & Real Pain
04. Atoms & Emptiness
05. When The Freaks Come Out
06. Someone Else's Dream
07. I Forget
08. You Can't Resist
09. Through This Pain (You Heal)
10. Anti-Paradise
11. My Heart Is Safe
You may also like...