:Festival: Sangre Maldita – Noviembre 7, 2015 @ Estudio 803, Puebla, Mexico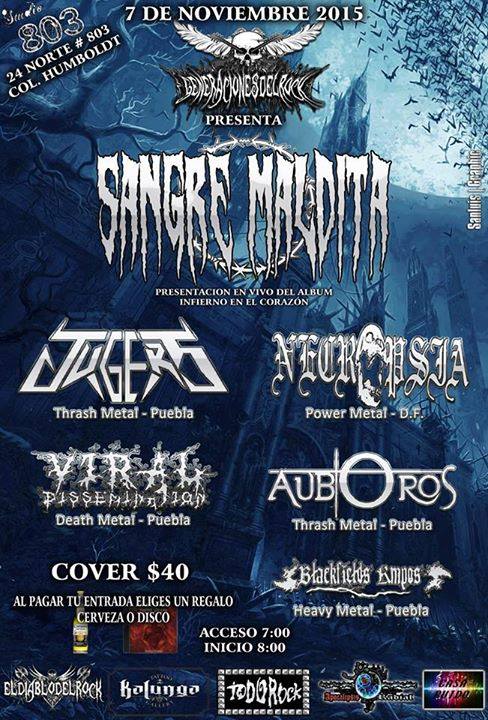 Generaciones Rock Presenta: Sangre Maldita
Sabado, 7 de Noviembre, 2015 (Saturday, November 7, 2015)
Sangre Maldita (Black Gothic) presentado su nuevo album, Infierno en el Corazon (Presenting their new album, Infierno en el Corazon)
Zorbo (heavy metal Progresivo) D.F.
Necropsia (power metal) D.F
Jugers (thrash metal) Puebla
Auboros (thrash metal) Puebla
Viral Dissemination (death metal) Puebla
Elias Campos (solista heavy metal)
Apoyando Casa Ruido, El Diablo del Rock, Estudio 803, Todo Rock, Apocalipsis Radial,  Tattoo Kalunga,
Apoya el metal de calidad (Support quality metal)
Dia del evento: 40 Pesos  (Day of event: approximately $2.50)
Incluye una cerveza o un disco de la banda (Includes a beer or a CD from the band)
Vea el evento en Facebook aqui. (See the Facebook event here.)
Estudio 803
Calle 24 Norte #803
Colonia Humboldt
Tags AuborosElias CamposEstudio 803JugersNecropsiaSangre MalditaStudio 803Viral DisseminationZorbo
You may also like...