:Music Review: Obszon Geschopf – The Vault of Nightmares
Obszon Geschopf – The Vault of Nightmares
Release Date: July 30, 2015
Label: Cemetery Records
Website: Facebook │MySpace │Spotify
Review by Dan Aleksander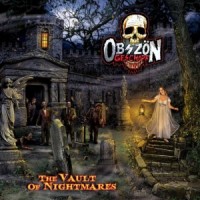 Obszon Geschopf, the solo project of Remzi Kelleci since 1996, comes at you with another incredible overture from the Frenchman. Vault of Nightmares continues the bands macabre and ghoulish blend of EBM and industrial sensibilities, with that right hint of heavy metal you get from groups like KMFDM or Front Line Assembly.
Yet to make a noticeable mark in the United States, Obszon has lots of support in its homeland as well as Serbia, Bulgaria, Bosnia, Italy, Portugal and Switzerland. Kelleci proclaims this music as "thrash death industrial" and it's surely to energize and demonize you, simultaneously.
Undiminished by societal trends or standards, Nightmares is an unapologetic, powerful punch, packed with dark, sexy electronics and deviant, deathly discord. "Sleeping With Corpses At Funeral Home," "All The Deads Leave The Coffins," and "Rue Morgue Creature" give you a frightening Franglais look into Kelleci's creative mind and influences. "Worm In My Neck" and "Lesbian Killer" are as campy and unconventional as their titles suggest. And yet, somewhere in this opus, they manage to do a very decent cover of Animotion's "Obsession." The Vault Of Nightmares is as "darkwave" as it gets, combining various genres as if it were running every third Wednesday night in Des Moines.
There isn't a skip-able track on this album. Perfect for a gloomy day or night and you can get blasting this at a Halloween party even if the participants listen to pop music. If you're reading this, though, you probably listen to this kind of stuff in July—and that's for whom this effort is made.
Goes great with: OST+Front, Metallspürhunde, XPQ-21, Electric Hellfire Club, Front Line Assembly, Bauhaus.
– Dan Aleksander for COMA Music Magazine
aggrodriver81.radiojar.com
aggrodriver81.wix.com/aggrodriver81
facebook.com/aggrodriver
@aggrodriver81 @havetilfive
Track Listing
Worm In My Neck
Gruesome Cries From The Lady In White
Sleeping With Corpses At Funeral Home
Don't Cut Through The Cemetery
Lesbian Killer (Nothing Underneath)
Doctor Gloomy
Rue Morgue Creature
Plan 9 From Outer Sex
All The Deads Leave The Coffins
Obsession (Animotion Cover)
Not a Dream a Nightmare
2 Headlights Appear On The Road (Remix by Mob Research)
You may also like...