:Special Event: SMack! 19th Annual Halloween Fetish Ball – October 31, 2015 @ Slake, New York City, New York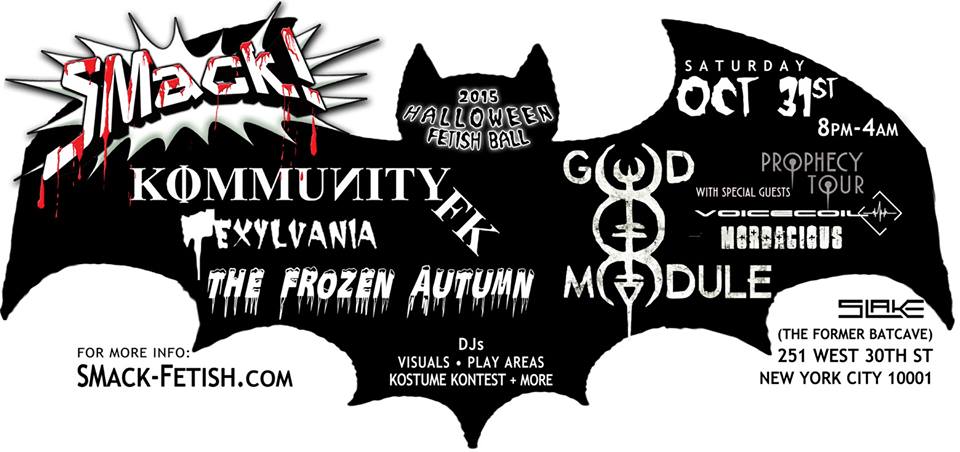 SMack!, Fetish Tribe and Stimulate Present: 
19th Annual Halloween Fetish Ball
Saturday, October 31, 2015  at 8:00 p.m. – 4:00 am EDT
Featuring Live Performances by:
DJs in multiple rooms:
Goth, deathrock, darkwave, cold wave, new wave, industrial, post-punk, synth + more
• Templar (Underworld, The Red Party, Psychomania)
• Patrick (Necropolis, Salvation, Albion-Batcave)
• Ian Ford (Albion-Batcave, Club Anubis)
• Ash (Albion, BYTE)
• Johanna Constantine (SMack!, Dorian Gray, Click + Drag)
• Xris SMack! (Stimulate, SMack!, Fetish Tribe, Dungeon X)
• Cliff Cage (Stimulate)
• Grave (Defcon, Dungeon X)
• Annabel EVIL (Cybertron, Vampire Freaks)
• Jeffo! (Dorian Gray, Zenwarp)
• Mighty Mike saga (I Love Industrial)
and more to be announced!
☣ Halloween performances
☣ Visual stimulation
☣ Bondage-a-gogo's
☣ Fetish play areas
"Kinky Kreepy Kostume Kontest"
with $1000 in prizes from our sponsors
Gothic Renaissance, Purple Passion, Vampire Freaks, Asylum Hair Dye, Trash & Vaudeville, The Baroness and more!
plus more Spooky Suprises!
"Bondage-a-Go-Go Kinky Kreepy Cosplay"
MelissaSaurus Rex, Jade Michelle, Shaila Kristie, Steffu, Jocelyn, Chemical Boy Damian, Viola Vixen + more TBA
Dungeon Play Area:
Mistress Kat Luna, Master Vito, Mistress Victoria DeVille, Mistress Alexa Complex, Mistress Kali, Mistress Zara +more
Plus a Happy Halloween Birthday to Mistress Lexia, Mistress Selene, Gina Milano, The Baroness and Mandana Banshee!
SMack! Hosts:
Mandana Banshee Templar, Blacklite Bonnie, Venus Pain, Rosey LoxXx, Kris Khaos, Tom Fang, Gina Milano
Sponsored by:
* Gothic Renaissance
* Vampire Freaks
* Purple Passion
* Stockroom
• fIXE fETISH Magazine
JOIN US
Subscribe: https://facebook.com/SMackFetish/events
Like: http://facebook.com/SMackFetish
Join: http://Instagram.com/SMack_Fetish
RSVP & spread the word!
* https://fetlife.com/events/391521
* http://VampireFreaks.com/event/13906
Advanced reduced admission tickets: http://SMack-Fetish.com/
$22 in Advance / $30 night of event
Save 25% by purchasing advanced reduced admission tickets :
** $22 in Advance / $30 Day of Event **
* Online: http://SMack-Fetish.com/
* Gothic Renaissance 110 4th Avenue (@ 11th Street)
* Purple Passion 210 w.20th St, (Between 7th/8th Aves)
* The Baroness 530 e.13th St. (between Avenues A/B)
Purchase tickets online here
21+
Slake (the former Club Rebel and Legendary Batcave/Albiion space)   251 W 30th Street New York City, NY 10003
Tags Annabel EVILCliff CageDJ AshDJ GraveDJ Jeffo!DJ PatrickDJ TemplarDJ Xris SMack!Fetish TribeGod ModuleGothic RenaissanceIan FordJohanna ConstantineKommunityFKMighty Mike SagaMordaciousPurple PassionSMack!STIMULATETexylvaniaThe BaronessThe Frozen AutumnVoicecoil
You may also like...