:Special Event: Cruel Intentions (XL): Halloween (4 year Anniversary) – October 31, 2015 @ Kung Fu Necktie, Philadelphia, PA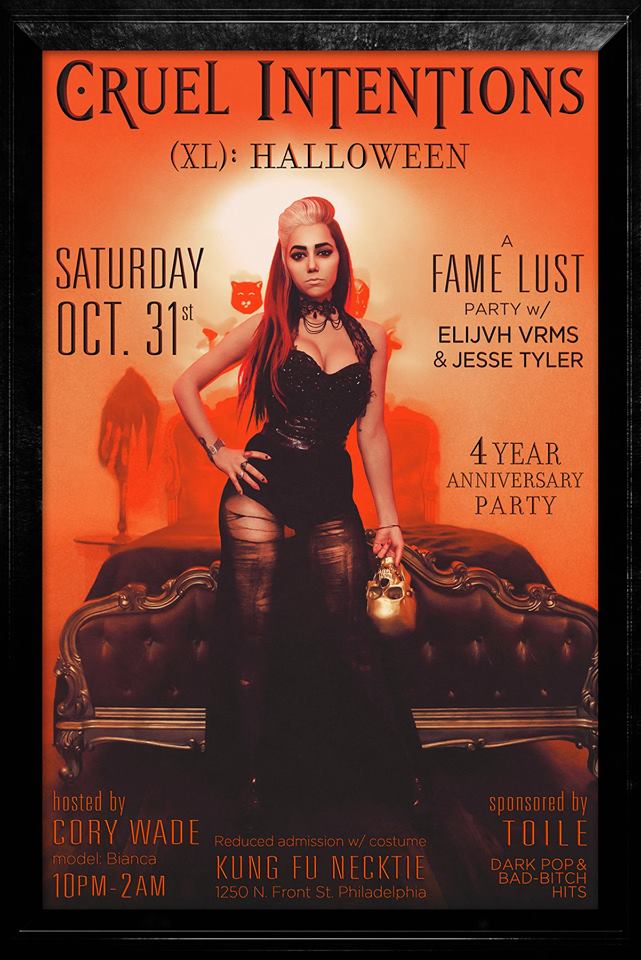 Fame Lust and Kung Fu Necktie Present:
Cruel Intentions (XL): Halloween Party
Saturday, October 31, 2015  at 10:00 p.m. – 2:00 a.m. EDT
With DJs Elijvh Vrms and Jesse Tyler
Drink Specials all night:
$2 PBR's, $3 Citywides, $3 wells, $3 Magic Hat
"4 years ago we were given the opportunity to throw a party that seemed like it was TAILOR MADE for Halloween night. We called it CRUEL INTENTIONS, and with it came a vision to create a DARK, SEXY, and UNIQUE event, unlike any Philadelphia has ever seen. Over the years Cruel Intentions has had many forms, inspirations, contributors, hosts and yes, even imitators, but in the end it's all led up to this moment. After completing 39 (XXXIX) Cruel Intentions, the party on Halloween will be number 40 (XL) and we couldn't be more excited to invite you to help us bring everything full-circle by doing the party EXTRA LARGE for the occasion."
Stop by Toiles "All Hallows' Eve" event, Friday Oct. 30th to get 13% off all of your dark, witchy clothing and costumes!
Free entry with a purchase from Toile!
https://www.facebook.com/ToileAtelier
Costume Contest at 1AM with judges
Cory Wade, Bianca De Pietro, and Fame Lust
(Prizes TBA, but it'll be something cool, don't worry)
$5 (with costume)
$8 (with zero-effort costume)
$10 (without costume)
21+
Kung Fu Necktie   N 1250 Front St., Philadelphia, PA 19122
You may also like...