:Music Review: Aesthetic Perfection – Blood Spills Not Far From The Wound
Aesthetic Perfection – Blood Spills Not Far From The Wound
Release Date: October 16, 2015
Label: Metropolis Records
Websites: Official │Facebook │Blog │Twitter │YouTube
Review by Danesha Artis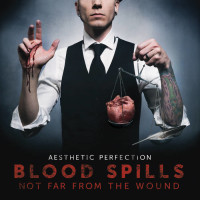 Yes, you read that right. It's not a typo and you are in the correct calendar year. Aesthetic Perfection reworked Necessary Response's album that goes by the same name. For the unfamiliar and uninitiated, Necessary Response was Daniel Graves' project for songs that didn't fit with Aesthetic Perfection. In 2009, he called an end to the project and decreed that NR would never return, that it was "dead and buried."
Eh, semantics.
These may be some of the same songs from the earlier album, but they're quite different overall. Perfect example, the song "Spilling Blood" is on both albums and it's noticeable from the first verse or so.
Aesthetic Perfection's take on it feels a bit brighter considering the content of the song. There's nothing wrong with it at all, but it's definitely a great contrast to its predecessor. I do enjoy the somewhat darker and rougher tones of Necessary Response, hearing how Daniel's vocal stylings have evolved makes it worth the purchase.
The album isn't a complete and total rehash of the original; just a few choice songs to showcase higher production and fitting into more of AP's style. If anyone reading this has the first album in question, definitely listen to that all the way through and then Aesthetic Perfection's version. I won't say that one is better than the other because it can easily vary on your mood at the moment.
It's very easy for those that are fans of his earlier project to get caught up in the nostalgia trap and decry any reworking of tracks. Because let's face it, that seems to be a hallmark of scenes in general. So let's just leave it at this: change is actually good in this sense.
Track Listing
Open Wound
Spilling Blood
Forever
Vapor
Tomorrow
Never Enough
For All The Lost
Dying In The Worst Way
Elements
Devotion
You may also like...