:Music Review: God Module – Prophecy
God Module – Prophecy
Release Date: October 16, 2015
Label: Metropolis Records
Websites: Official │Facebook │Twitter │YouTube
Review by Lori Gallagher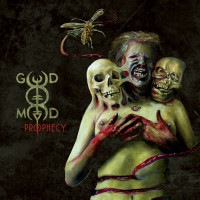 Goth/industrial scene veterans God Module rarely disappoint when it comes to consistency in releases and their latest endeavor, Prophecy, is no exception.
Prophecy opens strong with "Wasteland" and proceeds to flow well from track to track. It can be an infrequent occurrence to find an album that is fabulous to listen to from start to finish. God Module have succeeded in creating just such an album.
The production is very clean on this album which just adds to the overall effect. It's also good to hear Courtney Bangert make an appearance on "Abduction" which adds a touch of balance to the vocal style that Jasyn Bangert is known for.
On first listen the tracks that immediately caught my ear were "Endless" and "We Are Legend." I especially enjoy the almost new wave feel of "We Are Legend" which is an interesting and pleasantly surprising addition to the God Module sound. It's my favorite on this release, hands-down. I expect to hear it in regular rotation in clubs across the country very soon. Full of spooky, oontzy goodness, most every track should go over amazingly well in a club setting.
There's plenty here to enjoy whether you are a long-time God Module fan or are just discovering them. My only complaint (and it's an incredibly minor one) is that it can be moderately difficult to understand the lyrics, but it's not enough to detract from the overall feel of the album (plus you can always check the liner notes!). Even the cover art by Clint Carney is perfect for Prophecy and the themes it touches on. Encompassing everything from fear to Armageddon, psychological distress to lost love, there is a bit of something for everyone.
Track Listing
Wasteland
Second Coming
Secrets
Endless
Claws
Abduction
We Are Legend
Deceit
Red Ribbons
Transform
You may also like...