:Fundraiser: Help Die Sektor Fund Their Upcoming U.S. Tour of 35+ Dates
Help Die Sektor tour the U.S. for 2 months, 35+ dates!
Exclusive material and personal items offered!
A Message from the band:
"Die Sektor has been around in one form or another for around 10 years now, and over the last few years has been touring the US quite extensively…but now we're about to set off on our most ambitious tour yet.
Over the course of 2 whole months, from the start of October 2015 through to the end of November 2015, we will be playing nearly every night in a different city—first as special guests of God Module and after that with Ego Likeness.
We love to play, live to play, of course—but a tour on this epic a scale will be not only physically and mentally strenuous, but financially challenging. While of course we will have the opportunity to recover some of the costs involved by selling merch at concerts as we go along, we have first of all to design and manufacture all that merchandise—and then to actually physically get from show to show and pay for somewhere to stay each night we'll be on the road for. All of that has to be paid for in advance—and when we sat down and added it all up, it's quite a frightening sum: at minimum around $4,000, to be precise.
So that's where we hope that you—our fans not only in the US but around the world—can help us…and in return we have assembled an array of personal items, services, and of course, new and exclusive Die Sektor products to offer you in exchange for your support.
No matter where in the world you might be, via this international campaign YOU can help make our US tour the best it can be—and you can get a whole range of amazing rewards for yourself at the same time!"
How You Can Help
The campaign total is made up of:
– October dates with God Module: $2,000 transport and accommodations
– November dates with Ego Likeness: $1,500 transport and accommodations
– Printing/manufacturing costs of this campaign merch: $2,500
We've got a whole load of exciting and exclusive funding options for you to look through, ranging from a colossal 4-CD retrospective special edition of last three albums (The Void Trilogy) to some one-of-a-kind stage props we've used on the road over the years that we'd love to find a new home for.
You picking up any one of the perks we have on offer—as well as in most cases, getting you something special and severely limited (if not unique!)—really helps us out.
And remember—Indiegogo is NOT "like Kickstarter" in this respect: you can pay for as many of these different things as you like, and then you can come back later to fund us again…and again…and again! As often and as much as you want! And we will be adding more things to this list as the weeks go by…so be sure to stay tuned!
Let's take a look at what's currently on offer: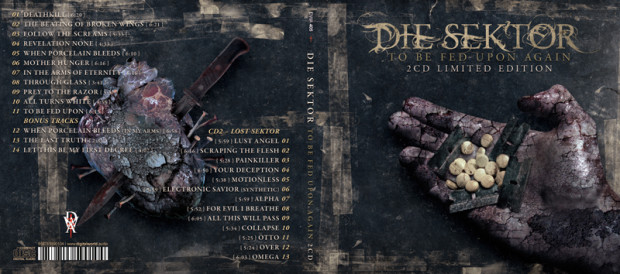 To Be Fed Upon Again 2-CD: $20 + shipping
The legendary debut album with which Die Sektor announced their arrival in 2006 is finally available again—this time with previously unreleased bonus tracks from the same period. AND with the initial re-pressing, an entire second CD of almost entirely previously unreleased material!
Scheduled for a general release in jewel case this December, an initial first edition of this 2-CD Limited Edition is available NOW AND EXCLUSIVELY from October 1st through this crowdfunding campaign—in double-digifile packaging EXCLUSIVE to this "fan edition," redesigned by DWA from the original artwork by Nathan Winter (Industriarts). Mastering comes like for the original album by Kolja Trelle (SOMAN).
STRICTLY LIMITED to just 100 copies worldwide, like the Indiegogo campaign version of the accompanying 4-CD The Void Trilogy retrospective, this 2-CD limited edition of To Be Fed Upon Again is an absolute essential for any serious Die Sektor collector—compiling as it does the cream of all the bands earliest recorded material: 14 previously unreleased tracks, two lost rarities, one exclusive package at one great price of just $20 plus shipping.
The Void Trilogy 4-CD Set: $45 + shipping
A re-pressing of all three Void Trilogy albums, each disc with previously unreleased bonus content (and each disc with alternate artwork)! Comes in extra-wide DVD-box format to accommodate a MASSIVE 20 PAGE full-color 180 x 120 mm booklet with all art and lyrics to all three albums! PLUS From Out Of The Void as bonus CD4! This will be the ONLY physical pressing of From Out Of The Void! Hand-numbered limited edition of 100; 50 tracks including 17 unreleased! Yes, we will take any unsold copies on tour—BUT the ONLY way to guarantee getting one is to buy it here! Ships towards the end of September.
The Void Digitally: $35
Don't want to be burdened with the 4CD Limited Edition? Then how about this download version of the entire Void Trilogy—all three albums plus the From Out Of The Void album. A whopping 44 tracks + the 6 bonus tracks and we'll even throw in a PDF version of the 20-page lyric booklet of the limited edition CD version, too; 50 songs in all, all for $35: the best digital package we have on offer for the Die Sektor collector. Delivery: you will be sent a download code from September 30th.
From Out Of The Void (digital): $10
Download version of our own brand new self-remix album From Out Of The Void—where we rebuilt tracks from all three Void Trilogy albums in the way only Die Sektor knows how. This album will go into general digital distribution in December—but if you pre-order it from us here, you will get it at the start of October….and we will get all the money $$$…. You give us 10 bucks, we give you 11 tracks—that's like $1 a track, with one extra thrown in for free, right? Delivery: you will be sent a download code from September 30th.
Bring Me The Bonus Tracks (digital): $10
"I already have all your albums—just sell me those 6 bonus tracks by themselves already." Yes sir/madam…and we'll even throw in the three tracks from the "(-)origins 12" + the "Pleasant Dreams" mix of "Fall To The Noise" that was only ever released on the Japanese Limited Edition CD version of "Applied Structure In A Void" to make that up to a round 10 tracks for your ten dollars…. You're welcome. Delivery: you will be sent a download code from September 30th.
For more details, see the campaign page HERE.
You may also like...