:Music Review: Society Burning – D3L3TE_Up10aD
Society Burning – D3L3TE_Up10aD
Release Date: February 24, 2015
Label: Self-Released
Websites: Official │Facebook │Twitter │Bandcamp │ReverbNation │SoundCloud
Review by Dan Aleksander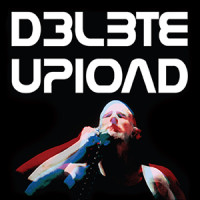 Talk to a rivethead or a cyberpunk who came to pass through the '90s and they'll regale you with stories of seeing groups like Hate Dept., Mindless Self Indulgence, Front Line Assembly or Skinny Puppy in their heydays. And even in a world where content on the internet allows us to remember those groups and groups like Cyberaktif and Mentallo & The Fixer, too, Society Burning unfairly gets left out of the conversation.
The New Mexico-formed group started forging coldwave and industrial music in 1991. After some time apart, they got back together in 2007 to keep the music going. I spent all morning listening to their latest offering, D3L3TE_Up10aD, and it is as much keeping it real as it is "1337." Electronic rhythms, bad ass beats, scorching synth-lines and melodic lyrics—with a dash of doomsday—fit in just as much in our current cyberspace world as it did when we all were just imagining that world yet to be. Society Burning's latest effort proves that we weren't too far off, either. Industrial and its relatives are certainly not dead, but someone forgot to tell Americans that and it's great to hear a band from the United States sticking to their guns (#Merica).
Featuring just eight tracks and half of those remixes from groups like Gross National Produkt and Fractured Machines, D3L3TE_Up10aD packs a whole lot into a little package. "Deleting Me Again" and its subsequent remixes are the highlights of the album and "Swindling Millionaires" is a great reminder of why you're getting paid to NOT do what you love.
The best thing about this collection is that Society Burning doesn't resort to going down the easy "let's make our music sound like Neue Deutsche Härte bands" route to put out an album in 2015. Die Krupps has that market cornered, anyway. Each track keeps your attention, keeps the body beat on full force, and puts the world on blast: everything you could possibly want from veterans of the genre. If these guys have a favorite actor, it's probably Patrick Schway-ze.
GET IT?
I'll be here all week. Tip your waitress.
Learn more about Society Burning at their website: http://societyburning.com/
Staying riveting,
Dan Aleksander
aggro-driver-81.radiojar.com
facebook.com/aggrodriver
@AggroDriver81 @HaveTilFive
Track Listing
Deleting Me Again
Swindling Millionaires (Explicit)
Obsequious
The Indifference Engine
Swindling Millionaires (Bankrupt Mix)
The Indifference Engine (Plain and Simple Mix)
Deleting Me Again (Cyborgs on Crack R3mix)
The Indifference Engine (Oil Change Mix)
You may also like...