:Concert: Tactical Sekt, FGFC820 and HexRx – November 20, 2015 @ 333 Live, Los Angeles, CA 90017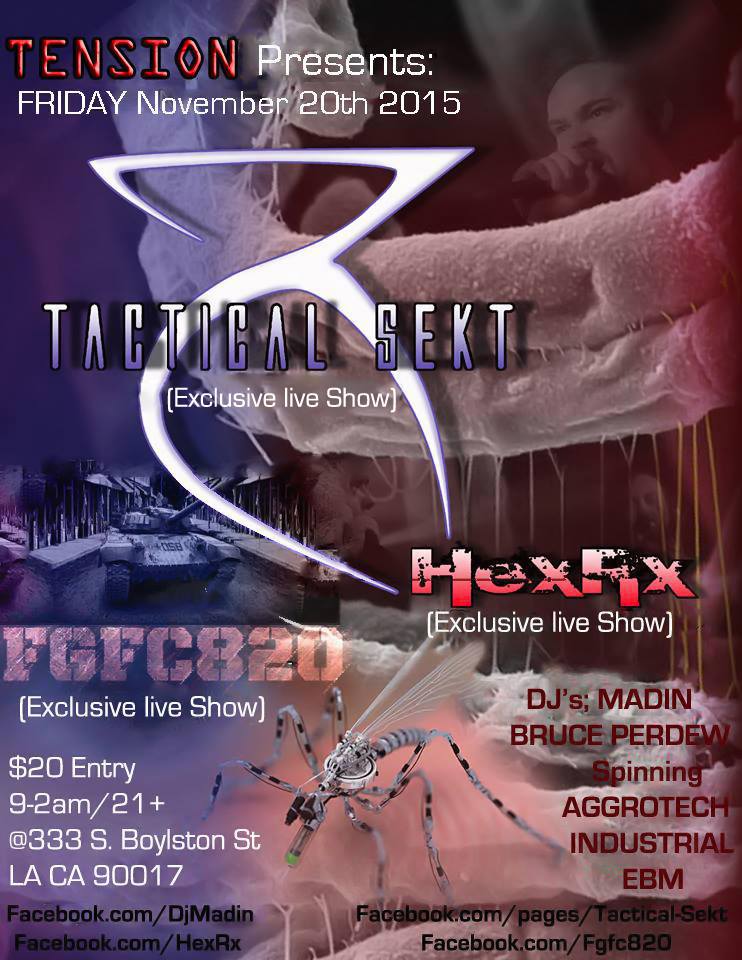 Tension Presents: Tactical Sekt, FGFC820 and HexRx
Friday, November 20, 2015  at 9:00 p.m. – 2:00 a.m. PDT
"Devil's Work"
"My Eyes Are Red"
"Society"
Exclusive live show!
DJs:
Madin
Bruce Perdew
Spinning Aggrotech, Industrial, EBM
Two dance rooms
Smoking patio
Drink specials
$6 wells until 11:00 p.m.
Select $5 beers all night
Gogo dancers, vendors, photographers
Convenient parking across the street
$15 presale – SOLD OUT
$20  at door
21+
Check out the Facebook event page here.
333 Live
333 S Boylston St
Los Angeles, CA 90017
Tags 333 LiveBruce PerdewDJ MadinFGFC820HexRxRexx ArkanaRoger JarvisTactical SektTension
You may also like...