:Festival Review: Mile High Horror Film Festival – October 1–4, 2015 @ The Alamo Drafthouse, Littleton, CO
Mile High Horror Film Festival
Dates: October 1–4, 2015
Venue: The Alamo Drafthouse
Location: Littleton, CO
Review by Sarah Martinez
Photos by Fernando Altonaga and Sarah Martinez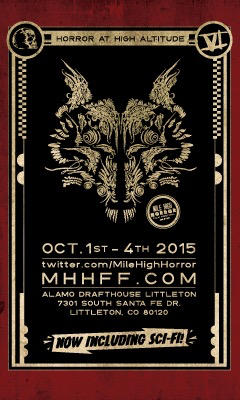 There's little cooler for a horror movie aficionado than literally bumping into Kane Hodder, Tobin Bell or Sid Haig as they're walking from the autograph table to a Q&A before screening one of their contemporary classics. In its sixth year, the Mile High Horror Film Festival brought out some big guns and COMA Music Magazine was there to bring back some highlights for you.
This year's festival was held at the Alamo Drafthouse in Littleton, Colorado. The MHHFF has been called one of the top 5 coolest horror/sci-fi film festivals in the world and it's easy to see why. Tickets for the four day festival ran the gamut from $339 all-access MHHFF memberships to $12 for individual screenings. The litany of guests included the aforementioned Tobin Bell (SAW), Ron Chaney (great-grandson of Lon Chaney [Phantom of the Opera]), Sid Haig (The Devil's Rejects), Adam Green (Hatchet), Neil Marshall (The Descent) and many others. We struggled with how to cram in everything we wanted to see and made quite a few sacrifices because we simply couldn't be in two theaters at once.
Arriving early to showings allowed one to peruse the merchandise booths and, depending on the day, hang out and get a photo taken with one of the celebrity guests or have memorabilia signed. Vendors had everything from gorgeous horror-themed comics carved in wood to movie memorabilia to tickets to dark dinner parties.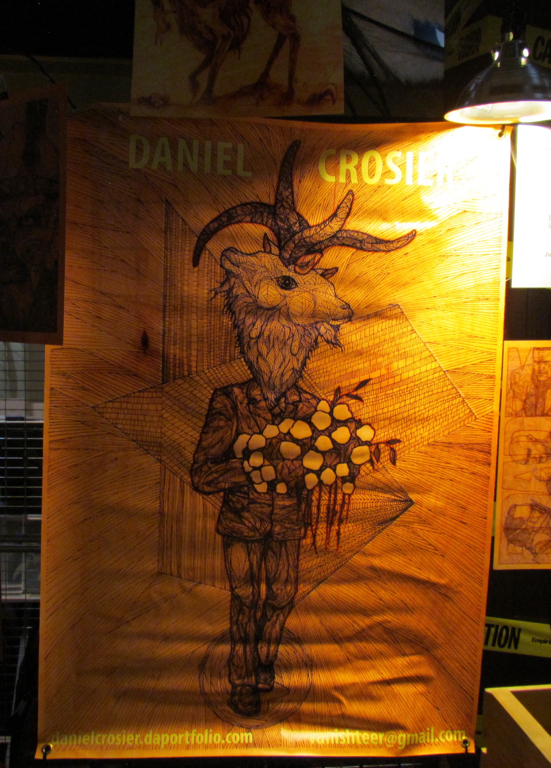 Our coverage begins with a screening of A Christmas Horror Story. While there weren't any celebrity guests at this showing, The Alamo made the experience memorable with Christmas light wrapped railings and an appearance by Santa himself wielding presents for lucky attendees. Servers in elf ears dropped off "Christmas cards" redeemable for admission to any MHHFF Music Showcase band performance.
A Christmas Horror Story features three loosely linked stories that take place in the town of Bailey Downs, a nice nod to the flick Ginger Snaps which two of the filmmakers also worked on. Each of the stories had moments that were fun and cool, but none would have been able to sustain feature-length status. Seeing Santa battle walking-dead elves in an action hero sort of way was amusing, and he did have some choice one-liners. My favorite of the three vignettes dealt with a couple already coping with domestic challenges taking on their son's possession by a demon. The tale centering on high-school kids revisiting the site of a murder of their classmates a year prior had too many clichés for my taste. I will say that I was startled once during the entirety of the festival and it was during this screening. Overall, an alright film but maybe a Redbox or Netflix night kind of movie.
I really enjoy The Shining. Of course, it's cool living in Colorado and being able to drive up and see where the exterior shots were filmed at the Stanley Hotel, but aside from that, it's one of Kubrick's finest films. If you're reading this, you already know what's up with The Shining, so let's focus on the Q&A with Lisa and Louise Burns who played the creepy twin Grady sisters and Joseph Turkel who played the bartender.
As you walked to your seat before the screening you couldn't help but notice the "twins" at the front of the theater swaying slightly and occasionally turning their heads halfway to the audience in a most creepy way. As the theater filled, more sets of "twins" joined in, some behind you, some to the side. Right before the introduction of The Shining the girls all let out a scream which was quite startling. Way to go, Alamo.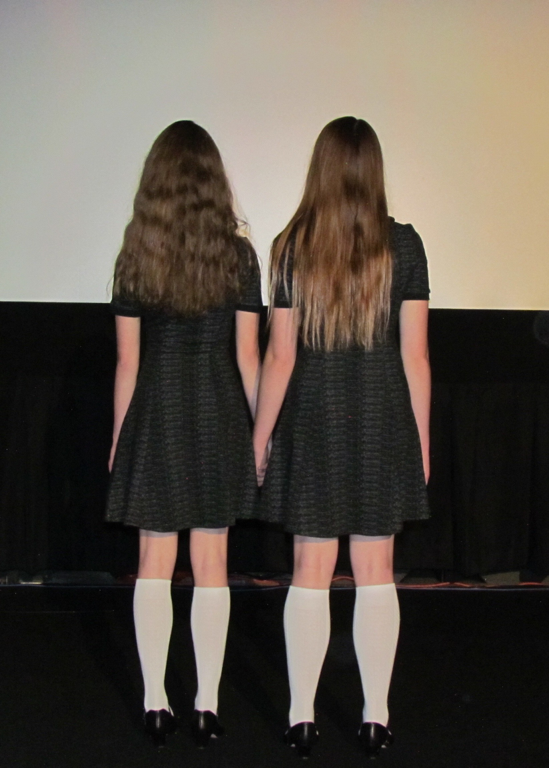 Lisa and Louise were elegant and adorable. One of the interesting take-aways from their Q&A was the fact that the girls who were 11 at the time of the filming, never saw the completed film until they were in their 20s because of the X rating it carried in the UK. The girls were also treated to a birthday party on set hosted by Mr. Kubrick during the filming.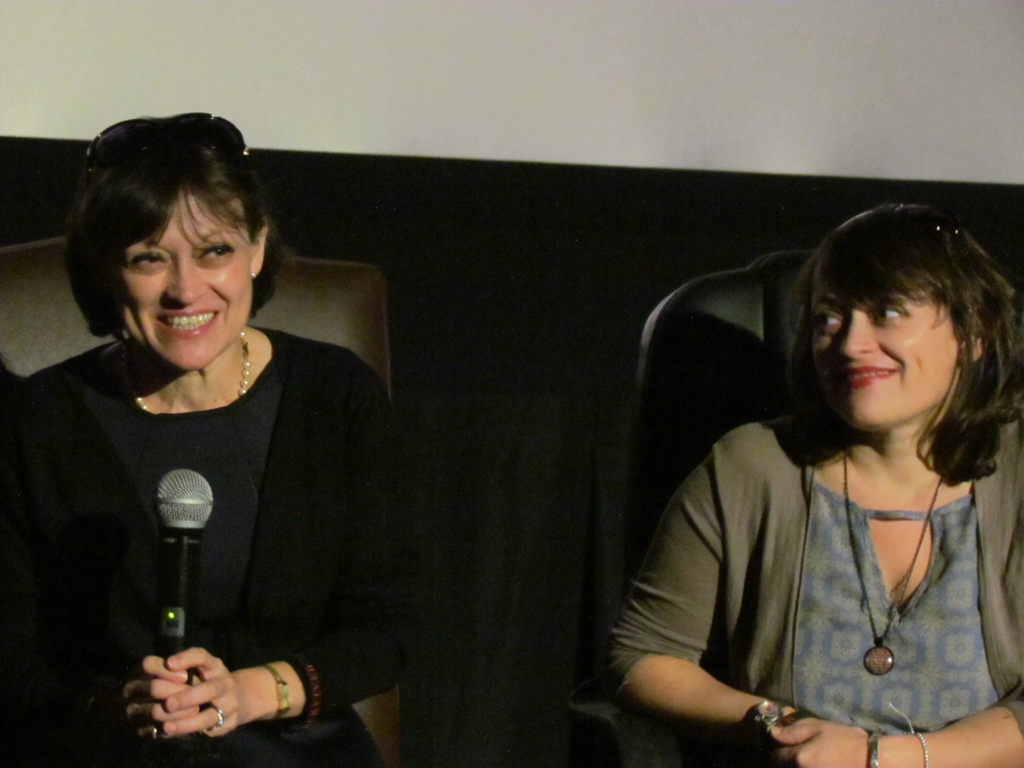 Mr. Turkel had the crowd laughing with each tale he told, including how he was the one responsible for Jack Nicholson's career. (Contact me for the lengthy story.) Mr. Turkel was incredibly charming and you felt like you were in the presence of your grandfather who told the very best stories. He had a deep reverence for his friendship with and the skill of Stanley Kubrick. My one regret at the festival is not touching on Mr. Turkel's role in Blade Runner when we saw him in the green room prior to interviewing Sid Haig.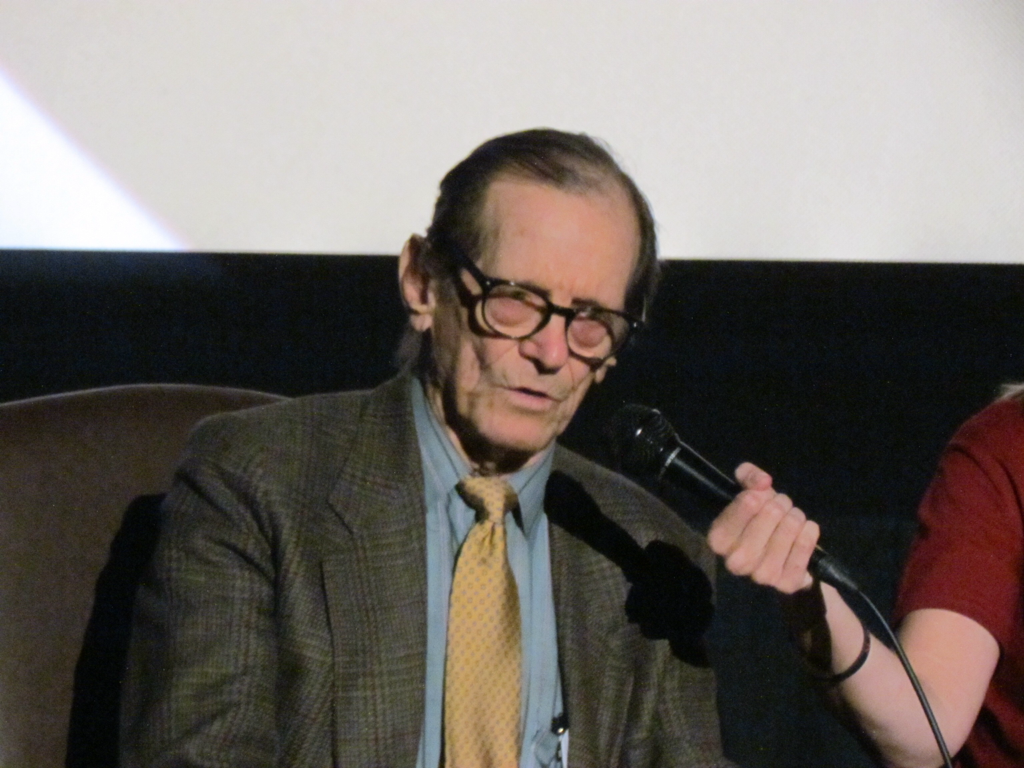 Day Three of the festival started off with a film I was looking forward to seeing, The Corpse of Anna Fritz. The film focuses on three friends, one of which is an orderly responsible for taking the body of Anna Fritz, a beautiful Spanish actress to the morgue pre-autopsy. Pau, the orderly, snaps a photo and sends it to his two friends, because how could you not? His friends join him at the morgue, and after pre-gaming, take the night's activities to a dark place. No spoilers in this review, but it was interesting to see and hear the audience's reaction to the activities that take place in the morgue. The film didn't make me uncomfortable as I thought it would and I hate to say that I wished that it had. As it is, for the subject matter, it's accessible to most and there was a part in which someone tries to escape the hospital that was intense, and the closing scene had the appropriate payoff I'd hoped for.
Next up was Tales of Halloween, another anthology film holding 10 shorts by 11 directors. Overall quite enjoyable and a humorous, as opposed to scary, take on events that all occur in a small town on Halloween evening. We'll touch on a couple of our favorites from the group.
In "The Night Billy Raised Hell," young Billy aims to play a prank on a neighbor, not realizing he's the Devil incarnate. Billy ends up playing wingman to the Devil in his night of mischief and evil-doings leading up to an "ahh" moment at the end. Director Darren Lynn Bousman (Repo! The Genetic Opera, SAW II) does a great job of making you want to join in on the shenanigans.
Mike Mendez' (Big Ass Spider) installment, "Friday the 31st," pays homage to slasher flicks but throws in a twist. What happens when the slasher is the intended victim? The kill scene at the end is so over the top ridiculous that it's hard to believe it keeps going for as long as it does. Hilarious though, and clearly made by someone who has an appreciation for classic '80s horror.
Many of the vignettes were amusing and the plus of watching an anthology film is knowing that if you don't care for one of the stories, the next one is maybe 15 minutes away. One thing that was a little off-putting initially was the credit sequence at the beginning in which all 10 films and directors are listed and it's somewhat lengthy. While credits for each short during the film may have made watching the movie less of a linear experience, especially since all the stories are linked in a way, it would've allowed one to pay more attention to the director of each contribution.
Adam Green (Hatchet, Frozen) and Neil Marshall (who directed the "Bad Seed" short in the film) were in attendance for a short Q&A after the screening. Mr. Marshall indicated his wife was instrumental in putting in motion the idea of a horror anthology with a theme and gathering a group of friends and peers together to do so. In the scope of a week, many of the directors had signed on and financing was agreed upon. The set itself sounds like it was a fun working environment that had much camaraderie. Each of the directors had two days to film, and many of the same characters make appearances in multiple shorts.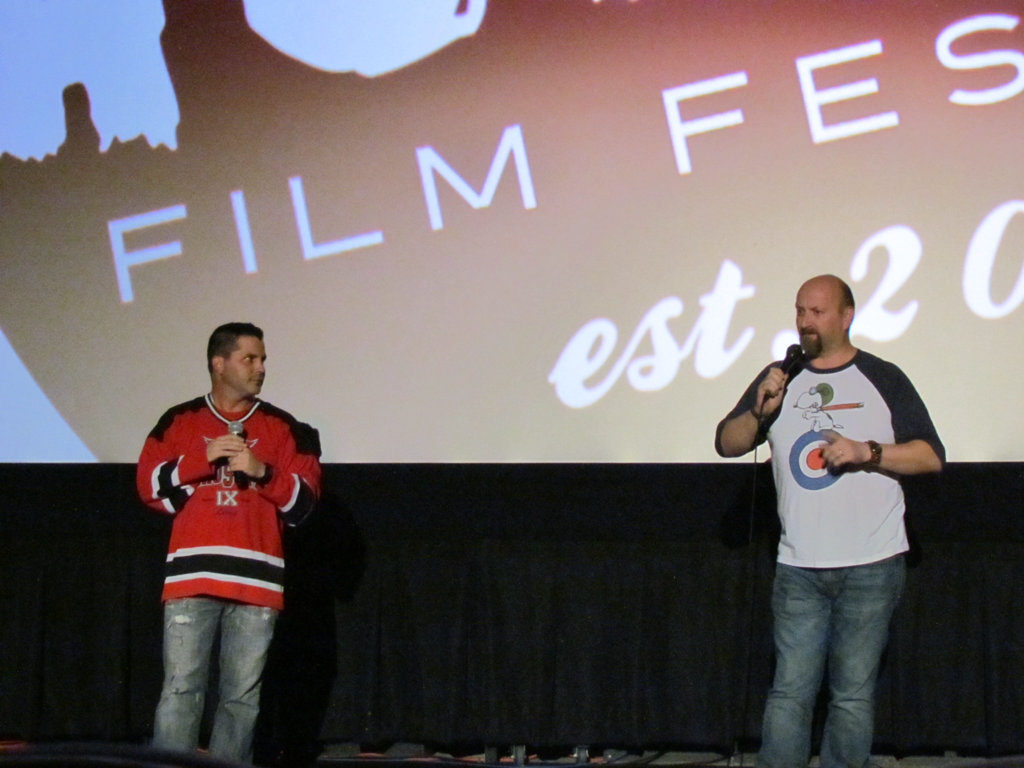 Saturday's coverage wouldn't be complete without mentioning the Mile High Horror Music Showcase. One of the bands at Saturday's Music Showcase was Mr. Ari Lehman's First Jason. Mr. Lehman of course, is known for playing Jason Voorhees in the first Friday the 13th. The showcase provided an area where one could kill some time in-between films and catch some cool bands. Free pinball and people watching also provided inexpensive entertainment all weekend long.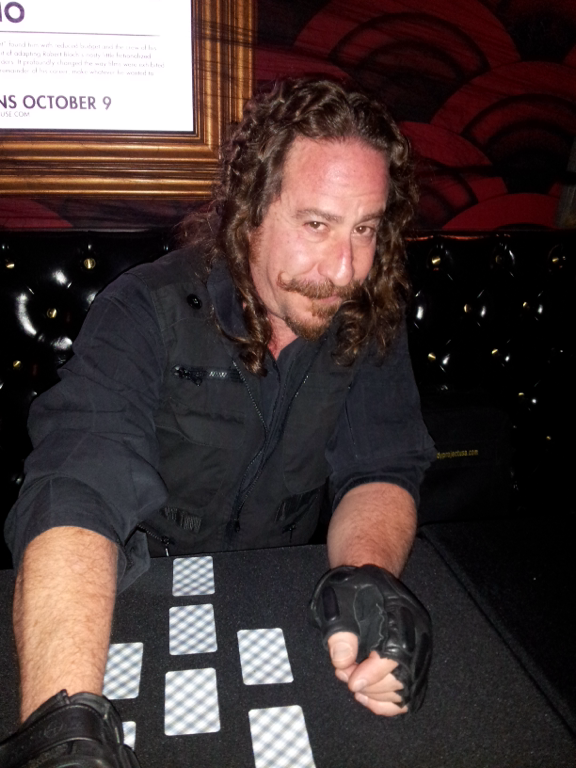 All of our nights went long during the festival either due to late screenings or staying up late discussing the films, so the prospect of an early morning brunch with Kane Hodder was daunting. I'm so pleased we decided to go to the brunch. Aside from interviewing Sid Haig, this was the most enjoyable experience of the festival. In addition to Kane Hodder, Adam Green made another appearance to do a Q&A after the screening of a 35mm print of Hatchet II.
The Alamo must've known the crowd would be a little groggy so included in the screening was unlimited coffee and pastries. Breakfast tacos were thrown in for free as well. Score!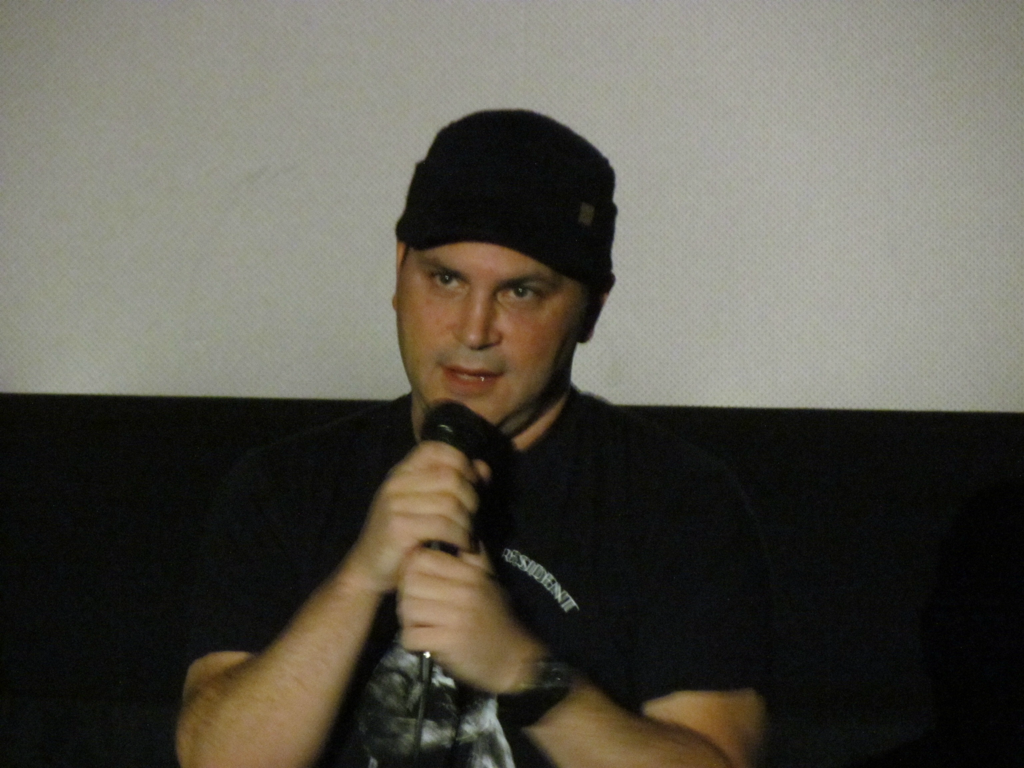 Hatchet II is a fun watch. It's got Tony Todd (who we spoke with at last year's festival, total swoon), as well as Kane Hodder reprising the role of Victor Crowley and Danielle Harris recast as Marybeth Dustan. It starts off in Louisiana with the opening credits being played over Ministry's "Just One Fix." The film has seventeen onscreen kills and was shot over the course of fifteen days. We learned that half the crew members became ill with the swine flu during filming and Mr. Hodder's entire back became a blistering, bloody and shredded mess from his make-up.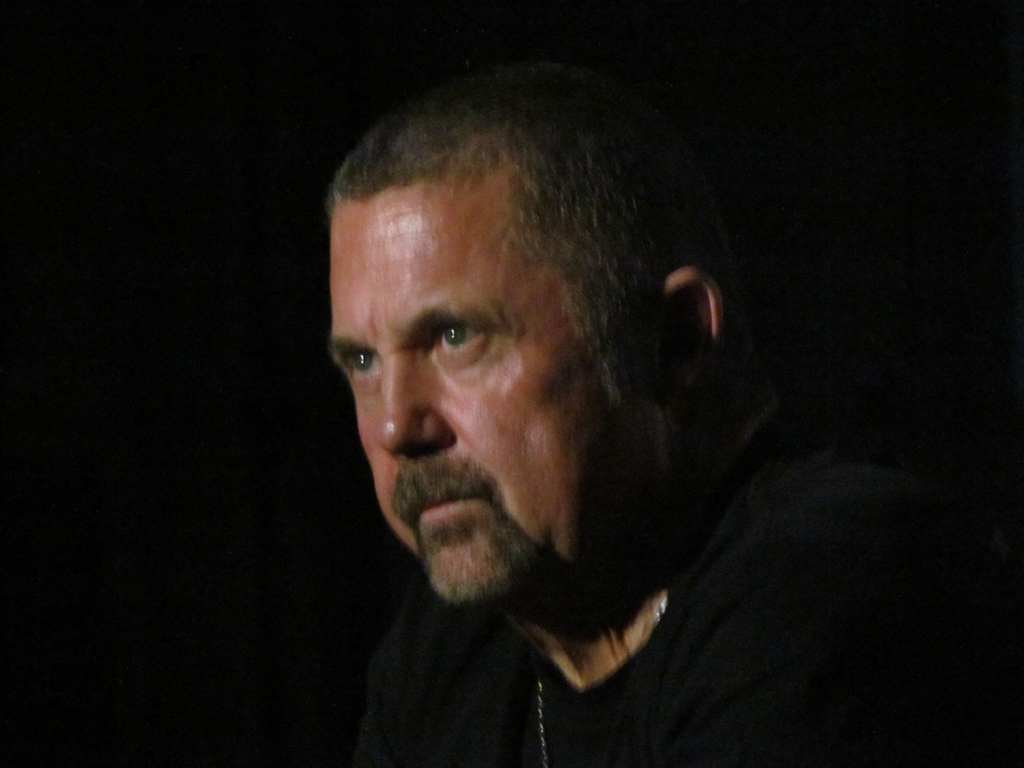 The Q&A lasted an hour and I wanted it to go on for two more. Mr. Green shared a wealth of information about making a film with limited resources and his experiences with the MPAA, amongst other tales, and Mr. Hodder interjected with amusing anecdotes including one involving Madonna. One of the more touching moments from the festival came from Mr. Hodder briefly referencing his talk with one of the day's festival goers and how his book, Unmasked… had affected him. Both gentlemen were genuine and sincere and you just wanted to kick it with them afterwards and learn all you could.
Our final screening of the weekend ended up being my favorite. Jason Krawczyk's film He Never Died is a character portrait starring Henry Rollins who plays quirkily endearing Jack, a man who's secluded himself from the world at large, following routines that keep him on a straight path. I don't want to give anything away about this film because it's filled with little surprises along the way and definitely worth your time. Henry Rollins carries the lead masterfully and looks great doing it. A unique film in a genre that's sometimes lacking for fresh ideas. Rumor has it this film has set the stage for a series of others to follow and if they're executed in the same way; I can't wait to see them.
In addition to all of the screenings and Q&As we attended, COMA got to sit down with legendary actor Sid Haig and learn about the films he's most proud of, delve into his history of being an accomplished musician, and his thoughts on blues and its influence on contemporary music. This is a must watch for any fan.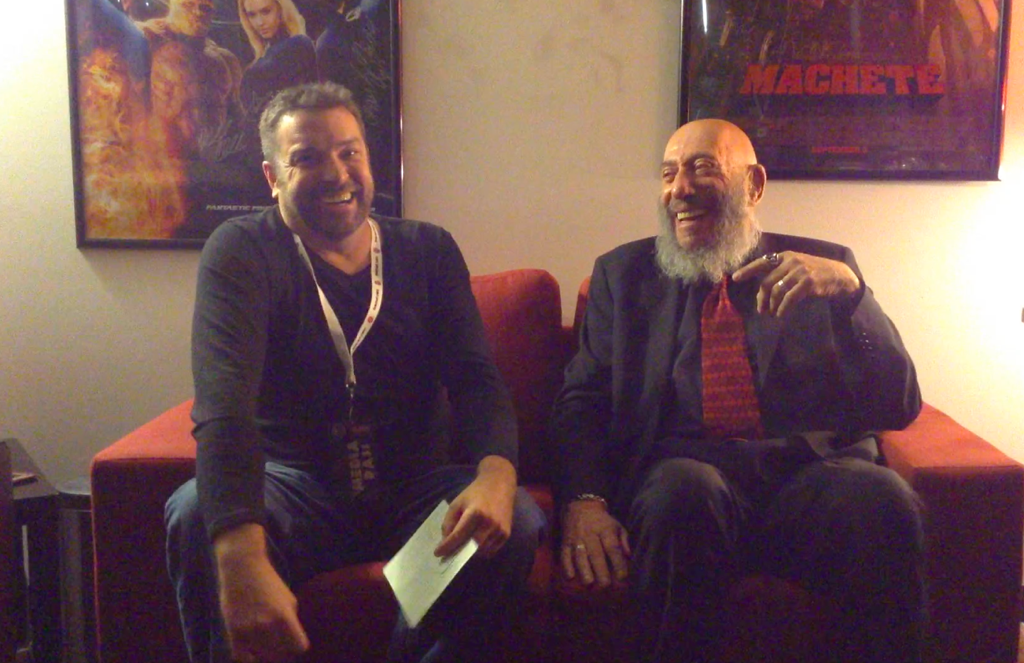 If you have the opportunity to attend the Mile High Horror Film Festival in the future, I'd highly recommend going, be it to catch shorts by up and coming filmmakers or to interact with your favorite stars or to catch those rare, uncut 35mm prints of your favorite films. Everyone we interacted with, from vendors to those running the festival, other attendees, and the celebrities themselves were gracious with their time and always had a moment to talk. One screening or the whole weekend, whatever your investment, if you're a horror fan, it's worth it.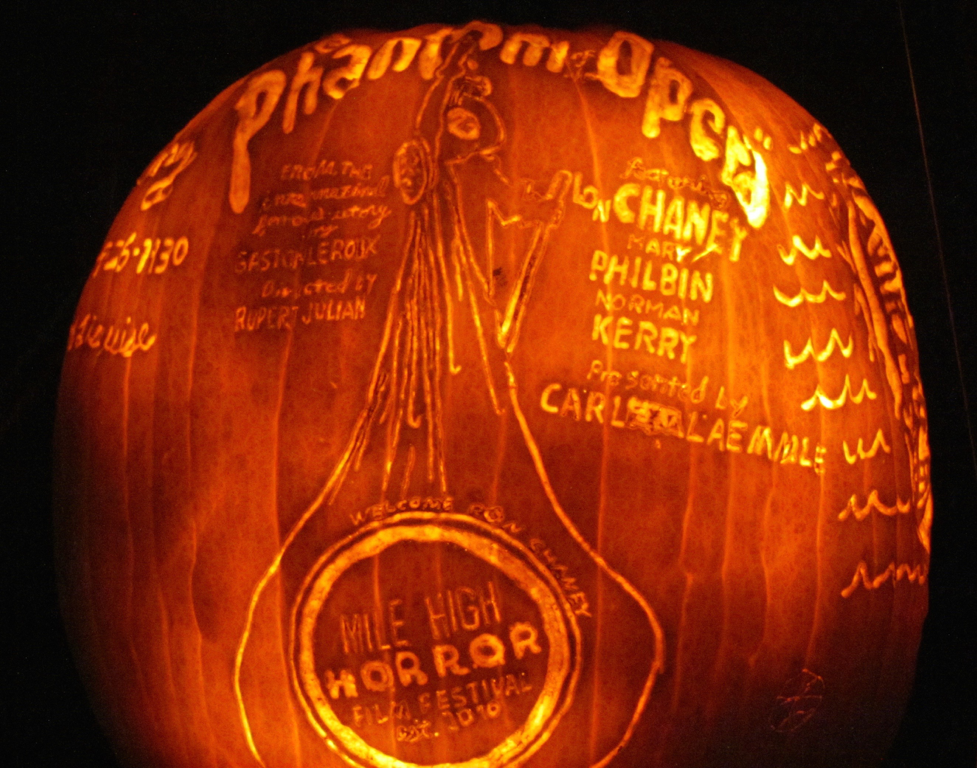 Tags Adam GreenAri LehmanDarren Lynn BousmanFernando AltonagaJason KrawczykJoseph TurkelKane HodderLisa BurnsLouise BurnsMike MendezMile High Horror Film FestivalNeil MarshallRon ChaneySarah MartinezSid HaigStanley KubrickTobin BellTony Todd
You may also like...