:Music Review: Zeitgeist Zero – Ghosts Of Victory
Zeitgeist Zero – Ghosts Of Victory
Release Date: June 6, 2015
Label: Self-Released
Websites: Official │Facebook │YouTube │Twitter │SoundCloud │MySpace │iTunes │Amazon │Bandcamp
Review by Dan Aleksander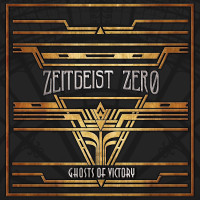 Last summer, Leeds-based Zeitgeist Zero released Ghosts of Victory. The self-described "Alt-wave rock and eerie macabre pop" group fuses "sultry female vocals with dark, twisted electronics and a determined attitude."
"Domestic Blitz" starts you out on your journey through this album and sort of gives you an idea of where this music is going. It's got a dystopian flavor blended with female vocals and synth organ effects. "Blitz" and its following tracks are filled with that familiar Goth guitar line that groups like Sisters of Mercy have perfected (and groups like Angels of Liberty and Merciful Nuns have tributed). Must be a British thing.
Some tracks on the record give off the oft-overdone surf rock/'60s/rockabilly feeling. Think mild Horrorpops or Venus de Vilo. The group's self-description reminds me of the time I saw this band at a bar in Philly who called themselves "desert-billy punk rock." Okay. Some of you are ok with the blending of unrelated styles (look at what Keldari Station does with reggae and synthpop) and some of you aren't going to like that at all.
While Ghosts of Victory doesn't grasp at straws trying to be everything to everyone (as many artists in this "electro-goth" genre are trying these days), without reading the band's bio, you may be disappointed that you aren't in for harder, aggressive synth lines and vocals. The female vocals are amazing, though: very dark, melodic, not trying too hard and not at all sounding like Evanescence. The music is equally as beautiful and catchy.
"United In Black" is sure to be a club hit and is the best track off the album, definitely the most electro. "Pushed To The Edge" really gives you the full menu of what Zeitgeist Zero offers and what they're all about.
This album seems great for a rainy day (throw it on with the aforementioned Sisters Of Mercy, a little Ludovico Technique, Clan of Xymox and a dash of The Chameleons UK). There are some slow jams on this album, too, for your Morticia Addams-esque hot girlfriend. It's definitely the time of the year to be listening to this kind of stuff and works great as your background soundtrack while in transit to revisiting the goth haunts in your town.
You can find out more about Zeitgeist Zero by visiting their website at http://zeitgeistzero.com/.
Joining in the chanting,
Dan Aleksander for COMA Music Magazine
Aggro Driver '81: aggro-driver-81.radiojar.com  │ facebook.com/aggrodriver │@aggrodriver81 │@havetilfive
Track Listing
Domestic Blitz
The Jekyll In Me
Dust and Bone
Don't Pop My Bubble
Pushed To The Edge
Loose Lips Sink Ships
When The Lights Go Down (Bump 'n' Grind mix)
A Last Farewell
United In Black (Dance or Die mix)
From Stun To Kill
You may also like...