:Concert Review: Angelspit, The Gothsicles – September 13, 2015 @ Dickens Opera House, Longmont, CO
Angelspit, The Gothsicles
Concert Date: September 13, 2015
Venue: The Dickens Opera House
Location: Longmont, CO
Review by Sarah Martinez
Photos by Fernando Altonaga
The Dickens Opera House is a beautiful venue. Move that joint from Longmont to Denver and the place would be shoulder to shoulder any night of the week. Any proper goth band would be fortunate to play there. As it is, the inaugural goth/industrial show to grace its stage was the Angelspit/Gothsicles show and what a treat it was for those willing to take that hour long trek from Denver.
Promoter Joshywa Schrader and his lovely wife Erin were gracious hosts on this warm Sunday night. Scores of free parking spaces surrounded the opera house and started conversations comparing it to parking challenged Denver venues. Two quick flights of stairs led one to the chandelier laden main room with plenty of booth and table seating and a just right dance floor.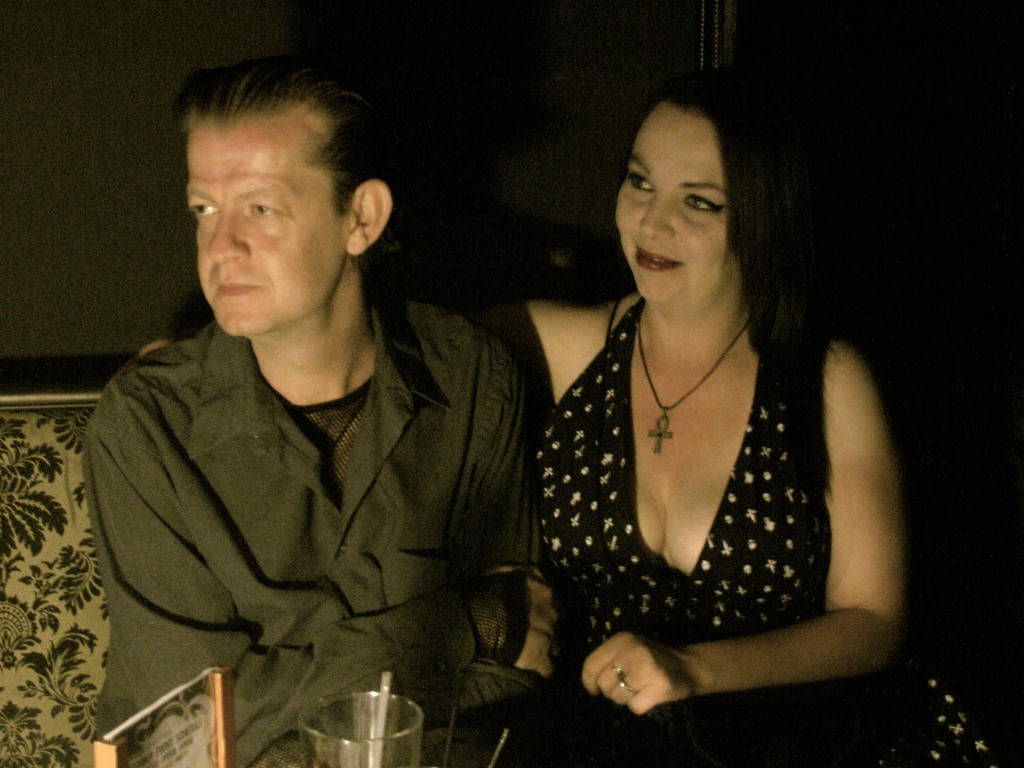 DJ Ritual started the night off with his appropriate mix of danceable crowd favorites including a hard-hitting Ministry remix, "Goodbye Horses," the Doctor Who theme, and more contemporary dark favorites including TR/ST, amongst others. AJ also kept the crowd moving in-between sets all night.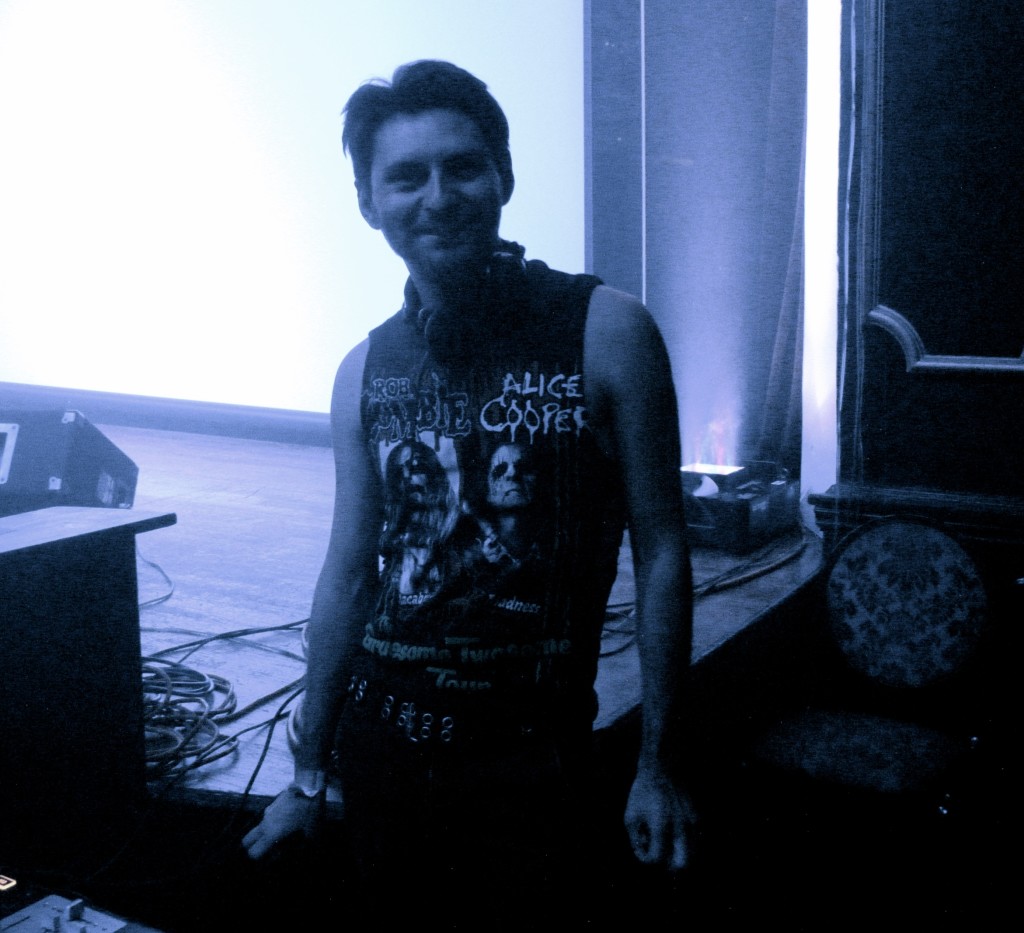 The evening started with Slim Fadey and his Faded Freakshow. If you've somehow not caught Mr. Fadey before, you've missed out on seeing a beer keg held from his nipples and a set of silverware going up his nose. "You see on the end of that? We call that piece of mind." Ha! A grinder shooting golden sparks into the air and the stapling of crowd-contributed funds to Slim Fadey himself were amusing to see.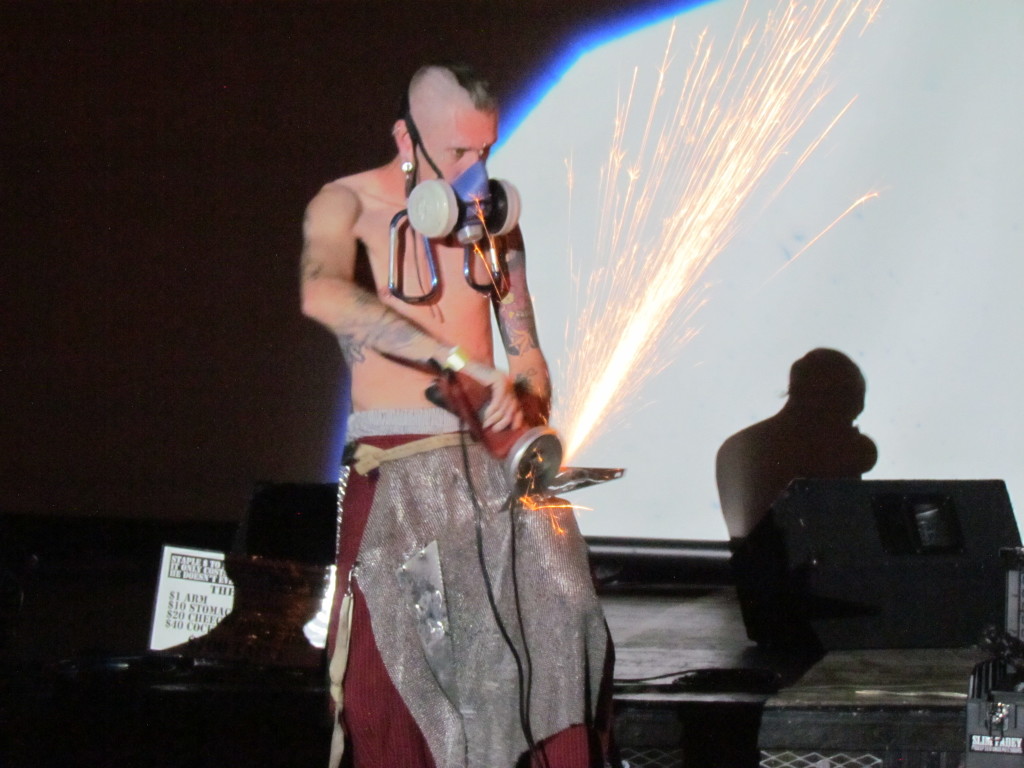 After a few moments of minor technical difficulties, The Gothsicles bounded on stage with their high energy performance. Brian Graupner worked the stage like nobody's business in a black tank, skin-tight pants and silver Adidas high tops with wings. A Nintendo Power Glove completed the outfit. Matthew S@int mesmerized the crowd working a Numark Orbit MIDI controller in similar attire but with a shock of blonde spiked hair.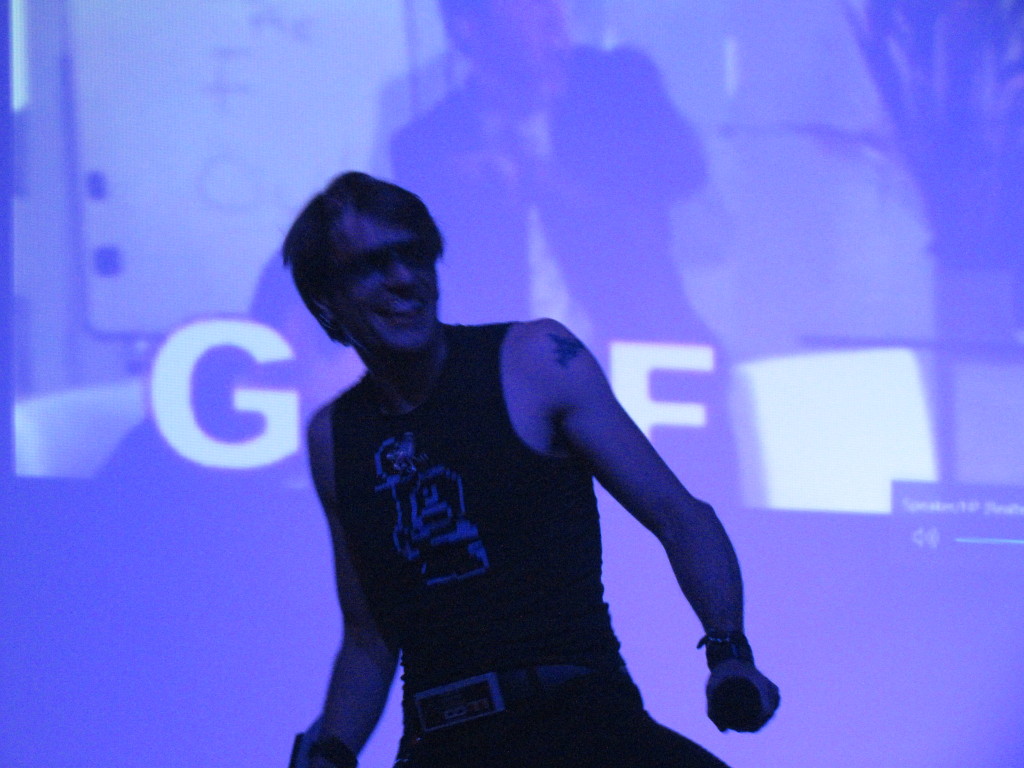 Songs with titles such as "Sword Cane," "This Club is Closed," and tributes to Aquaman had everyone smiling for the entirety of their set. Cheering on "72!" all night, the small dedicated crowd was treated to a sometimes spastic, nerd-referenced, playful set that was truly fun.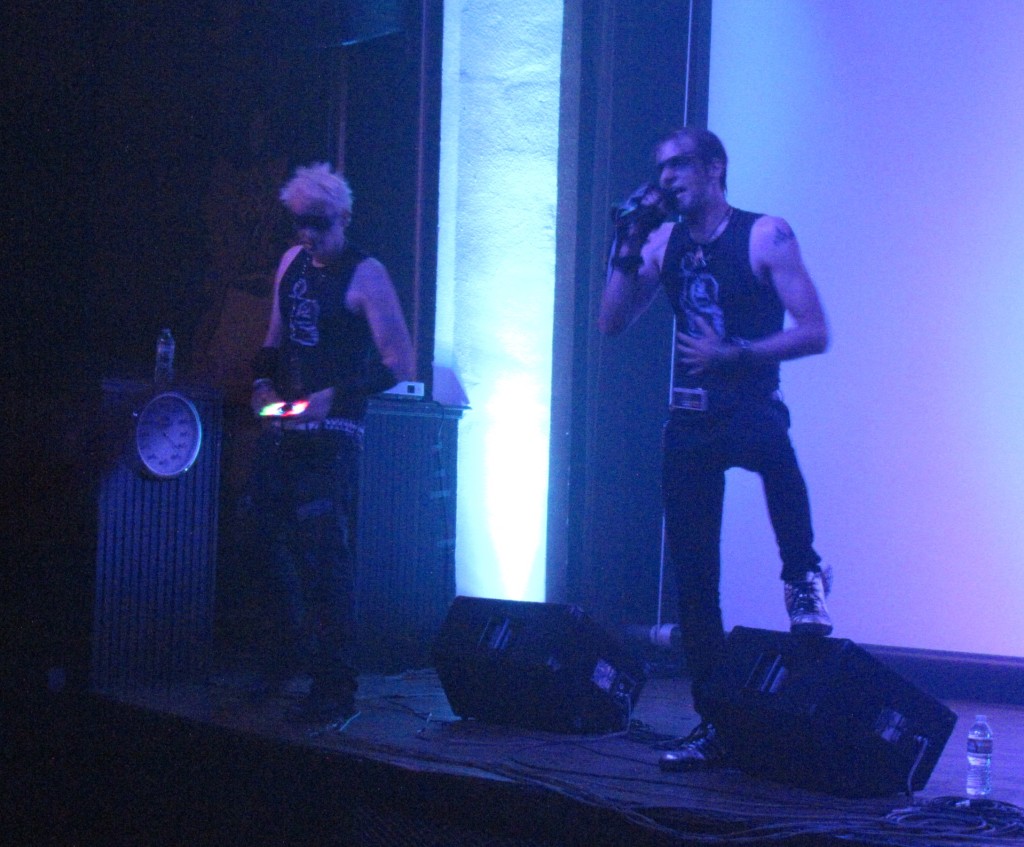 Angelspit's founder Zoog von Rock was joined by Matt from The Gothsicles (again with that Orbit MIDI controller!) and took the stage shortly after their set.
Angelspit has songs that rile something up in you and make you want to pull the one you're with near to make out, etc in a most aggressive way in a dark booth at the back of the venue. They're incredibly sexy in an aggro way.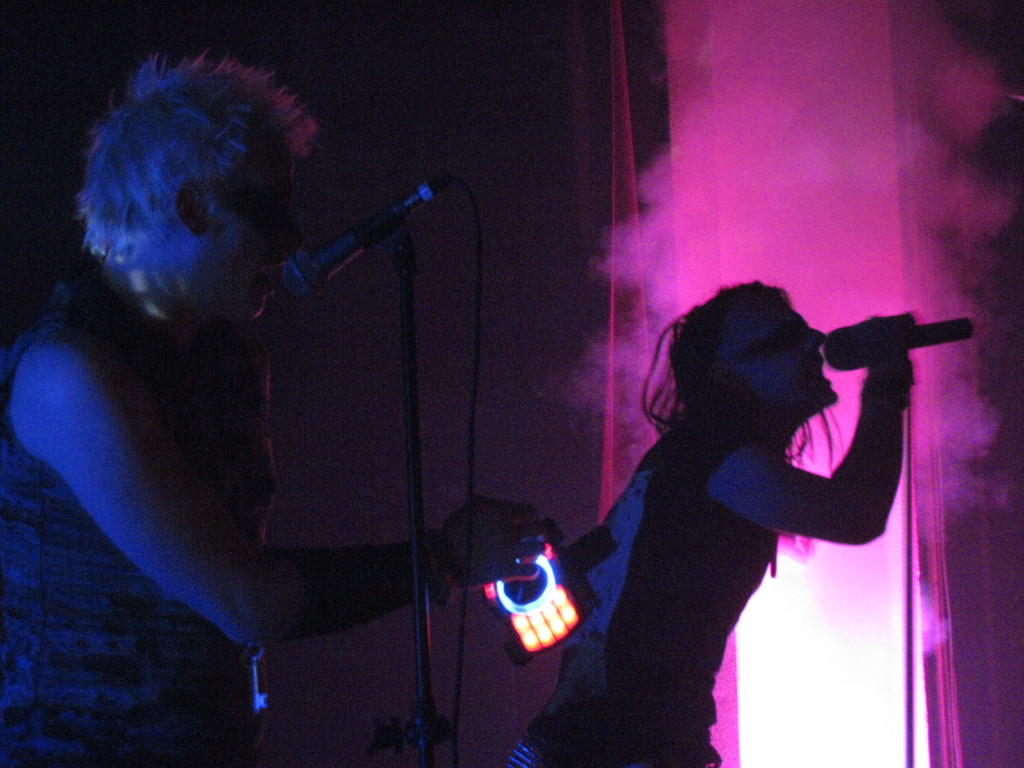 It's clear that the aesthetic of their performance is incredibly important as well. Striking lighting which backlit the duo for most of the night accentuated Zoog's powerful and often sensual vocals.
There were questions as to whether the performance would be hurt without female vocalist Amelia Tan (DestroyX), but when Zoog and Matt were joined on-stage by Brian Graupner, they had everyone dancing and fist pumping to "100%" with no problem. Taking the mic into the audience for sing-alongs during the chorus was a nice touch.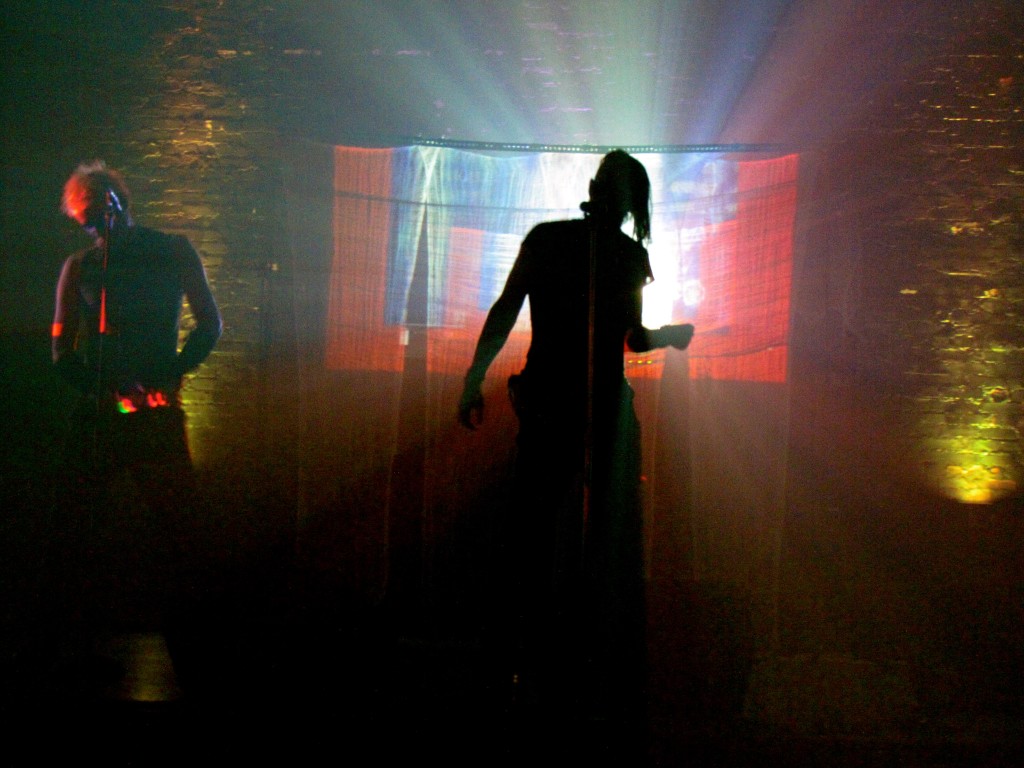 These two bands provided a wonderful evening of delicious music hot off the Dark Arts Festival in Utah just two days prior. One would be hard pressed to have found a lovelier experience of this nature in Denver that week. PharoahMoan Productions' first show in four years was an exciting teaser of things to come. This was a well priced, well put together show that didn't have an unnecessarily lengthy ticket with filler bands that one grudgingly sits through to see the headliners. We're definitely looking forward to what comes next.
Tags AngelspitBrian GraupnerDJ RitualFernando AltonagaJoshywa SchraderMatthew S@intPharoahmoan ProductionsSarah MartinezSlim FadeyThe GothsiclesZoog von Rock
You may also like...